Decorate with a set of 3 art prints or a triptych? What is the difference? There is, of course, a tiny difference. With an art print set of three, you decide to get three different art prints as a theme and group them. Each artwork is separate and singularly available. And it is up to you if you feel they work well together and group them consciously when hanging the art. Guiding thoughts here may be color variations of a topic, related topic, or simply size and shape.
On the other hand, a triptych is one product. The triptych is one piece of art printed split and printed on three panels either stacked on top of each other or side by side.
All of the wall hangings displayed have something in common. Customize them by choosing your background color or replace the images with yours.
9 Wall Hanging Ideas With Sets Of Three
Abstract art of an unfurling fern frond
Fruit art prints for dining or kitchen
Stony cave connecting beach and sea
Sunset beach as digital art
Isometric room with five colored bouncy balls
Splatter art
Rugged coastal beach photo
New Zealand bush walk photography
New Zealand holiday photo collage
Set Of Three Art Prints Grouped, Times Two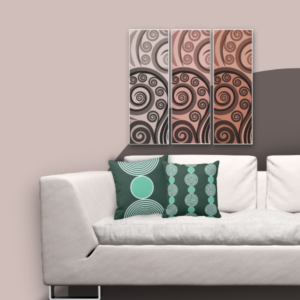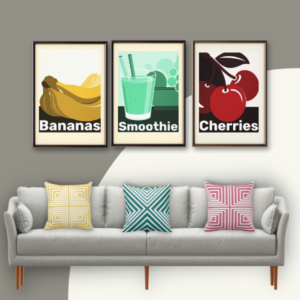 First, almost 200 fern species grow in New Zealand's bush, with 18 natives. Maori people call an unfurling fern frond koru and associate the meaning – new beginnings with it.
The stylish wall decor shows excerpts of a fern curl side by side in three hues, silver grey, blush, and bronze. A pair of turquoise pillows showing a circle pattern accessorize the sofa.
Second, for the dining or kitchen area, the theme in this set of three wall hangings is fruit art in three hues yellow, green, and red. Matched are these with pillows in a similar coloration showing the cornered pattern.
Four Triptychs With Digital Art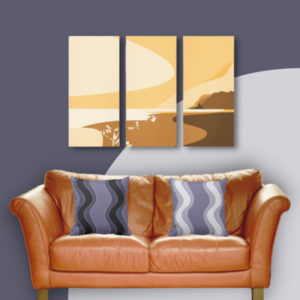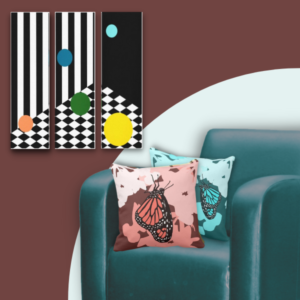 Grey And Pink Throw Pillows
Third, a digitally amplified photography shows a rock crevasse connecting through a cave the beach with the sea in blue, golden, and brown hues. Throw pillows accessorizing the art show a typography pattern of the word LOVE in brown, white, and grey.
Fifth, an isometric room with five colored bouncing balls makes a geometric, modern wall decor. A pillow set in pink and turquoise adorned by Monarch butterflies complements the three panels.
Sixth, modern digital splatter art print in pink accessorizes a set of pixel patterned pillows in pink and grey.
New Zealand Photography Triptychs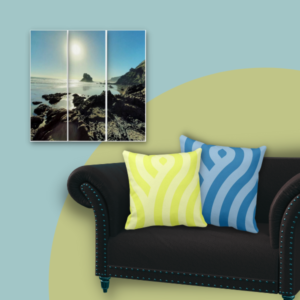 Set of 2 Pillow in Blue & Yellow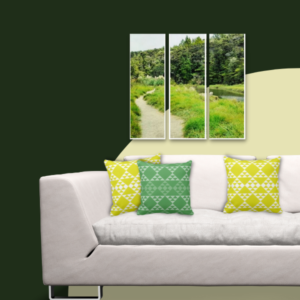 Yellow and Green Pillows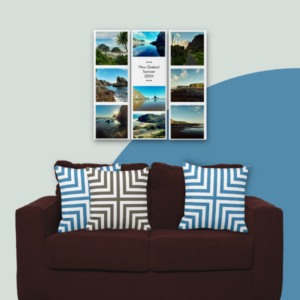 Seventh, a low sun commanding a rugged coastline mesmerizes via three panels of a New Zealand photo wall decor. A pair of blue and yellow accent pillows with a modern wave pattern complements the artwork.
Eighth, a New Zealand bush photography spreads over the three panels and ethnic patterned yellow and green pillows accent the couch.
Ninth, three panels show a photo collage wall decor of nine New Zealand landscape images. And angular patterned pillows in brown and white and a blue and white accessorize them. Both support the coastal collage theme beautifully.
Numerous styles hide within the nine sets of three art prints and triptychs, from photography to digitally enhanced, stylized, abstract, and geometric. The photography ones function as templates and allow image replacement. Customize all others by adjusting the background color to the one that works best. The outcome shows the selected color then with lightened and subdued analog shades. You find these in the Zazzle store Fall for It! in the collection, Sets Of Three Art Prints.
Where To Find More?
Find all photography wall decor and more in our Zazzle store, New Zealand inspired. All throw pillows and other home decor are available in the Zazzle store Fall for It! Each pattern has its collection with multiple color examples. Therefore be welcome to explore.
Where to go for assistance customizing the pillow or photo collage wall decor?
Should difficulties arise when personalizing the wall hanging or the pillow color, we prepared a step-by-step guide on the following page.
Do you have additional questions? Then contact KBM D3signs via the form. We are also happy to transfer the design on request onto products available on Zazzle or to prepare a custom design altogether. Alternatively, visit KBMD3signs on Telegram at https://t.me/KBMD3signs_chat and leave a comment.