The Kahu bird photo captured by Glenn Jones shows the impressive bird flying against the sun above the swampland.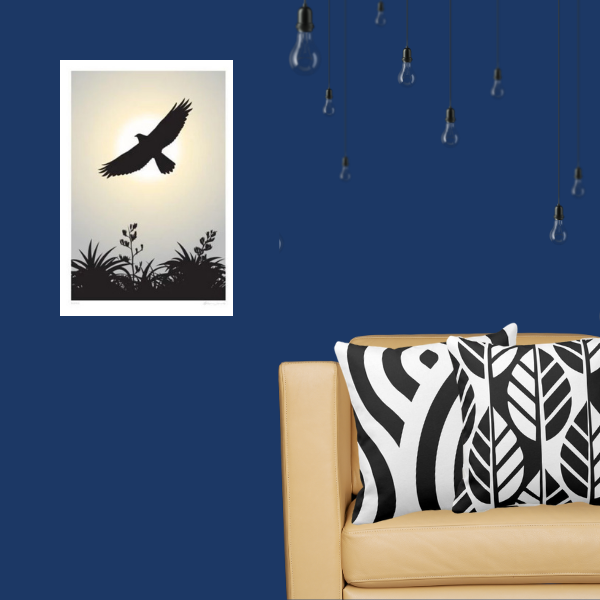 A Kahu is a Maori name for the Swamp Harrier. Name variations for the largest New Zealand bird of prey are Hawk or Australasian Harrier. Among the Maori people, the bird has multiple names. The names are aside of Kahu, Korako and Kerangi.
It is the largest and most common bird of prey in New Zealand. Often the Kahu, while gliding above the plains, becomes part of the landscape. As a bird of prey, their menu consists of small mammals, such as mice and rats. Extending as carrion feeders to roadkill and animals that died on farmland. A clean New Zealand environment is a welcome side effect. That is an important reason to make sure New Zealand keeps a healthy number of them.
For their nests, they seek out, as their name Swamp Harrier suggests, swampland.
Black and white throw pillows complement the Kahu bird photo
The decor example pairs the Kahu bird photo with a black and white wave-patterned pillow and a second one with a black and white stylized leaves pattern.
Both throw pillow patterns, by KBM D3signs, have in common to allow customizing the fill color. What does this mean for you? If you like the pattern design, but black and white do not work for your home decoration project, then color it your way. The result will be your selected color, with black waves or leaves pattern. For instructions on how to modify the fill color, please follow the links here: desktop devices or mobile devices. If you require hands-on help or you would like a custom design contact us directly on Telegram https://t.me/kbmd3signs.