A photo collage wall decor pairs up with a set of 2 throw pillows to altogether create a unique living room decor experience with six decoration ideas.
Triptych New Zealand Beaches Vacation Collage
A triptych featuring a New Zealand Beach vacation collage with nine photos shines then in the first two mood boards.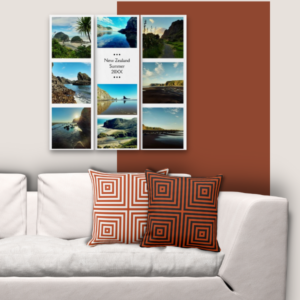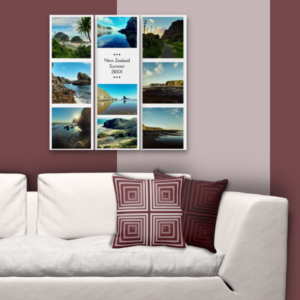 The first mood board spotlights a pair of bronze orange colored pillows complementing the wall hanging. In effect, one of the pillows has a white pattern, and the second one has a black pattern design. In both cases, the throw pillows feature a geometric tile pattern with a nested box pattern. The wall color repeats the accent color.
Meanwhile, the second set focuses on two red pillows. One has the tile pattern with nested squares cornered subdued and one lightened. A lighter burgundy red shade appears then on the wall.
Poster Photo Collage Wall Decor In Portrait Format
Then the second wall decor highlights a framed poster with six New Zealand vacation shots.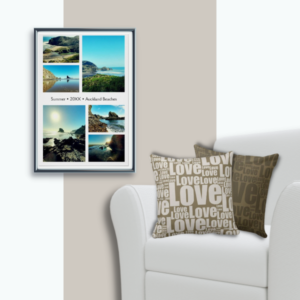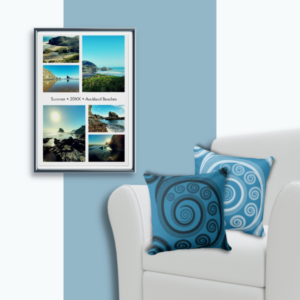 As shown above, a set of brown pillows with a typography repeat pattern, LOVE complements the wall decor in the first mood board. A light hue of the brown decor finds repetition in the wall coloration.
Blue, in short, becomes the lead color in the second mood board. There the throw pillow pair shows one light and a subdued curl pattern which found its inspiration in the New Zealand fern frond.
Haphazard Photo Collage With 11 Photos
The third New Zealand vacation collage features eleven photos in multiple sizes and either landscape or portrait format.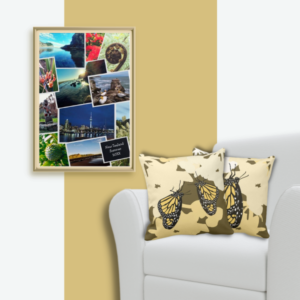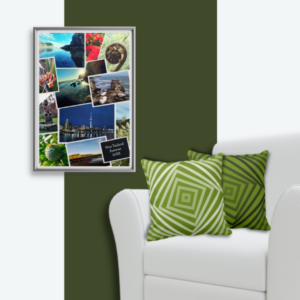 In the first decoration idea, a yellow pillow paired with a butterfly pair complements, in essence, the wall and collage. The last mood has green wall coloration and a set of 2 green throw pillows that show a box pattern in a spiral motion.
Follow here, in any event, for more photo collage ideas using square Instagram images and a pillow pair.