Customize It And Tell Your Story
Turquoise pillows, each beautifully complements a New Zealand photo collage wall decor.
Both pillows and travel destination photo collages allow customization, such as the fill color, surface pattern size, and replacing all or single photos with your ones.
If you like a displayed photo collage layout, you can exchange all images and text and use it for any personal story.
Personalized photo story ideas include school events, achievements, trips, holidays, graduation, birthday, Christmas, or any other personal or family celebration or moments of change and importance that are worthwhile to tell in a photo story.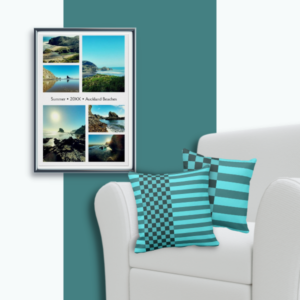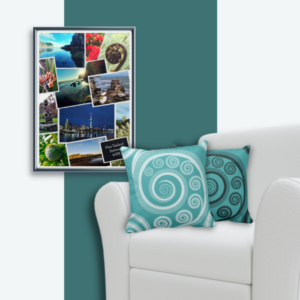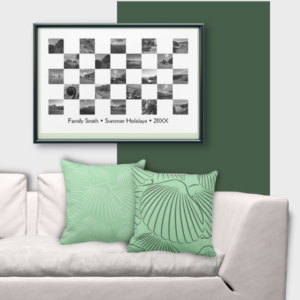 Photo Collage & Turquoise Pillows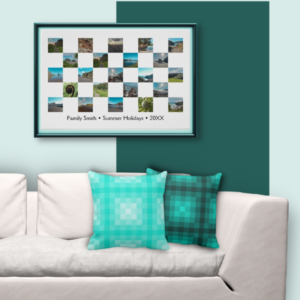 Six Turquoise Pillows Paired With A Photo Collage
The first throw pillow pattern theme is stripes and checkers. It pairs with a wall decor that displays six photos in landscape and portrait and has a personal caption. Overall, the result is a stylish decor.
Second, a playful decor, turquoise butterflies pillows displaying either a single Monarch or a pair round off the wall decoration. It is prepared with placeholders for eleven photos to tell a story in a honeycomb arrangement with a caption.
Third, a fun decor, pillows with a curl pattern in turquoise color. These add to the haphazardly scattered photo collage of eleven images and an overall caption.
Fourth, a refreshing combination, a layer pattern in turquoise-blue accessorizes the Instagram photo collage. Here twenty-four square photos with rounded corners and a caption are ready to fill with your photos.
Fifth, a stylish combo, of turquoise green shell patterned pillows complement a checkered photo collage using twenty-three square Instagram photos in black and white with captions.
Sixth, a modern decor, the pillows show a pixel pattern that distinctly organizes into an overlying plaid pattern. Overall they are complementing an Instagram photo collage in checker formation. It allows for twenty-three photos to tell your adventure story.
Light turquoise is a beautiful spring and summer color as its darker hue, such as teal-green, turquoise transforms into a mystic autumn color. Here, find out what color combines great with turquoise.
Where To Find More?
To find all of the turquoise throw pillows and more, visit our collection in the Zazzle store Fall for It!
To find these and other customizable Instagram photo collage travel souvenirs such as journals, planners, coasters, placemats, greeting cards, and playing cards, visit our store Kia Ora New Zealand on Zazzle.
Where to go for assistance customizing the pillow or photo collage wall decor?
Should difficulties arise when customizing the home decor, we prepared a step-by-step guide.
Do you have additional questions? Then contact KBM D3signs via the form. We are also happy to transfer the design on request onto products available on Zazzle. And to prepare a custom design altogether. Alternatively, visit KBMD3signs on Telegram at https://t.me/KBMD3signs_chat and leave a comment.