The yellow and blue color palette remains a favorite in the ever-evolving world of interior design, where trends come and go. However, some classic color palettes, such as the yellow and blue color combination, continue to stand the test of time and captivate homeowners and interior designers alike. In this article, we'll explore the enduring appeal of yellow and blue in home decor and offer creative ideas for incorporating them. Their combination offers a delightful vibrancy and serenity to enhance your living spaces.
The Irresistible Appeal
Yellow and blue exude a timeless charm that effortlessly infuses any home with warmth, positivity and serenity. The secret to its appeal lies in the complementary nature of the two hues. Blue, often associated with the soothing vastness of the sky and sea, provides a serene backdrop that soothes the mind. In contrast, yellow brings a burst of sunshine and energy, symbolizing joy and optimism. Together, these colors create a harmonious balance that instantly enhances the ambiance of any space.
Nature and Environment Inspired Color Scheme Examples with Color Codes
Color is all around us, and we can use it to our advantage. When we come across a harmonious color combination that catches our eye and makes us say, "I like that". Take the following four examples. First, the stunning contrast between the yellow window frame and the intriguing blue house wall.
Second, the beauty of a blue sky framing a blooming sunflower in late summer. Third, a field of wildflowers on a sunny day. And finally, the color palette in the structure of a beach house with the dreamy blue and turquoise colors of the sea. the combination we like in our home. Alternatively, take a snapshot, find a color picker and create your own color palette.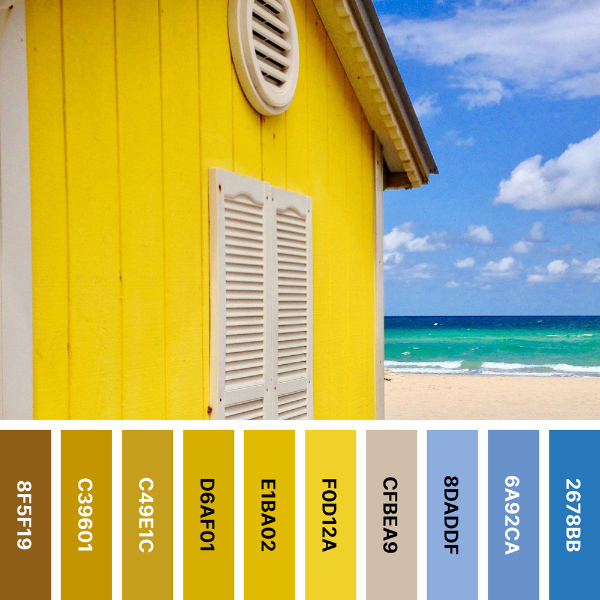 How Do You Use Your Colors to Style Home Decor Items?
Overall, it is pretty easy. Find a print-on-demand store like Fall for It! on the Zazzle platform. KBM D3signs, for example, specializes in creating wall art and home decor templates that allow you to get creative. In short, the templates allow you to add or modify one or more of these parts. Add text and images and additionally change the fill and element colors using a color #hex code. All to match your desired color scheme or existing color palette to spruce up your home, or create a personalized gift for friends and family. If you are unsure of how your colors will work together, then follow the steps of a professional interior designer and use a mood board. They can help you make decorating decisions, both offline and online. An online mood board allows you to share with friends and get their feedback.
How Do You Use the Yellow and Blue Color Palette in Home Decorating?

Choosing the Right Hues

Choosing the perfect shades of yellow and blue is the first step in harnessing the magic of this color scheme. For a soothing and sophisticated look, opt for soft pastels like pale yellow and baby blue. For a bolder approach, consider mustard yellow paired with navy blue for a striking and vibrant contrast.

Focus on the Walls

Painting the walls in yellows and blues can instantly change the mood of a room. For a refreshing touch, paint an accent wall a soft blue while keeping the rest of the walls a bright yellow. Or, for an elegant and cozy feel, use wallpaper with subtle yellow and blue patterns.

Furniture and Accessories

Incorporate yellow and blue through furniture and home accessories to infuse your home with this captivating palette. Choose sofas, chairs or throw pillows in different shades of blue and pair them with yellow pillows or throws to create an inviting seating area. Add decorative accents such as vases, artwork or table lamps in these colors to tie the look together.




Embrace Pattern

Patterns can add an intriguing dimension to your yellow and blue decor theme. Opt for striped, floral or geometric patterns that tie the two colors together. For example, a blue and yellow striped rug or curtains can effortlessly add visual interest to your living space.

A Touch of Nature

Enliven your home by incorporating natural elements in shades of yellow and blue. Fresh yellow flowers in blue vases or botanical artwork with blue and yellow tones can add a touch of nature's grace to any room.
All in All
The yellow and blue color palette is a classic and evergreen choice for home decor, combining the best of both worlds – the serene calm of blue and the joyful vibrancy of yellow. Using this timeless duo in your home can create an atmosphere that is both inviting and visually stunning. Whether you prefer subtle pastels or bold and striking contrasts, the yellow and blue color scheme promises to breathe new life into your living spaces and turn your home into an oasis of tranquility and style. So don't hesitate to embrace this captivating palette and embark on a journey that will take your home decor to new heights of elegance and sophistication.
By all means remember, we thrive on your feedback. Share your home decorating experiences and results.