This week, the blue cleaning service business card received the award of Editor's Pick from the Zazzle team. It is a fantastic badge and speaks for the design. The design expressly consists of a SPOTLESS bursting speech bubble as a custom word logo in either blue on white or white on blue.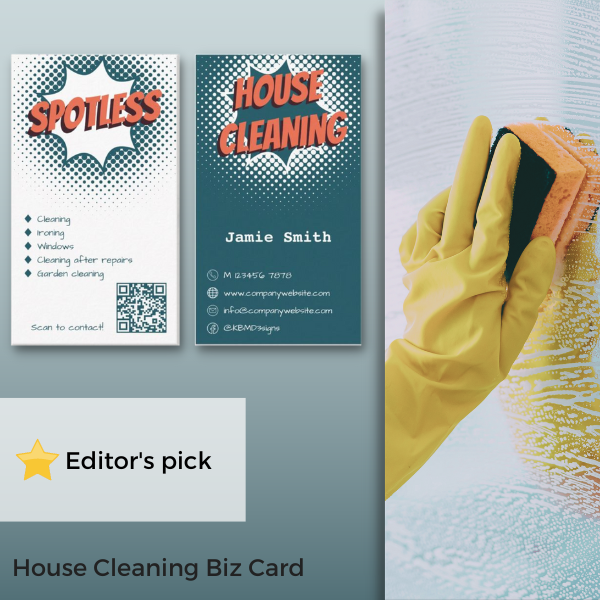 Further features of the professional business card are indications of services provided, a custom QR code to any web or messenger address, name, and contact details with an introductory icon.
What Additional Marketing Materials Complement The Calling Card?
Business card alternatives on paper or magnetic
Spread the word about your service strengths
Schedule and refer
Leave a footprint in your community
Thank your clients
Season greetings
Communicate What Makes Your Business Shine
The first slide introduces a landscape formatted paper card or its alternative as fridge magnets. Altogether with a style-matching business card case.
Promoting your cleaning business offline is the theme in the second slide. The selection covers a car magnet with a call to action, an informative rack card for places where potential clients browse while searching or waiting, and a yard sign.
The third slide professionally schedules and encourage customers to recommend your service by word of mouth to their neighbors.
Supporting your community or school celebration by donating branded paper cups, plates, coasters, and napkins is the theme of the fourth slide.
Throughout the year are special moments when it is good to thank clients for their business which is the topic of the fifth slide. It includes Thank you cards, tags, bags, wrapping paper, and ribbons.
Sixth and last slide, the Christmas season is possibly your busiest time to prepare homes for upcoming Christmas celebrations. But it is also the season to thank, stay in touch, and send season greetings or small gifts.
For more ideas on blue business cards, or differently colored cleaning service business cards click through. The post shows professional biz card designs for a lawyer, photographer, web designer, plumber, mechanic, lawn care service, hotel, and realtor.
Check out Zazzle business card designs at Cocoon It and cleaner business cards store-wide.
Can I Customize The House Cleaning Business Card & Marketing Items?
All showcased items are also templates that allow customization. Among the possible modifications to represent your business are a word logo, text and QR code, and photo. Altogether displayed products are part of a more extensive marketing items collection.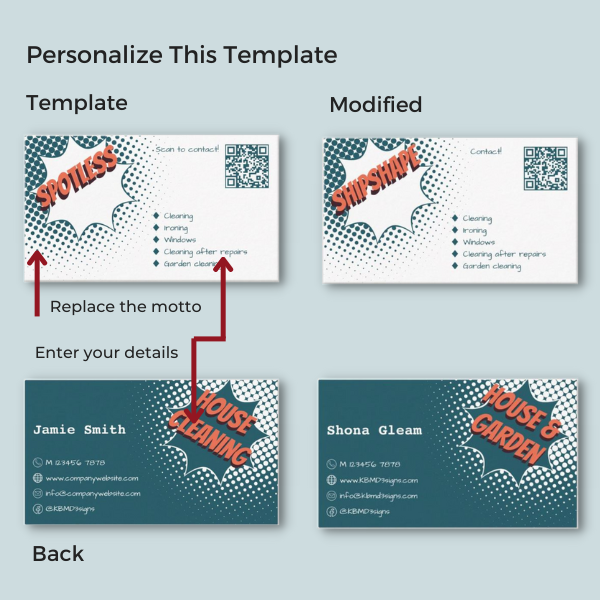 Further Personalization Is Possible
Using the design tool allows adjusting the blue fill color or shape color. Further, alter the font, color, and size to match your modifications. Similarly, personalize the QR-code background color to complement your color choice. In fact, like this, you create your custom business cards.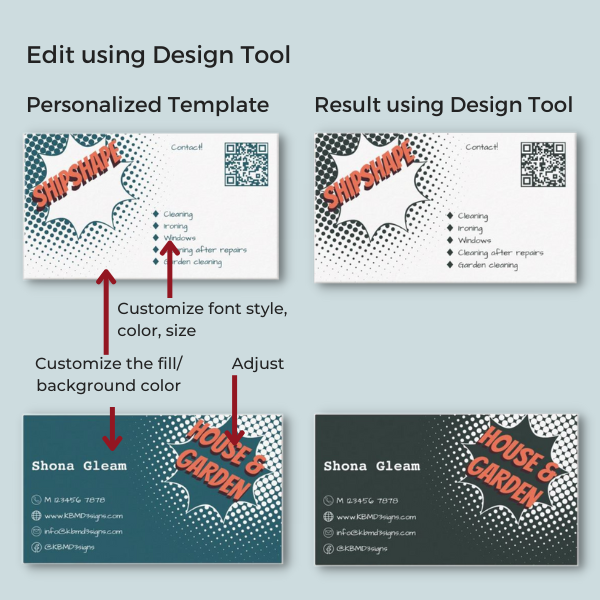 Where Do I Find Customization Assistance
For assistance personalizing the cleaning service business cards and marketing materials, we prepared a step-by-step guide on the following page.
Do you have additional questions? Then use the message tool on Zazzle, or contact KBM D3signs via the form. Alternatively, visit KBMD3signs on Telegram at https://t.me/KBMD3signs_chat and leave a comment or connect with us @KBMD3sings on Telegram as well as on Pinterest.
We are also happy to transfer the design on request onto products available on Zazzle or to prepare a custom design altogether.