The florist business card template comes in landscape or portrait format. Photo placeholders for a descriptive image and custom social presence icons ensure ease of use. Replace the sample text for the florist shop phone details and physical address, and add your web address to the scannable QR code.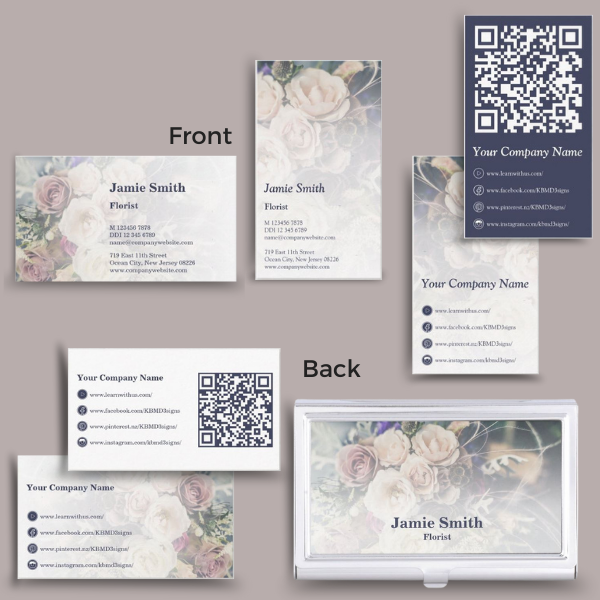 Florist Shop Branding & Marketing
Communicate your services and spread the word wherever you go
Stay organized and encourage repeat business
Accessorize your florist workshop
Custom notecards to add to floral gifts
Spread love and joy
Welcome the Christmas Season accompanying your brand colors
A Florist Shop Becomes Memorable & Recognizable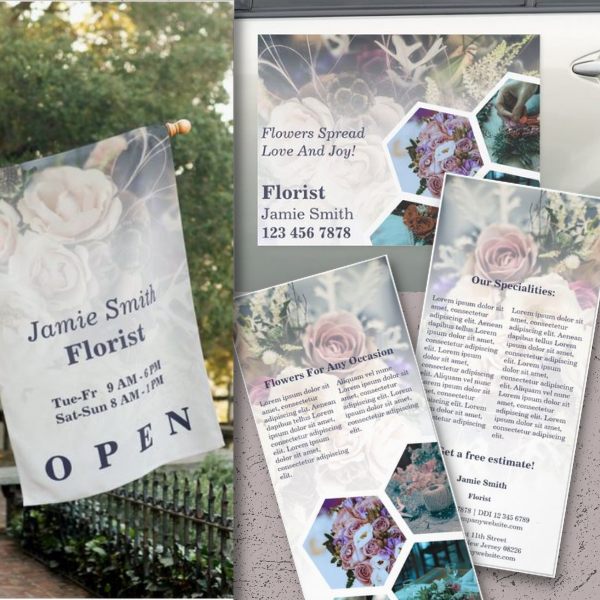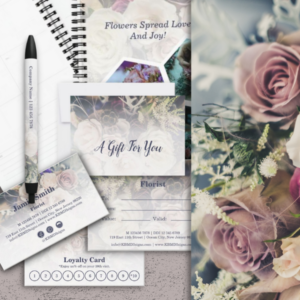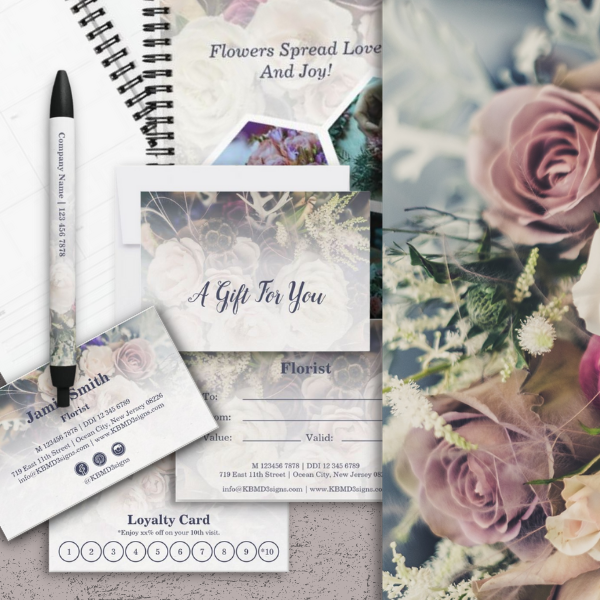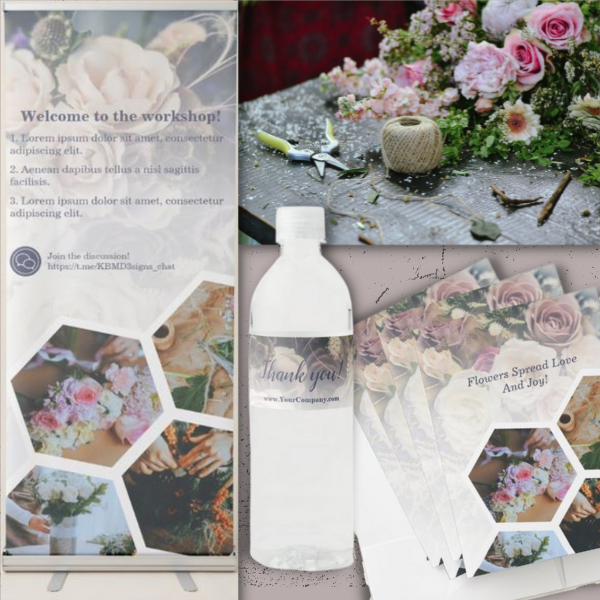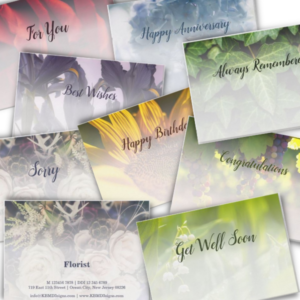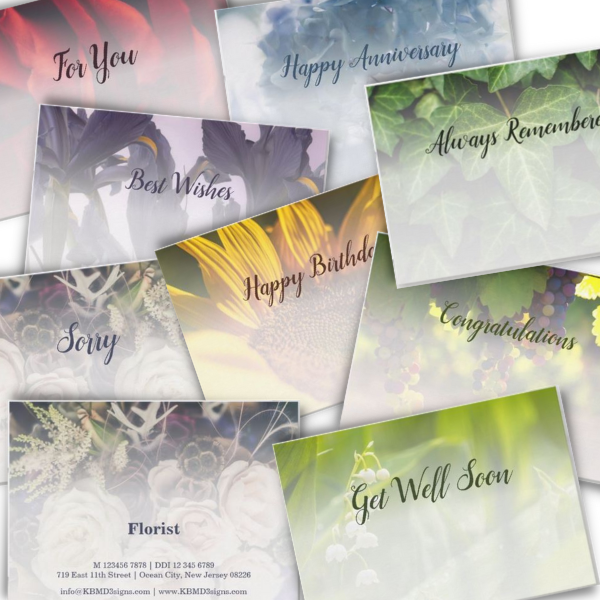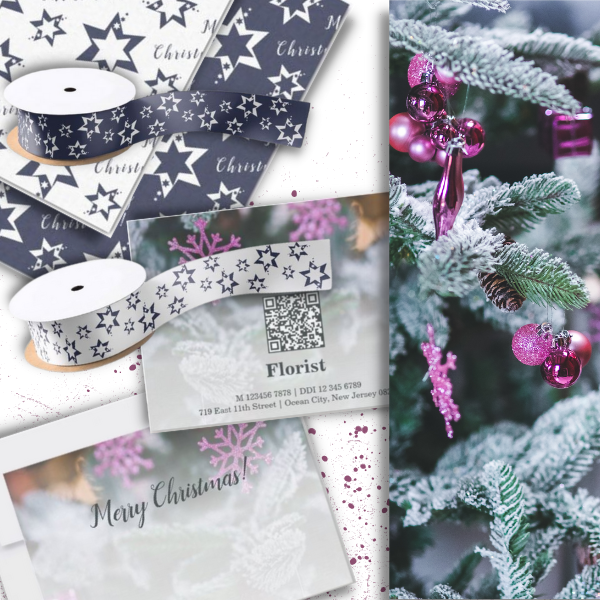 Florist Business Card And Marketing Materials
A florist shop becomes memorable by using consistency in its marketing approach. That includes the style, colors, fonts, and message.
First, a florist shop flag communicates that the shop is open and its opening times. When out and about, the car magnet provides first impressions about the services offered. Fliers for distribution in high frequented neighboring places will introduce the shops' specialties with their location and contact details.
Second, stay true to the shop brand with a planner that helps organize due dates. Also, gift and loyalty cards connect and stay recognizable when consistent in the shop style and colors. Both let customers keep coming back.
Third, easily communicate your brand while diversifying your florist business by offering workshops accessorized with items identifying with your brand. Examples are a retractable banner, refreshment labels, and an accompanying workshop presentation folder.
Fourth, fifth and sixth images stay in style with note cards for any occasion, ribbons, and wrapping paper. A method to make your local services recognizable throughout the year by sending out floral gifts.
Zazzle business card designs at Cocoon It and florist shop business cards store-wide.
Can I Customize The Photo Business Card And Marketing Items?
Customize the photo business card to make a lasting impression and support you in building your florist shop business. Altogether displayed products are part of a more extensive collection.
Personalize The Business Card Template
Personalize the business card template by adding your image to the image placeholders and replacing the sample texts to describe your services.
Edit Using Design Tool
Within the design tool, you can adjust the font color to match your photo. Similarly, personalize the fill color and QR-code background color to complement your photo colors. Like this, you create your custom business cards.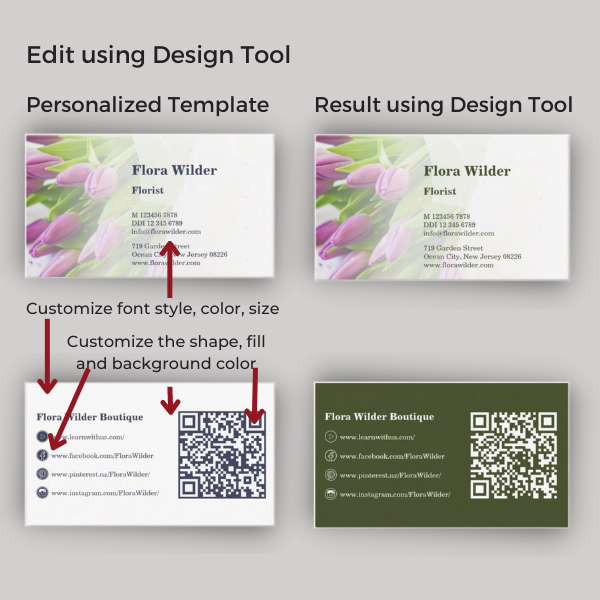 For assistance personalizing the florist business cards and marketing materials, we prepared a step-by-step guide on the following page.
Do you have additional questions? Then use the message tool on Zazzle, and contact KBM D3signs via the form. Alternatively, visit KBMD3signs on Telegram at https://t.me/KBMD3signs_chat and leave a comment or connect with us @KBMD3sings.
We are also happy to transfer the design on request onto products available on Zazzle or to prepare a custom design altogether.
---
Business Card Templates For Custom Business Cards