The florist business card not only provides essential contact information but also serves as a small, tangible representation of your brand and what you have to offer. In the world of floristry, making a memorable first impression is essential to growing your business. One of the most effective ways to achieve this is through a well-crafted business card. To ensure that your business card leaves a lasting impression, follow these key steps.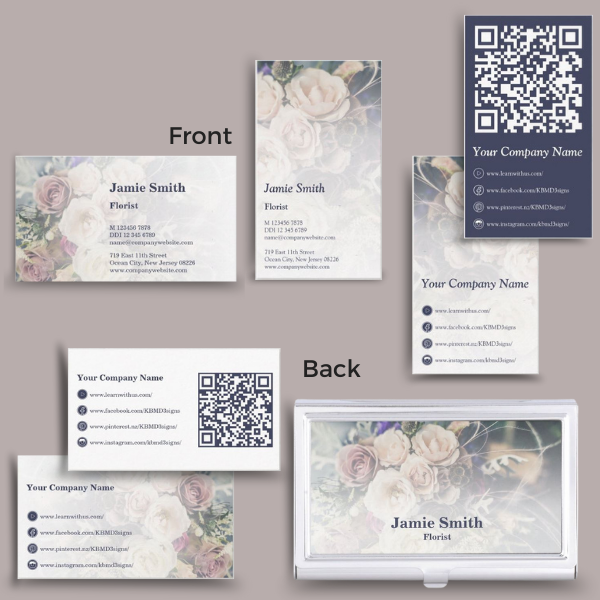 Article Content:
1. Start with a Professional Design
The design of your business card is your first opportunity to convey your florist business's style and personality. A professional design is crucial to ensure that your card doesn't go unnoticed. Here are some design tips:
Colors: Choose colors that reflect the aesthetic of your floral arrangements. Pastel colors and green hues are popular choices for florist business cards. However, feel free to incorporate colors that match your brand identity.
Typography: Select fonts that are easy to read. Avoid overly ornate or decorative fonts, as they may be challenging to decipher.
Imagery: Incorporate high-quality images of your flower arrangements, a logo, or a floral motif. These visuals will make your card stand out and reinforce your brand identity.
2. Keep It Simple and Informative
While a well-designed card is essential, remember that simplicity is key. Your card should contain only the most pertinent information. Include:
Your Name: Display your name prominently, as you are the face of your florist business.
Business Name: Make sure your business name is clear and easy to read.
Contact Information: Provide your phone number, email address, and website by text and /or QR code (if applicable).
Social Media: If you're active on social media platforms, consider including icons or handles for platforms where potential clients can follow your work.
Services: Mention the services you offer, such as wedding floral arrangements, event decor, or daily flower deliveries.
3. Use High-Quality Materials
The physical quality of your business card matters. Opt for high-quality materials, as they convey professionalism and attention to detail. Consider these options:
Paper: Choose a sturdy, premium card-stock. Glossy finishes can add a touch of elegance.
Size: Stick to the standard business card size (3.5 x 2 inches) for convenience. Square or custom shapes can be memorable but may not fit easily into cardholders.
Texture: Matte or textured finishes can add a tactile dimension to your card.
4. Consider Unique Finishes
Unique finishes can make your business card truly memorable. Some options include:
Embossing or Debossing: These techniques create raised or sunken patterns or text on the card, adding a tactile element.
Foil Stamping: Foil accents can give your card a touch of luxury and shine.
Die-Cutting: Custom shapes or patterns can be created with die-cutting, making your card stand out from the crowd.
5. Showcase Your Floral Style
Use your business card as an opportunity to showcase your floral style. Include images of your most stunning floral arrangements, a logo with a floral motif, or an elegant background that reflects your style. This will help potential clients connect your card with the beauty and creativity of your floral work.
6. Ensure Readability
Your business card should be easy to read. Make sure the font size is large enough and contrasts well with the background. Avoid overcrowding your card with information. Less is often more when it comes to business card design.
7. Proofread Carefully
Errors on your business card can be embarrassing and unprofessional. Double and triple-check all text for accuracy and spelling mistakes. Ask others to review it as well to catch any errors you might have missed.
In a Nutshell
Overall, creating a florist business card that makes a lasting impression is a crucial element of your marketing strategy. Your business card serves as a tangible reminder of your services and brand. By investing in a professional design, using high-quality materials, and adding unique finishes, you can ensure that your business card not only provides essential information but also leaves a lasting impression on potential clients, helping your florist business bloom and flourish.
The Right Color Palette Elevates Your Florist Business Card
The color of a florist business card is highly important as it can convey the right message and leave a lasting impression on potential clients. Color choice is a key element in branding and design, and it can impact how people perceive your florist business. Here's why color matters, suitable color choices, and what each color expresses in relation to a florist business card:
Importance of Color:
Branding: Color is an essential part of your brand identity. It helps customers recognize and remember your florist shop.
Emotional Impact: Colors evoke different emotions and can influence people's feelings about your business.
Differentiation: Your business card should stand out from competitors, and color can help achieve this.
Suitable Colors for Florist Business Cards:
Green: Green is the most obvious choice for florist business cards as it's associated with nature, growth, and freshness. It's often used to convey a love for plants and flowers.
Pastel Colors: Soft, pastel shades like light pink, lavender, and soft blues can convey a sense of delicacy, romance, and beauty.
White: White is associated with purity and simplicity, which can work well if you want your flowers to be the focal point.
Yellow: Yellow represents happiness, positivity, and energy, making it a good choice if your florist business is known for vibrant and cheerful arrangements.
Pink: Pink, especially softer shades, is often associated with femininity and love, making it suitable for businesses that specialize in wedding and romantic arrangements.
Purple: Purple can symbolize elegance, creativity, and luxury, which may be a good fit for a high-end florist.
What Colors Express:
Green: Nature, freshness, growth, eco-friendliness.
Pastels: Beauty, delicacy, and a sense of calm.
Yellow: Happiness, energy, and positivity.
Pink: Romance, femininity, and love.
Purple: Elegance, creativity, and luxury.
When choosing colors for your florist business card, it's crucial to consider your unique brand identity, target audience, and the emotions you want to evoke. Remember that the color should harmonize with your logo, images, and overall design. Ultimately, a well-chosen color palette will help your florist business card stand out and leave a positive impression on potential customers.
Can I Personalize Florist Business Cards and Marketing Materials by KBM D3signs?
Absolutely! At KBM Designs, we offer fully customizable professional business cards that allow your florist business to make a uniquely memorable impression. These tailored marketing items are instrumental in supporting the growth of your florist shop and are part of our comprehensive offline marketing collection.
Customize Your Business Card Template
You can easily personalize the business card template by inserting your own image into the designated placeholders. Replace the sample text with descriptions of your services to make it uniquely yours.
Edit with our Design Tool
The user-friendly design tool on Zazzle allows you to fine-tune every detail. Adjust the font color to complement your chosen image, and customize the fill color and QR code background to match your brand's color scheme. This way, you can craft custom business cards that represent your florist shop perfectly.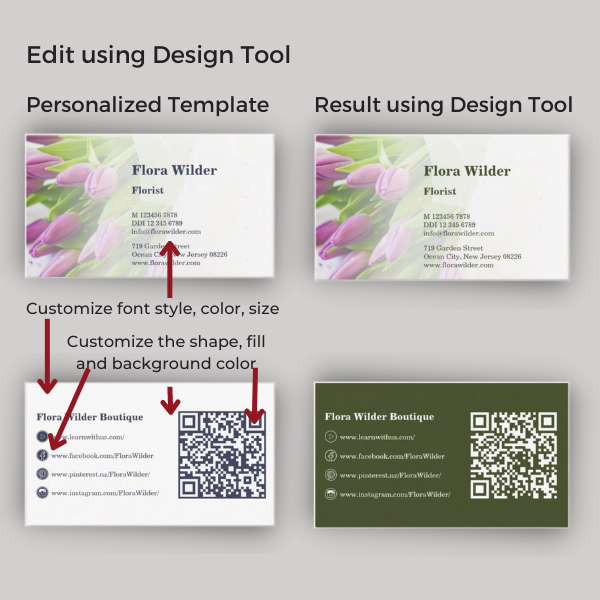 For step-by-step guidance on personalizing your florist business cards and marketing materials, please refer to the instructions on the following page. If you have any additional questions, feel free to reach out using the message tool on Zazzle or contact KBM Designs via our contact form.
We're also pleased to offer services where we can apply this design to various products available on Zazzle or create an entirely unique custom design, tailored to your specific needs. Your vision is our priority.
What additional florist marketing items would be useful for offline marketing?
Offline marketing for a florist can be just as important as online efforts because it allows you to connect with local customers on a personal level. Here are some additional offline marketing items and strategies that can be beneficial for a florist business: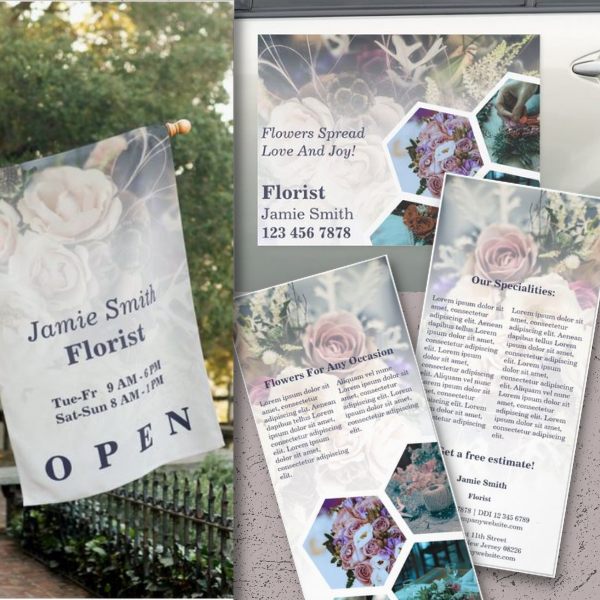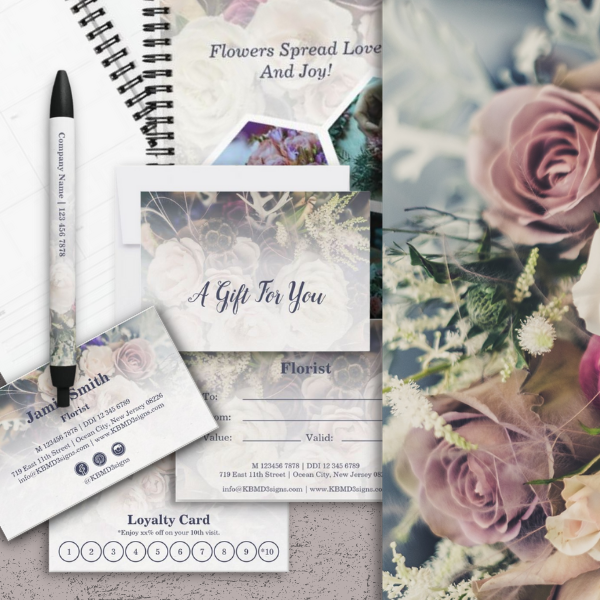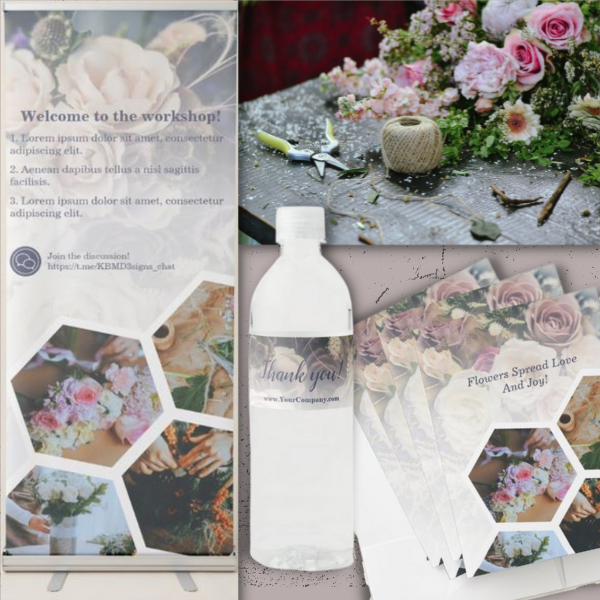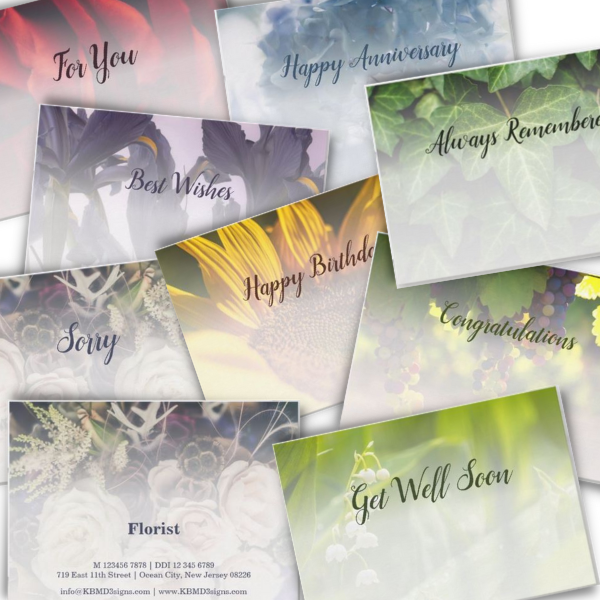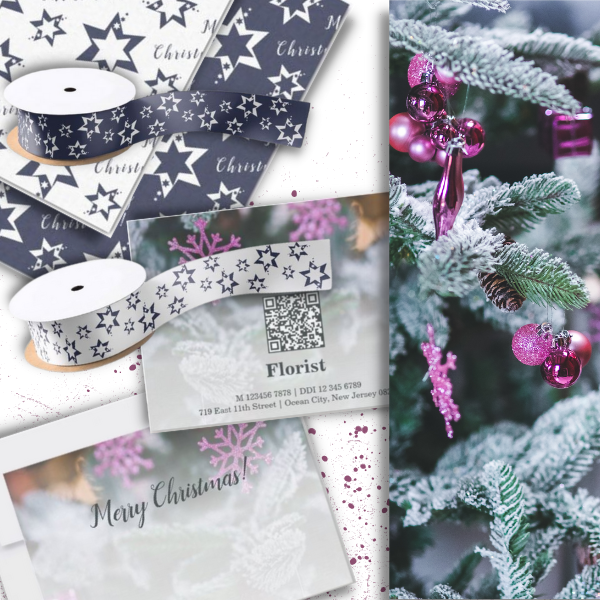 Brochures and Flyers:
Create eye-catching brochures or flyers that showcase your flower arrangements, services, and special promotions and workshops. Distribute these in local businesses, cafes, event venues, and through direct mail.
Business Signage:
Invest in attractive signage for your storefront or a stand-alone sign if you have a physical flower shop. A well-designed sign can help catch the eye of passersby and encourage foot traffic. This can be in the form of a flag or a yard sign.
Vehicle Decals or Wraps:
If you have delivery vehicles or a flower delivery service, consider adding your business name, logo, and contact information to the vehicle. This serves as a mobile advertisement for your business. Removable magnetic vehicle decals in a variety of sizes work well. Bumper stickers will also keep any follow car informed as it travels from point A to point B.
Event Sponsorship:
Partner with local events such as weddings, charity galas or community gatherings by providing floral arrangements or becoming an official sponsor. Your company will be recognized in event materials and you can showcase your work in person. At some community events, even paper plates and cups or water bottles with your colors and branding can help further the cause.
Free Workshops or Classes:
Host flower arranging or gardening workshops or classes. This can attract local customers interested in learning about flowers and build a community around your brand. Use flyers to inform, retractable banners to direct, and custom branded presentation folders to organize workshop materials and stay memorable.
Window Displays:
Create eye-catching window displays that change with the seasons or holidays. A beautiful display can draw people into your shop and serve as a visual representation of your skills.
Local Partnerships:
Collaborate with local businesses that complement your services, such as wedding planners, event venues, or gift shops. Cross-promote each other to reach a broader audience.
Loyalty Cards:
Offer loyalty cards to your regular customers. After a certain number of purchases, they can receive a discount or a free bouquet, encouraging repeat business.
Press Releases:
Send press releases to local newspapers and magazines when you have significant events, such as grand openings, free workshops, new services, or awards. Local media coverage can increase your visibility.
Community Involvement:
Get involved in your community by participating in or sponsoring local events, parades, or festivals. Setting up a booth or contributing floral arrangements can generate goodwill and visibility.
Thank You Cards and Notes:
Send personalized thank-you cards or notes to your customers after each purchase. It shows appreciation and can encourage repeat business.
Seasonal Promotions:
Plan special promotions for holidays like Valentine's Day, Mother's Day, or Christmas. Offer seasonal flower arrangements and promote them well in advance.
Local Directories:
Ensure your business is listed in local business directories, both online and in print. Many people still rely on these directories when searching for local services.
Word of Mouth:
Encourage satisfied customers to spread the word about your business. Consider a referral program or discounts for customers who refer friends and family.
Branded Merchandise:
Create and sell branded merchandise such as T-shirts, mugs, a floral planner, calendars, or tote bags with your business name and logo. This can be a unique way for customers to remember you.
Remember that an effective offline marketing strategy often involves a combination of these tactics, tailored to your target audience and local market. Consistency and creativity in your approach can help your florist business thrive and build strong, lasting connections with the community.
Zazzle business card designs at Cocoon It!.
Show off your personal style or post a review!
Frequently Asked Questions About Florist Shop Offline Marketing Materials:
What are the essential offline marketing materials for a florist shop?
Essential offline marketing materials for a florist shop typically include business cards, brochures, flyers, signage, window displays, and vehicle decals or wraps. These items help promote your business and showcase your floral arrangements.
How can I create a visually appealing window display for my florist shop?
To create an attractive window display for your florist shop, consider using seasonal flowers and arrangements that catch the eye. Use a mix of colors, textures, and heights to create visual interest. Change the display regularly to reflect seasons and holidays. Lighting can also enhance the display's impact, and adding thematic props or signage can make it more engaging.
Are there any cost-effective offline marketing materials for a small florist shop?
Yes, there are several cost-effective offline marketing materials for small florist shops. Utilize techniques like DIY signage, printing small batches of brochures and flyers, and creating simple, elegant business cards. Partnering with local businesses for cross-promotion can also be a budget-friendly way to expand your reach. Additionally, handwritten thank-you notes and word-of-mouth marketing are low-cost and effective ways to build customer relationships and gain referrals.