The blue and white color palette has long been revered for its timeless charm and versatile appeal in home decor. Whether decorating a seaside retreat or a contemporary urban dwelling, this classic combination effortlessly captures a sense of serenity, sophistication and elegance. The appeal of using blue and white in home decor lies in its ability to create a soothing ambiance while remaining adaptable to different design styles. In this article, we explore the reasons behind the enduring popularity of this color scheme and offer inspiring ideas for incorporating it into your own home decor.
The Appeal of the Blue and White Color Palette
Blue and white together create a harmonious and calming effect that appeals to people of all ages. The color blue is associated with tranquility, peace and a connection to nature. As evidenced by the nature-inspired blue and white color palette collages. This makes it an excellent choice for creating a soothing environment in the home. White, on the other hand, symbolizes purity, simplicity and spaciousness, contributing to a feeling of openness and airiness.
In addition, the timeless appeal of the blue and white color palette comes from its ability to effortlessly adapt to different design styles, from traditional to modern and everything in between. This adaptability makes it a popular choice for homeowners and interior designers alike.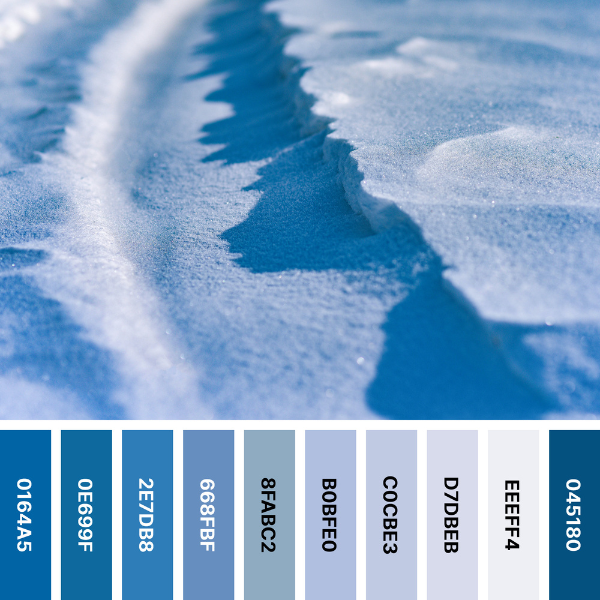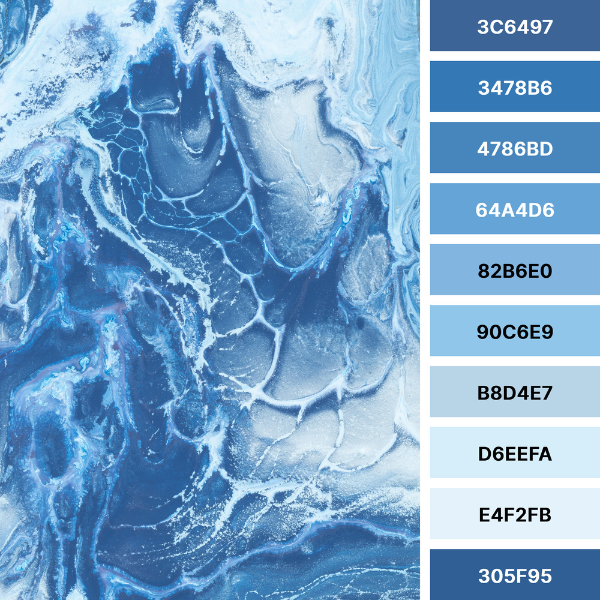 If one of the above palettes makes you itch to infuse your home with its color scheme, KBM D3signs Surface Pattern Design for Art and Home Decor allows you to change the colors on its template designs.  On the other hand, if you have a photo that has exactly the blue and white color scheme you are looking for, here are the color tools we use to generate the color palette. To make sure everything works well together, consider creating a mood board. It is fun, and you can even get feedback from friends and family. For more color palette ideas explore our collection here.
Ideas for Incorporating the Blue and White Color Scheme
Embrace coastal charm by incorporating a nautical theme into your decor. Paint the walls a soft sky blue and decorate the space with whitewashed wood furniture and blue and white striped textiles that evoke the sea. Accessorize with seashells, marine-inspired artwork and coral accents to complete the coastal vibe.
Classic and Chic
For a timeless and sophisticated look, pair navy blue with crisp white. Opt for navy accent walls or use it as a dominant color for furniture upholstery. Contrast the deep blues with white trim, pale draperies and elegant silver or gold accessories for a sophisticated and luxurious look.
Modern Minimalism
Focus on clean lines and subtle contrasts for a contemporary and minimalist approach. Use a soft shade of baby blue on the walls and pair it with white furniture that has a sleek, simple design. Incorporate blue and white abstract art or geometric patterns to add visual interest without overpowering the space.
Mediterranean Dream
Capture the essence of Mediterranean living by combining rich cobalt blue with bright white and earthy tones. Incorporate blue and white mosaic tile in the kitchen or bathroom and use blue patterned pillows and throws in the living area. Complete the look with potted greenery to bring a touch of nature into your home.
Eclectic Fusion
Mix the blue and white color scheme with other vibrant hues to create an eclectic and lively living space. Experiment with blue and white patterns in rugs, curtains and throw pillows, and mix in accents of yellow, orange or pink to liven up the decor. This approach adds personality and flair to any room while maintaining a cohesive and visually appealing look.
Overall, the blue and white palette continues to fascinate homeowners and interior designers for its timeless sophistication, versatility and serenity. Whether you're aiming for a coastal retreat, a contemporary haven or a fusion of eclectic design, blue and white remains an excellent choice for home decor. So unleash your creativity. Experiment with different shades and let the timeless appeal of blue and white transform your home. Make your living room, bathroom or dining room a haven of beauty.
Wall Art For Your Home By KBM D3signs