Green and blue pillows with various patterns by KBM D3signs complement nature photographs by several photographers.
Nine living room decorations show ideas on how to transform a living room with little effort. Accomplish this through a simple change in wall decor, wall coloration, and selection in accent pillows. Each example results in an atmosphere change. Adjectives to describe the outcome include distinction, playfulness, modern, traditional, minimal, ethnic.
Nature Photography Print Wall Decor Complemented By Green And Blue Pillows
Close up of a succulent plant rosette
Texan McAllen bird from the Rio Grande Valley
Bamboo close-up
Proud peacock with wheel
Delicate dragonfly
The landscape of the White River National Forest
A hummingbird with a red hibiscus blossom
Single dandelion seed-ball
The landscape of the Glacier National Park
Succulent Rosette Close-Up And Circle Patterned Pillows
A beautiful succulent rosette close-up photography decorates the cool green wall. The couch shows throw pillows with a nested circle pattern that assumes an ethnic appearance.
McAllen Bird Print And Fragmented Circle Patterned Pillows
With his exuberant plume in yellow, green, and blue, the South Texas bird called McAllen captures attention on this forest green wall. Lime-green and blue decorative pillows with a fragmented circle pattern complement the wall hanging to return a playful feel to the home decor.
Bamboo Photography Print And Angular Patterned Pillows
Densely standing stems of bamboo as close up is the theme to decorate the grey-green wall. With a geometric angular pattern, the throw pillows complete an atmosphere of distinction.
Peacock Photography Print And Pillows With Pixel Pattern
A portrait of a peacock displaying his majestical feather wheel in this photography print decorating an olive-green wall. Meanwhile, throw pillows with a decorative pixel pattern accent the couch resulting in a modern living room space.
Dragonfly Print Wall Decor With Curl Patterned Pillows
A dragonfly close-up photograph accents the dark olive-green wall above the couch. In this case, decorative throw pillows with a curl pattern complement the playful living room decor.
White River Print And Spiral Box Patterned Pillows
Here, a winter landscape of the White River National Forest wall decor sets the mood for a traditional living room decoration. Accent pillows for the couch, however, show a spiral box pattern.
Hummingbird And Ripple Patterned Pillows
The photo print decorating the modern living room shows a hummingbird in flight towards a red hibiscus blossom. After all, ripple patterned throw pillows decorate the seating furniture.
Dandelion Wall Decor And Circle Pattern Pillows
Blue sky with a single dandelion seed ball makes the charm of this square photo print set against a blue wall. In tune with the overall minimalist feel, the couch accents throw pillows with a diagonal circle pattern.
Glacier National Park With Jagged Patterned Pillows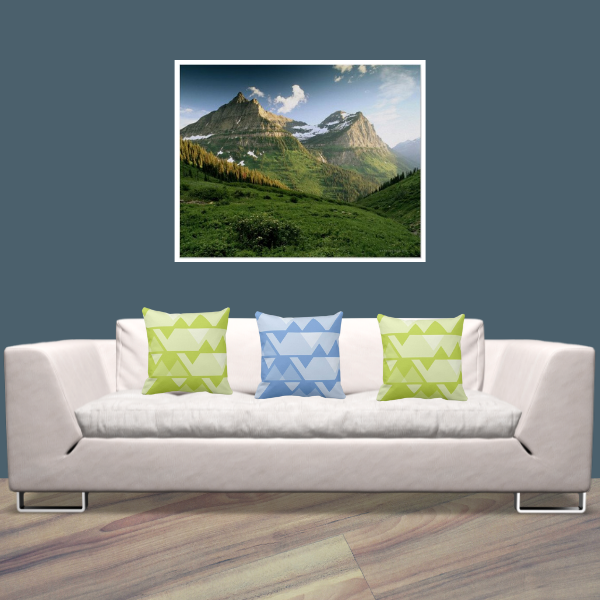 Mountainous landscape photography of the Glacier National Park in Montana decorates the steel-blue wall. Lime-green and blue jagged patterned pillows, in essence, complement the traditional home decor.
Why Choose Blue And Green Living Room Decor
Altogether green and blue decor bring the effects of both colors into the living room.
Green is associated with revitalization and relaxation. Meanwhile, blue is associated with emotions of calm and tranquility.
What have all pillow designs in common? Color It Your Way!
You saw a pillow with a surface pattern design you seek, and the hue is off. There is a solution.
Follow the link of the pillow design you favor, then adjust the fill color. The result is a pillow showing the pattern design in lightened or subdued shades of the fill color.
Before you start, check out the pattern collection in the store Fall For It. There each pattern design comes in ten hues and black and white with additional variations in pattern sizes. So check them out. If none works for you, then color it your way. Apart from square pillows, each design includes round and oblong cushions, round and cubed comforters, and blankets. Yet, it is not limited to these.
For instructions about revising the fill color, please follow the link: desktop devices or mobile devices. If you require hands-on help, for a product expansion, or you would like a custom design then contact us directly on Telegram https://t.me/kbmd3signs_chat.
At KBM D3signs, we love feedback, so please feel free to post your color and decor idea.