Marketing materials for small business strengthens your first impression when introducing your services. The young marketing collateral is in lime-green and black.
It is a tool to communicate your contact details, what your service is about, and where to find out more about how you can help. Most importantly, it is part of the brand you plan to grow.
Zazzle business cards are fantastic to personalize marketing items to make them custom printed marketing materials. The small business branding package in lime-green and black shows a modern, energetic style and is very flexible. Its product list allows you to grow your small business while staying with all your marketing materials on brand. Start with your business cards and a planner.
Professional Business Cards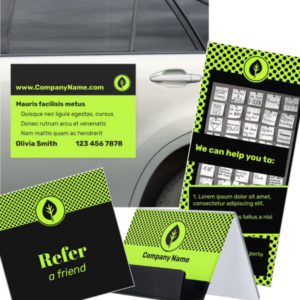 Offline Advertising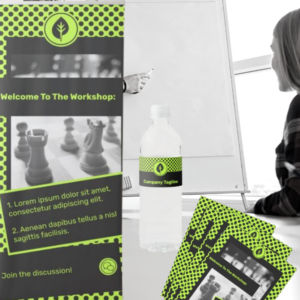 Workshop Material
Thank you!
Marketing Materials
Merry Christmas
Then when your business grows and has more diverse marketing needs come back and explore car magnets, rack cards, and refer a friend card. Like this, it is easy to promote your services locally through your daily journeys and word of mouth. Meanwhile, rack cards in frequented places throughout your community help to promote your business.
When planning in-person workshops or exhibiting your services at a fair, the branding package has your back. Items such as promotional bottle labels and presentation folders become ambassadors of your brand and services.
As a Thank You! gift, there is also a selection of fun swag items to stay in plain sight in your customer's home. These include notepads for a fridge, mugs, bags, mousepads, and many more items. For a more formal – Thank you! – there are on-brand items part of the branding package. Card, gift boxes, gift bags, gift tags, and gift wrapping paper are part of it. And for the Holiday Season, you find yourself equally covered.
Should you require additional branded marketing materials besides your entrepreneur business card? We are happy to help and expand the materials to satisfy your requirements.
What Makes The Entrepreneur Business Cards And Marketing Materials Stand Out?
The template design gives you the freedom to personalize a profile photo, logo, text, text font, and text size, and if the color fails to work, then change the fill color.
For instructions about revising the fill color, please follow the link: desktop devices or mobile devices. If you require hands-on help for a product expansion, or you would like a custom design, then contact us directly on Telegram https://t.me/kbmd3signs_chat.
At KBM D3signs, we love feedback, so please feel free to post your color and decor idea.
---
Marketing Materials For Small Businesses