A blue and orange color palette, this energetic duo brings together cool serenity and warm vibrancy, resulting in a visually striking and balanced aesthetic. In this article, we will explore how incorporating a blue and orange color palette can breathe new life into your home, from walls and furniture to accessories and accents.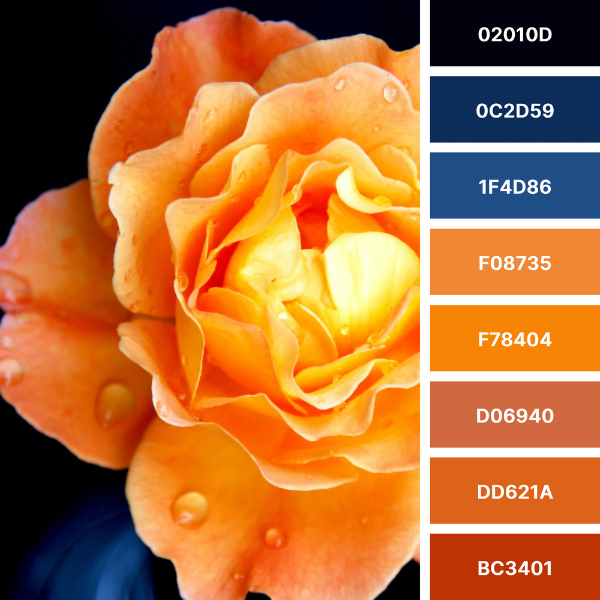 Using color in interior design can significantly affect the overall feel and mood of a room. One captivating combination that has gained popularity in recent years is the dynamic blue and orange color palette.
What to Do With The #Hex Codes
The added #Hex codes in the color palette collages above have practical benefits. They allow you to customize many of the KBM D3signs home decor designs on the Zazzle platform. Explore the color palette ideas found here on KBM D3signs; many are inspired by nature and others represent a detail in our environment. The color tools, on the other hand, introduce you to the tools we use to create color schemes. Load images in colors you like or create a palette around a color you like.
Creating a Welcoming Entrance With A Blue and Orange Color Palette
First impressions are crucial, and what better way to set the tone for your home than with a welcoming entryway? A blue front door, such as a serene aqua or deep navy, immediately catches the eye and exudes a sense of calm. Accent the door with orange planters or a welcoming doormat for a pop of vibrant energy that complements the blues. This combination will leave a lasting impression on guests and create an immediate sense of warmth and intrigue.
Invigorating Living Spaces
The heart of every home is the living room, where family and friends gather to relax and unwind. Infuse your living room with the invigorating energy of the blue and orange color scheme by choosing a blue sofa as the focal point. Alternatively, select a stunning blue and orange wall art by KBM D3signs. Choose shades like azure or sky blue to create a tranquil atmosphere. Then add a pop of color by incorporating orange accents through throw pillows, artwork or curtains. The juxtaposition of these two colors creates a dynamic and visually stimulating environment that encourages lively conversation and a cheerful atmosphere.
Revitalize the Bedroom
Turn your bedroom into a tranquil oasis with a blue and orange color scheme. Choose soothing shades of blue, such as periwinkle or baby blue, for the walls to promote a sense of serenity and relaxation. Incorporate orange elements through bedding, such as decorative pillows or a cozy throw, to add warmth and energy. By combining these colors harmoniously, you can create a balanced and restful environment that promotes restful sleep and rejuvenation.
Energize the Kitchen and Dining Area
The kitchen and dining table are the heart of the home. Culinary delights are created there, while the events of the day are recounted around the dining table. Use the colors blue and orange to bring vitality and creativity to your kitchen and dining area. Consider painting your kitchen cabinets a soft shade of blue to provide a soothing backdrop for your culinary endeavors. Add pops of orange with vibrant dishes, kitchen wall art, dining room wall decor and accessories. This combination will awaken the senses and inspire your culinary adventures.
Embrace Color Accents
All in all, by embracing the captivating blue and orange color palette with #Hex codes, you can revitalize your home and create a visually stunning environment. It promotes both the calming qualities of blue and the vibrancy of orange.
Using the blue and orange colors allows you to transform your home from the welcoming entryway to the invigorating living rooms, from the revitalized bedroom to the energized kitchen and dining area, this dynamic combination brings balance and harmony to every corner of your home. So let your creativity soar and embark on a transformation that will amaze your guests and bring new joy and inspiration to your everyday life.