Black and white wall decoration for your living room is a timeless and stylish color scheme to consider. The contrasting tones of black and white create a bold and sophisticated look that can enhance the overall ambiance of your space. In this article, we will explore several ideas for black and white wall decorations that can enhance the visual appeal of your living room.
Nine Examples of Black and White Wall Decorations Are Divided into Five Subcategories
Abstract
A quad or four-panel abstract landscape can serve as an intriguing focal point on a gray wall. Here it hangs above a red two-seater and is accented with black, white, and red cushions. The combination creates a striking visual contrast.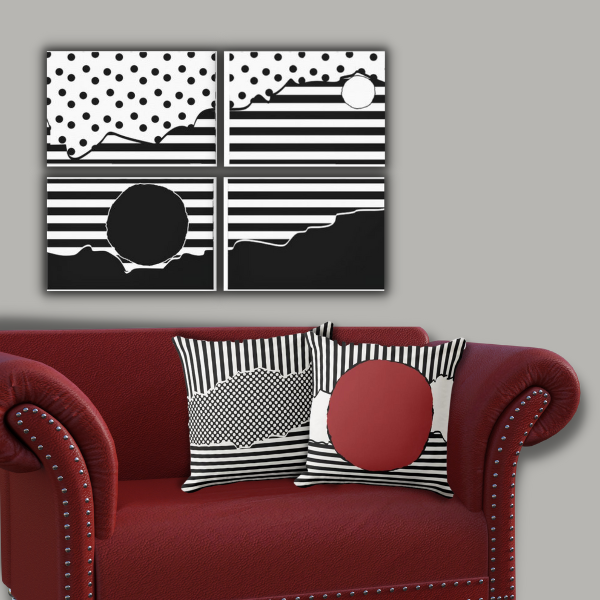 Motivational Artwork
A green armchair placed against a white wall adds a touch of motivation with a poster of a butterfly chrysalis. Meanwhile, the armchair underneath draws the eye with a black, white, and green throw pillow. This arrangement serves as a reminder of the potential for personal growth and transformation.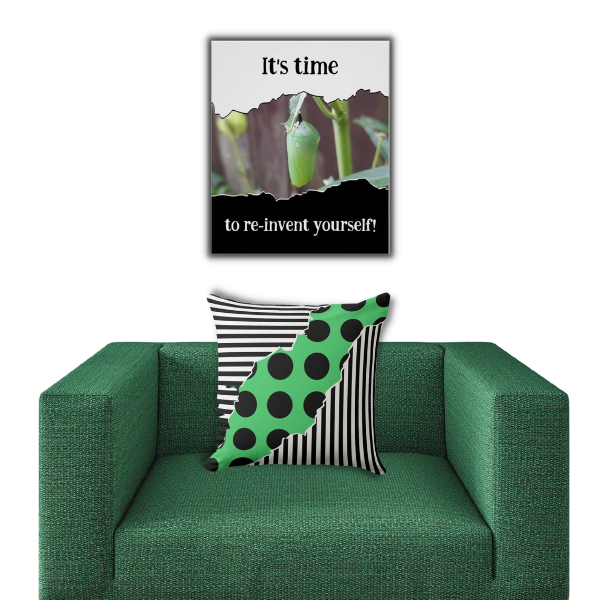 It's Time to Re-invent Yourself
Courage Poster
The living room with a gray wall and a red armchair includes a motivational poster. Placed above the furniture it features a multilingual typography pattern of the word "courage" breaking through a tear. A black and white pillow accenting the furniture continues the theme. This combination can inspire and uplift the atmosphere of your living room.
Coastal Theme
Abstract Torn Beach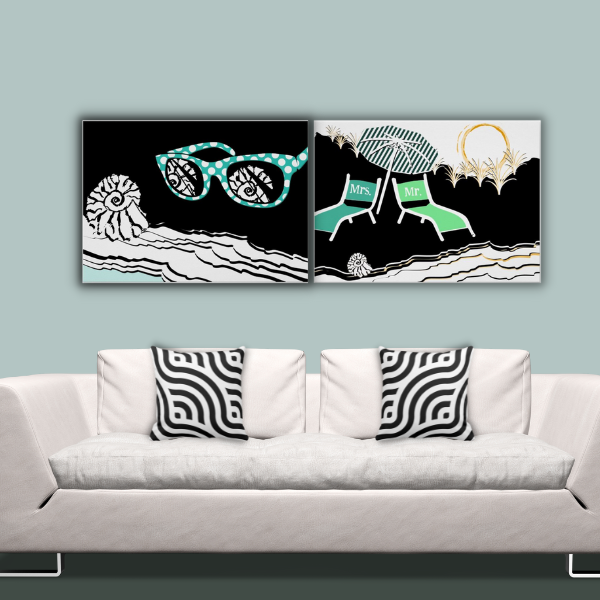 Set of Two Sea Poster
Love Surfing
A coastal theme is created by combining a light purple wall with a darker purple couch. The living room arrangement is enhanced by black and white art with two stacked horizontal panels depicting an abstract beach scene. In addition black and white throw pillows extend the theme to the couch.
The space of a light blue wall above a white leather couch becomes the focal point by hanging  a set of two coastal-themed wall art. The posters feature black, white, and turquoise blue elements, such as sunglasses mirroring a seashell on the water's edge and beach loungers at sunset. Meanwhile black and white pillows adorned with a wave pattern complete the look.
For a modern twist on the coastal theme, we placed a collage-like surfer poster print on a gray wall. Framing the surfer is a burst shape covered in a love typography pattern. Accent with a black and white love-patterned throw pillow.
Nature-Inspired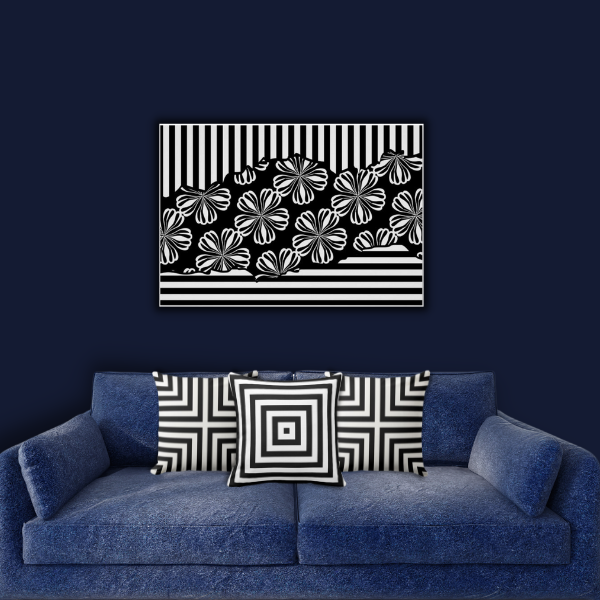 Torn To Reveal Flowers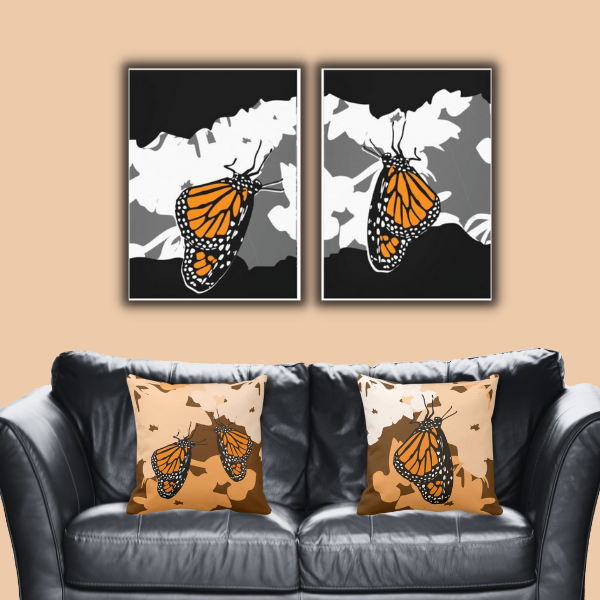 Torn View
A touch of abstraction comes to the living room, blue wall with a nature-inspired black and white  floral art. Here the art complements a blue sofa. Black and white throw pillows with nested squares and angular patterns complete the look.
In the next example, the combination of a sandy orange wall and a black leather sofa creates an intriguing contrast. A two-panel artwork featuring an abstract floral pattern and monarch butterflies hangs above. To carry the theme further, orange monarch butterfly-themed throw pillows adorn the couch.
Family Portrait Collage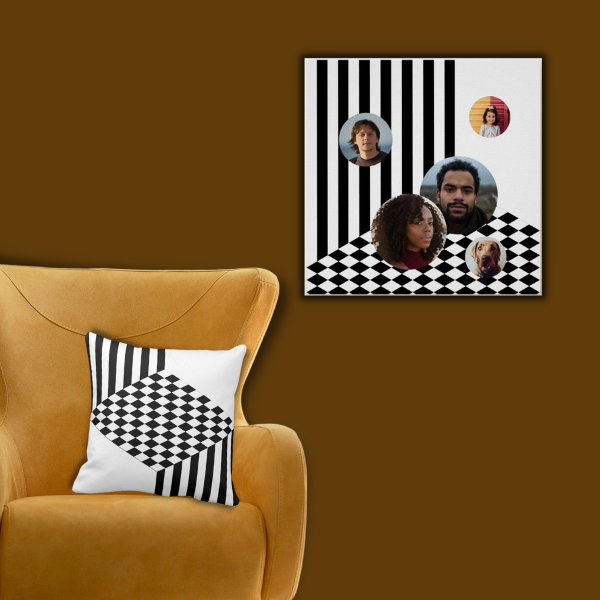 A personal touch appears in this living room example with a dark mustard yellow wall and a golden yellow armchair. The focal point is a family portrait collage with an abstract isometric room background. A black and white geometric diamond throw pillow for the armchair completes the look.
All Wall Art Is Customizable
Keep in mind that the photos and text used in all of the black and white wall decorations are customizable. Here is a step-by-step guide. You can easily change the overall color scheme using  the design tools. Click the "Edit using Design Tools" link to modify fill and element colors by defining new #Hex codes. If you need further assistance or would like to inquire about a custom design, feel free to contact us through our contact form on KBM D3signs.
By incorporating these black and white wall decoration ideas into your living room, you can create a visually appealing and sophisticated space that reflects your personal style. Experiment with different combinations and find the perfect design that suits your taste.
Wall Art For Your Home By KBM D3signs