KBM D3signs examines chicken wall decor for seven kitchens differing in color and style.
There is a white, blue-grey, vanilla-yellow, orange, and green kitchen. The kitchen style extends from country to rustic, and modern to traditional. See for yourself how the mother chicken with a chick and the newly hatching chick as motif shine in these diverse conditions.
Do the sandy-orange and mossy green wall decor colors fail to work for your kitchen, then find out how to utilize the custom color background option. Find instructions, in word and image, to use on your mobile device or your desktop.
Besides, remove or alter the caption in the example. Also, use the font to support your kitchen style. After changing text, font, and color, make easy adjustments to font size and font color too.
1. Chicken Wall Decor To Style The Wall In A Country Kitchen
The first example shows a white vintage country kitchen, with a white brick wall, a light wooden kitchen bench, and orange-brown wooden decor accents. The selected wall decor shows a canvas wall hanging pair in sandy orange. Both chicken-related motifs show an optional caption.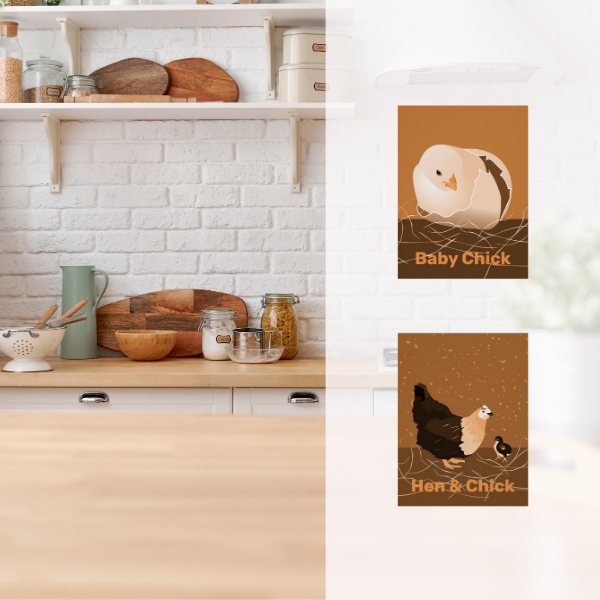 2. Sandy orange chicken decor in a blue and mud grey kitchen in a rustic style
The dark turquoise-blue kitchen with honey-comb tiling in a mud grey color palette with turquoise-blue accents and a heavy wooden dining table makes a beautiful setting for the sandy-orange wall decor duo.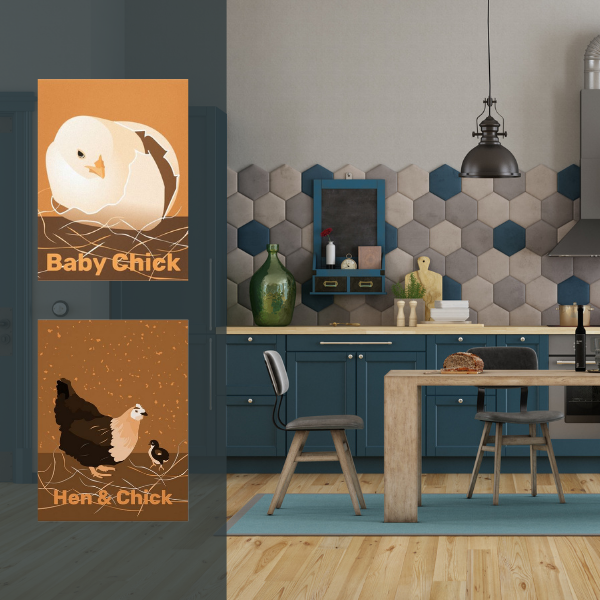 3. Industrial-style kitchen in vanilla-yellow sets the frame for a moss-green kitchen wall decor
The moss-green chicken decor duo adds a personal touch to the industrial-style kitchen setting. There the vanilla-yellow kitchen cabinets with a dark grey top are set against a white-washed brick wall and a polished concrete floor.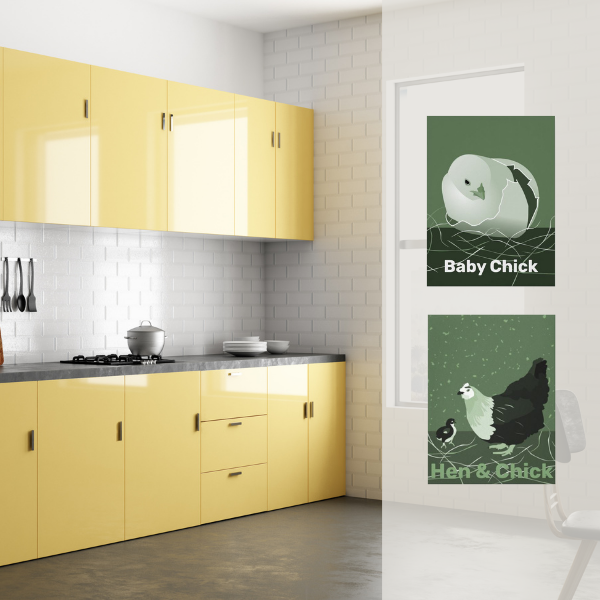 4. Modern orange kitchen with moss-green wall decor
White plastered walls and honey-colored wooden floor frame the modern orange kitchen cabinets and the monochrome green poster prints featuring a mother chicken and a hatching baby chick.
5. Sandy-Orange shine on a Royal-Blue kitchen wall
The pair of framed canvases show a print of a mother chicken and a hatching baby chick. The duo hangs on a bright royal-blue wall in a traditional kitchen.
6. Green and white kitchen frame sandy-orange chicken wall decor
A classic pine-green kitchen wall and cabinets with white tiles frame the sandy chicken wall decor.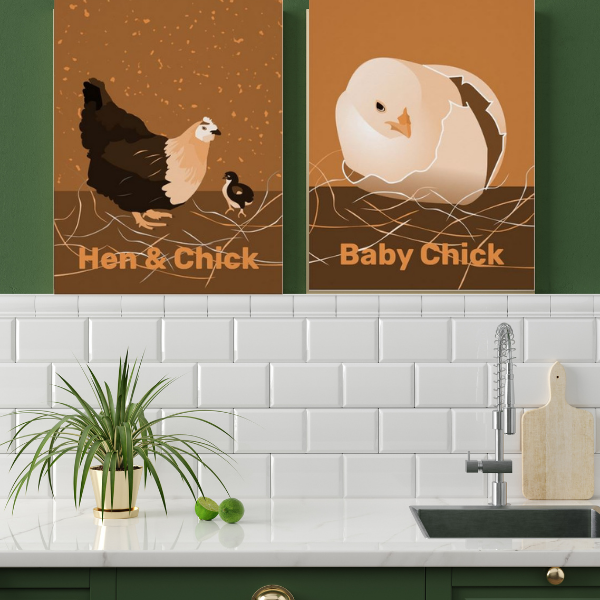 7. A traditional kitchen style frames rooster, chicken, and chick decor
The traditional kitchen gets its charm with the multicolored trio. It includes a blue rooster, a sandy-orange baby chick, and a moss-green mother chicken.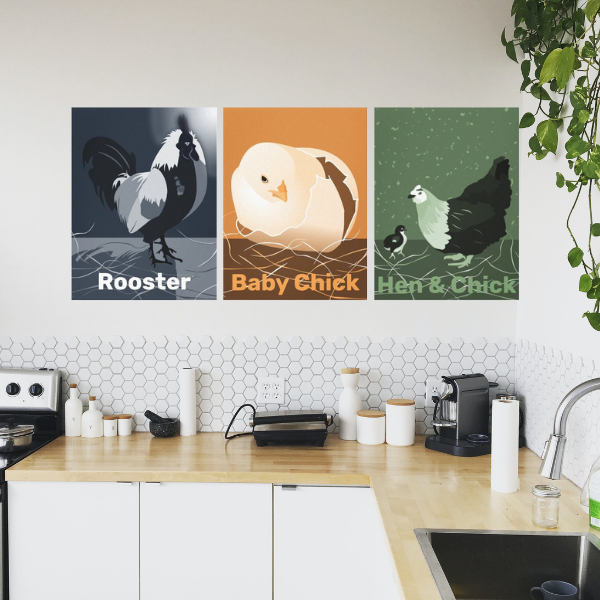 Here we conclude the sample scenarios for hanging chicken wall decor by KBM D3signs. If you like the decorating ideas, then check out the wall decor by KBM D3signs. Please remember color and fonts are customizable if necessary. If you require a custom design, please contact us.
And we love reviews and feedback. So please come back and let us know in words and images about your wall decorating story.