Famous Claude Monet art meets pillows in red by KBM D3signs. Nine artworks by the painter pair up with various red throw pillows to decorate modern living rooms.
Nine decoration examples range from sophisticated, modern to feminine, classic, and young and energetic. Each features a different artwork by the impressionist artist with a unique pillow pattern design by KBM D3signs.
Nine Claude Monet Art Prints
Water Lily Pond
Water Lily Pond (different light study)
Houses Of Parliament
Poplars In The Sun
Woman With Parasol
Paris On National Day
Impression, Sunrise
Red Chrysanthemum
Poppy Field
Who Is Claude Monet?
Claude Oscar Monet is a famous French artist, born 14 November 1840 in Paris. He died on the 5fifth December in 1926 of lung cancer in Giverny, Normandy.
As a student of Charles Gleyre where he met Renoir, Bazille, and Sisley. Their exploration of light outdoors initiated the impressionist movement. Plein-air landscape painting, in particular, series of the same motif under the influence of the seasons and changing light became a theme in many of the artist's work.
The Water Lily Pond is one example that served as a motif to studying the influences of light and season.
Water Lily Pond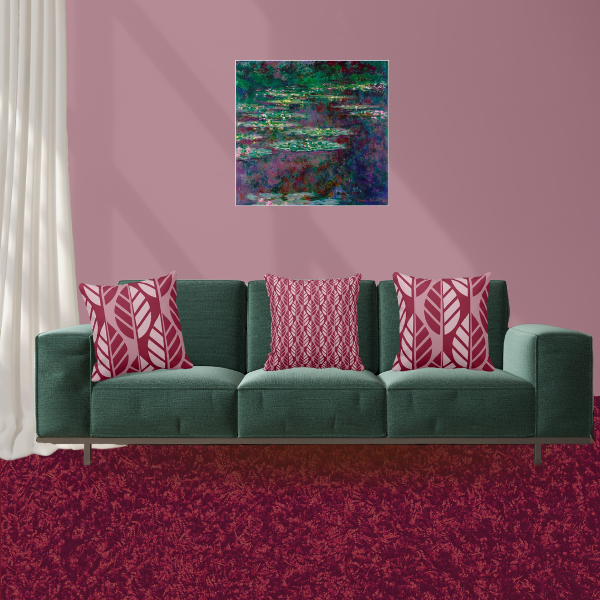 Sophistication in a living room showcases in this example of subdued hues in red and green. It is a beautiful environment for the Water Lily Pond. Added throw pillows in red with a stylized leaves pattern are for comfort and accent.
Continue reading "Famous Claude Monet Art Meets Pillows In Red"