Choosing a sienna red wedding invitation with entwined hearts as a decoration can convey a variety of meanings and themes, creating a unique and memorable experience for your guests.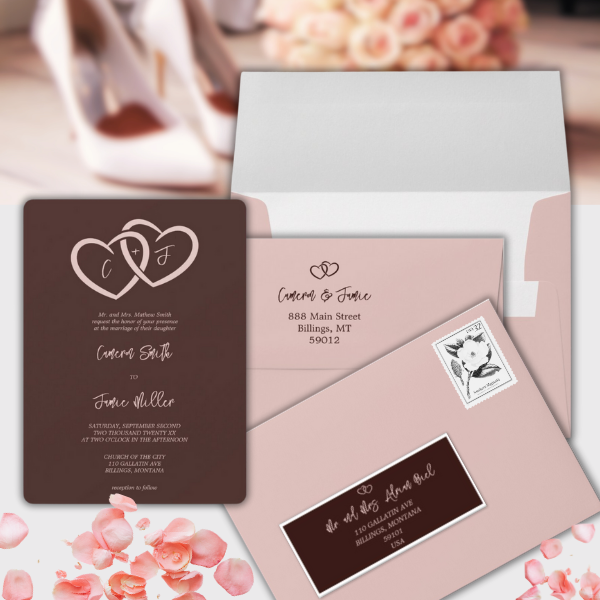 What does a red entwined hearts wedding invitation communicate?

– Passion and Love
– Elegance and Sophistication
– Symbol of Unity
– Traditional and Classic
– Adjustable to the Seasons
– Bold and Attention-Grabbing
– Romantic and Intimate
– Personal Symbolism
– Dramatic Contrast
Red Wedding Invitations Communicates Passion and Love
The color red is often associated with love and passion. Using this color for your wedding invitation and incorporating entwined hearts can symbolize the deep love and strong connection you and your partner share. It's a powerful way to express your feelings and set the tone for a romantic wedding.
Elegance and Sophistication
Red is a bold and luxurious color that exudes elegance and sophistication. When paired with intertwined hearts, it can create an upscale and stylish aesthetic for your wedding. This choice can be particularly effective for formal or black tie weddings.
Symbol of Unity
Entwined hearts represent the idea of two individuals coming together as one. This can be a beautiful symbol of unity and commitment, making it a perfect choice for your wedding invitation. It sends a message to your guests that your love is unbreakable.

Traditional and Classic
Red is a classic wedding color in many cultures, symbolizing luck, happiness and prosperity. If you want to embrace tradition, a red wedding invitation with intertwined hearts can pay homage to cultural customs and add a timeless touch to your wedding theme.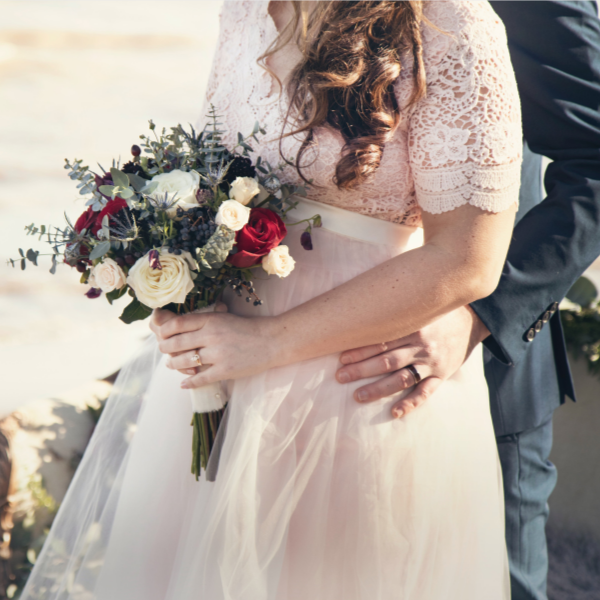 Adapt to Seasonal Themes
Depending on the season of your wedding, red can be associated with different themes. For example, a winter wedding might use deep reds for a cozy and warm atmosphere, while a summer wedding might opt for brighter reds to signify energy and passion. And a fall wedding might use warm orange reds.
Bold and Eye-catching
Red is an attention-grabbing color. If you want your wedding invitation to stand out and make a statement, choosing red with intertwined hearts as your decor is a bold choice. It is sure to leave a lasting impression on your guests.
Romantic and Intimate
Red is often considered the color of romance, and entwined hearts reinforce this sentiment. If you want to create a romantic and intimate atmosphere for your wedding, this combination can help set the mood and make your guests feel the love in the air.
Personal Symbolism
Red and intertwined hearts may have a personal meaning for you and your partner. Maybe it's the color of the place where you first met or the shape of a necklace you gave each other. Incorporating personal symbolism into your wedding invitation can make it even more meaningful.
Dramatic Contrast
If you're looking for a striking visual contrast, red invitations with intertwined hearts can be paired with a lighter background or complementary colors. This contrast can make the details pop and create a visually stunning effect.
Ultimately, the choice of a red wedding invitation with entwined hearts décor should reflect your personal style, values and the message you want to convey to your guests. It's an opportunity to infuse your wedding with meaning and symbolism that resonates with you as a couple.
Can I customize the Red Wedding Invitation?
The red minimalist wedding invitation with intertwined hearts can easily be customized to match your overall wedding theme.
Customization happens in two steps. In fact, all items in the Two Hearts Entwined Invitation and Accessories Collection allow for customization.
First, use the template and fill in the text placeholders that appear in the wedding invitation template.
Second, follow the link – Edit Design or Edit with Design Tool for further customization.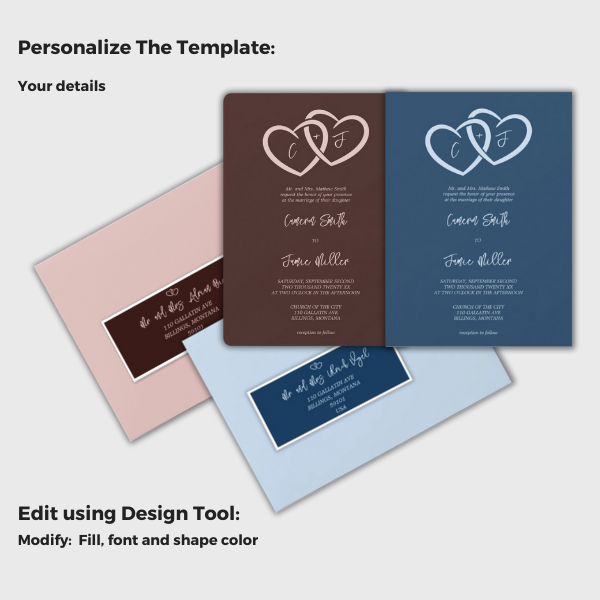 Editing with the Design Tool
Within the design tool, you can change the background fill color using the color picker or a #Hex code to a color that matches your birthday color palette. You can also change the font color and the color of the elements (the intertwined hearts). For final color decisions, learn how professional designers use a mood board to balance style and color. Read up on ideas on how to implement your personal color scheme, find out how to select it from a photo and use the resulting #Hex codes to color customize your stationery suit and decor accessories. For color palette ideas, check out this post. And if you need help testing color harmony or font and background contrast to ensure readability, we use Coolors and their free checking, picking and generating tools.
For assistance in customizing the invitation, we prepared a step-by-step guide on the following page.
All in all, the products in the composition are part of an extensive collection. If you would like additional products that are available on Zazzle, please contact KBMD3signs. We are happy to add products or discuss an alternative custom design.
Hearts Intertwined Sienna Wedding Invitation & Stationery
The Hearts Intertwined Wedding Invitation and Stationery will support your wedding event in style. It is designed on a blue and red color palette with the main feature of two intertwined hearts.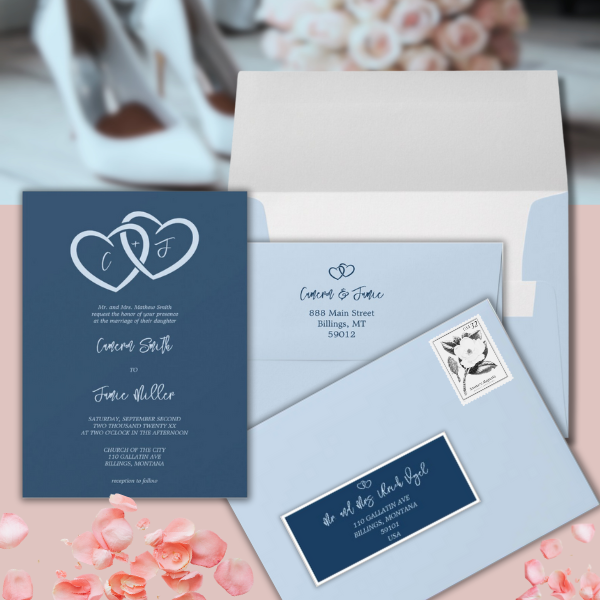 The intertwining of two hearts symbolizes a deep and meaningful connection between two people. This symbol is often associated with love, affection, unity and the strong bond that exists between two people. The overlapping hearts signify the intertwining of emotions, trust and mutual understanding. It represents the idea of two separate individuals coming together to form a harmonious and inseparable relationship. Whether representing romantic love, friendship, or close family ties, the intertwined hearts serve as a visual representation of the deep and enduring connection between two souls. Check out our Plan to Wed store on Zazzle.
We thrive on feedback. After your red wedding, stop by and let us know how everything went.