Here the focus is on Paul Klee art. His colorful works decorate modern living rooms. Further, each print complements throw pillows with a pattern design by KBM D3signs.
Heroic Fiddling
Rose Garden
Heroic Roses
Art
Cote de Provence
Polyphony in Color
Highways and Byways
Monument 1929
Revolution of the Viaduct
Heroic Fiddling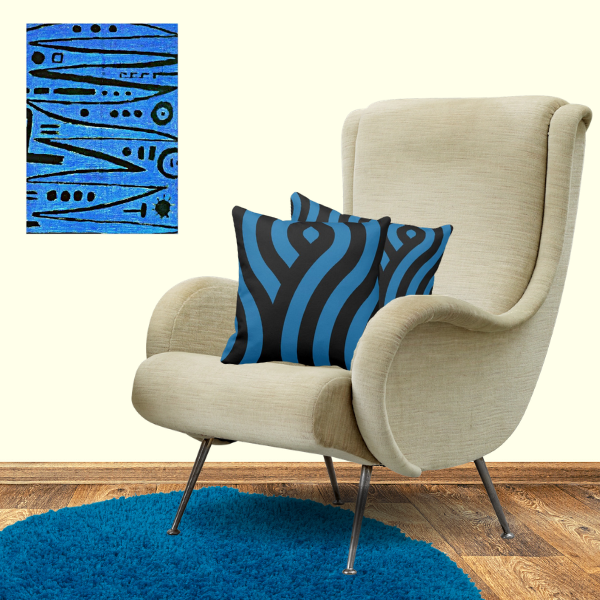 Blue and black are the colors of the art print Heroic Fiddling. The complementing pillow pair shows a blue and black stylized wave pattern. Whereas the painting comes immediately to mind upon reading the quote:
"A drawing is simply a line going for a walk. "

Paul Klee
Rose Garden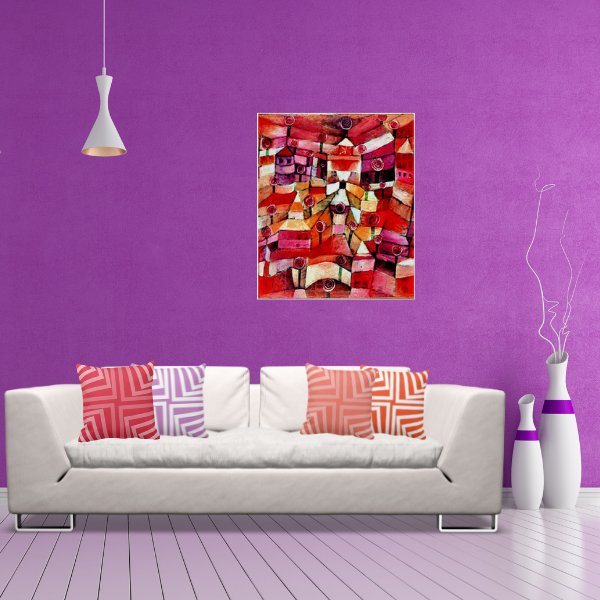 In this art piece, the artist amplifies roses in predominant hues of orange, red, and pink coloring houses and rose gardens. The pillows display an angular pattern in shades of pink, red, orange, and purple, depicting the coloration and structure of the artwork. Altogether the living room has a feminine style with a white couch standing against a purple feature wall.
Heroic Roses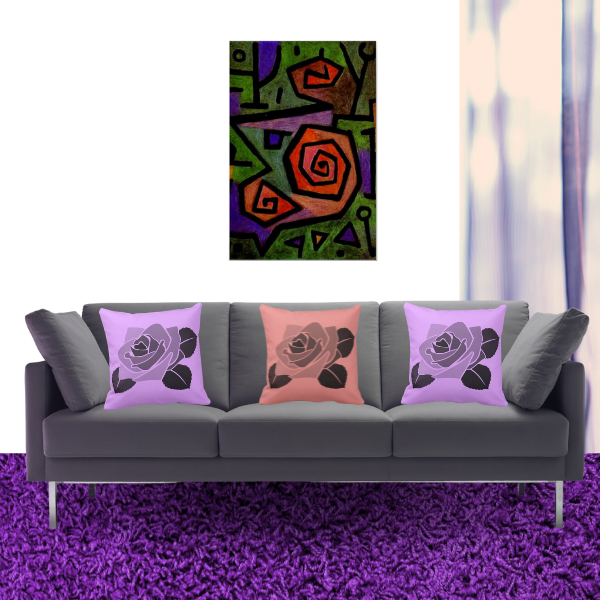 The Heroic Roses is an abstract art print in purple, orange, black, and green. In this case, it decorates an airy, feminine space where a grey couch furnishes the white and purple room. Correspondingly an orange and a purple rose patterned pillow decorate the furniture.
Art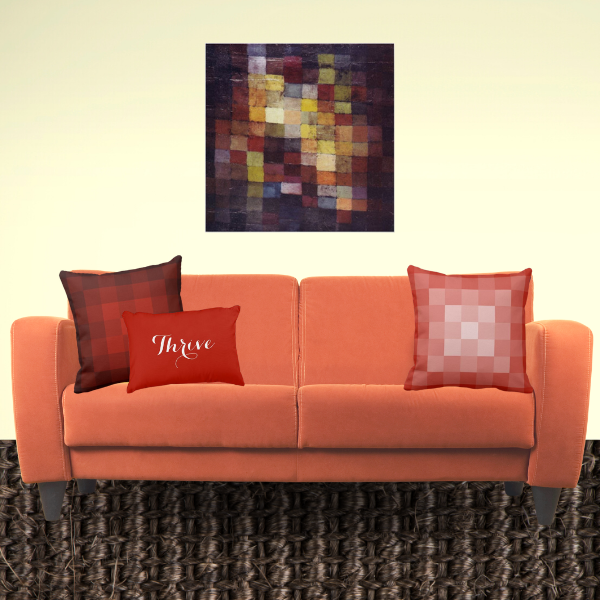 Pixelated in brown, red, yellow, and various shades of orange is, in short, a good description of the art piece Art. It decorates an earth-colored living room with a brown floor and orange couch. Together with it, throw pillows in orange from the pixelated pattern serve as home decor.
Cote de Provence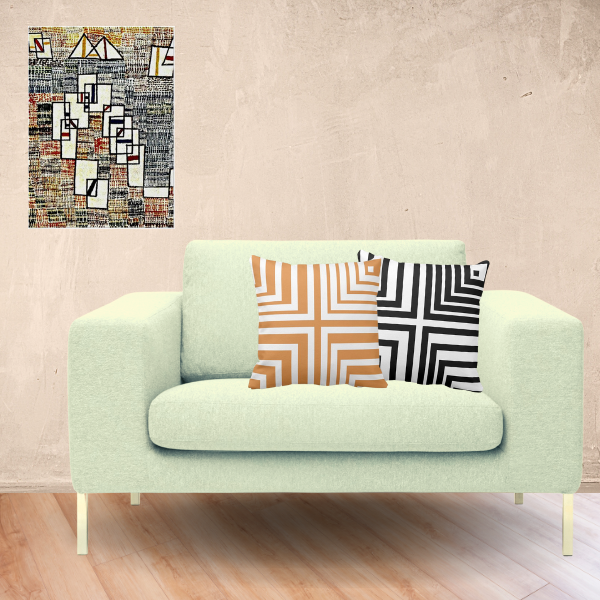 The wall decor Cote de Provence is energetic and decorates a modern light-flooded living room. In the example, the white furniture parades stylish pillows in black, white, and orange with the cornered pattern design.
Polyphony in Color
The artwork Polyphony in Color shines in layering shapes in a pointillist technique with attention to color shades in white, with variations in orange and red. It decorates a white wall above a black framed white couch that shows accent pillows in yellow and orange with a geometric hexagon pattern.
Highways and Byways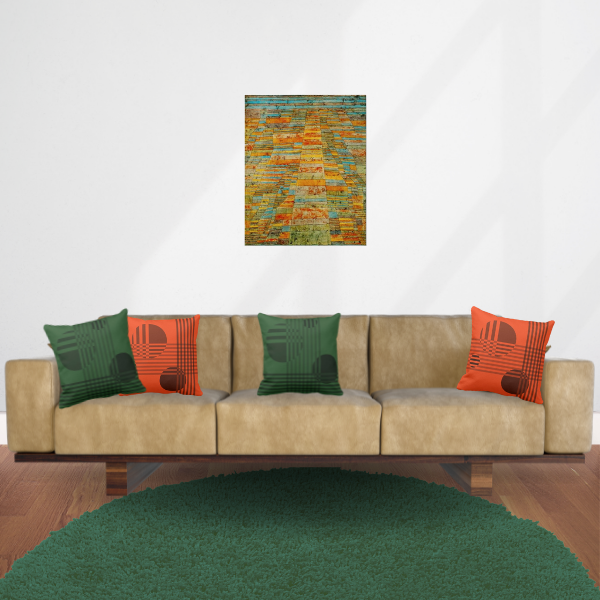 The art print Highways and Byways in hues of green and orange marks the wall above a modern beige-brown couch. Green and orange square throw pillows decorate the warm-colored furniture.
Monument 1929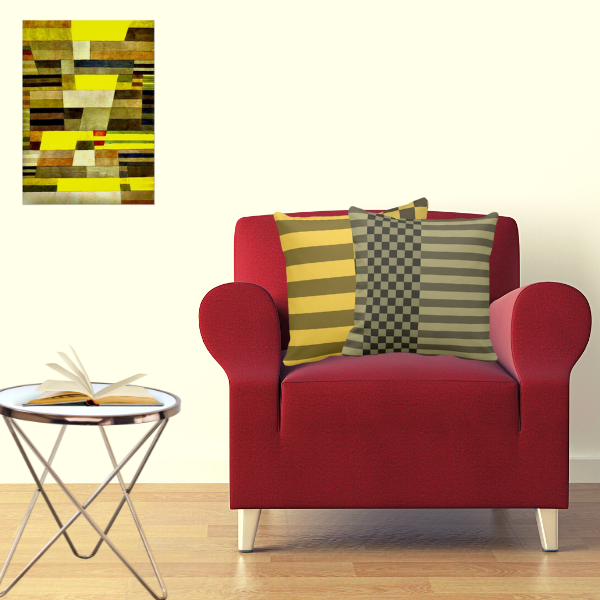 A color symphony from yellow to brown and a speck of red to guide the eye makes out the painting Monument. It decorates the reading is with a red armchair that has accent pillows in yellow and brown. The pattern design is checkers and stripes.
Revolution of the Viaduct
Warming color hues in yellow, orange, and brown dominate the art piece. As an illustration, the print hangs above a yellow couch complemented with pillows showing a beads pattern in similar hues to the print.
Who is Paul Klee?
Paul Klee is born on the eighteenth of December 1879 in Münchenbuchsee, Switzerland. His German father, Hans Klee, is a music teacher and his mother, Ida Marie, is a Swiss singer. He is best known for his unique style and a large body of artworks influenced by cubism, expressionism, and surrealism. 
On the 29th of June 1940, the artist died in Muralto, Switzerland.
"Color possesses me. I don't have to pursue it. It will possess me always, I know it. That is the meaning of this happy hour: Color and I are one. I am a painter."

Paul Klee
What makes the pillow designs by KBM D3signs stand out?
For each pillow, a coordinating collection is available in the Zazzle store FallForIt. Each product collection holds ten hues with additional pattern variations, including two or more pattern variations. Each variation returns the fill color subdued or lightened and the colors black and white. Further, if none of the ten colors work for you, you can color it your way by altering the background color.
This feature, altogether, permits you to define your accent color.
Furthermore, each collection features square, oblong, and round pillows, poufs, cubes, and blankets. Every collection features ten different colorings in addition to the colors black and white. Colors include pink and grey, blue, green, orange, purple, brown, red, turquoise, and yellow.
For step-by-step instructions on modifying the fill color, please follow the links here: desktop devices or mobile devices. If you require hands-on help or you would like a custom design contact us directly on Telegram https://t.me/kbmd3signs_chat.
At KBM D3signs, we love feedback, so please feel free to post your color and decor idea.