Pink throw pillows are at the heart of the feminine living room decor exploration. Here playful styling examples around color combination with pink find their spotlight. Color blends for the styling examples are pink and grey, pink and orange, pink and green, pink and yellow, and pink and blue. In this instance, floral pillows showing a single monochrome rose are the styling props.
Furthermore, the flower pattern displays in hues subdued by shades of black on less saturated colors and more intensely saturated colors lightened by white.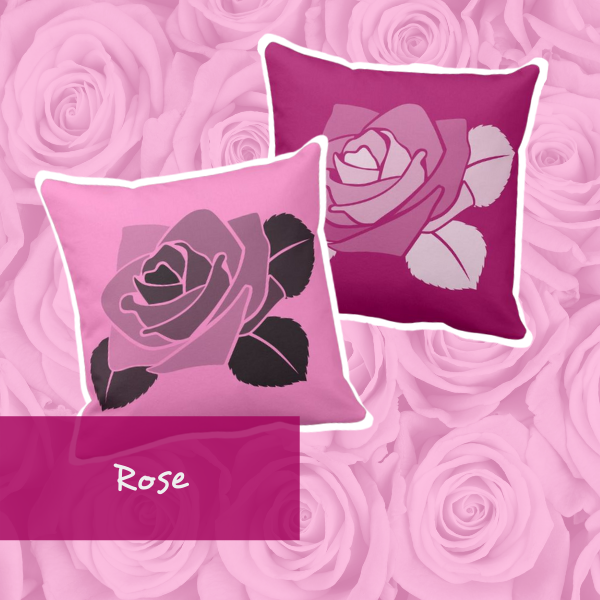 Subsequently, there are ten pale and ten intensely saturated colors in the rose pattern collection. Among the colors to point out are pink, grey, orange, green, yellow, and blue. Whereas colors that are not paired up with pink include brown, red, turquoise, and purple.
Published products comprise square pillows, lumbar pillows, round pillows, cubes, and round poufs and blankets.
Lastly, if the pattern finds your favor, and the coloration is off for your existing home decoration or your new make-over project. Choose the pattern design and color to color it your way by personalizing the fill color.
Six decoration ideas using the same modern couch and pink throw pillows
In the following six decorating examples, KBM D3signs focuses, in fact, on exploring color combinations with pink pillows using the same white couch in off-white with charcoal armrests.
Among you find:
Warm and comforting young living-room space with pink and rose accents
Stylish decor with vibrant pink set against the neutral grey
Inspiring decor in orange and pink
Fresh green and pink decor idea
Summer vibe in yellow and pink
Dreamy flair in blue and pink
Six young and trendy living-room decoration ideas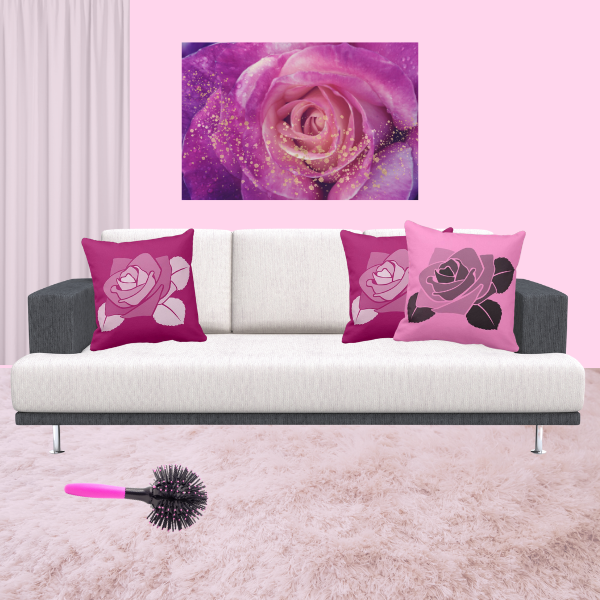 In the first sampling, two vibrant pink and one pale pink cushion with a single rose blossom accessorize the modern couch. While the wall decor complements the decor with a gold-dusted rose. In fact, a decor that beautifully complements the warm and comforting living room space with a soft rose-colored wall and a plush carpeted flooring set the frame.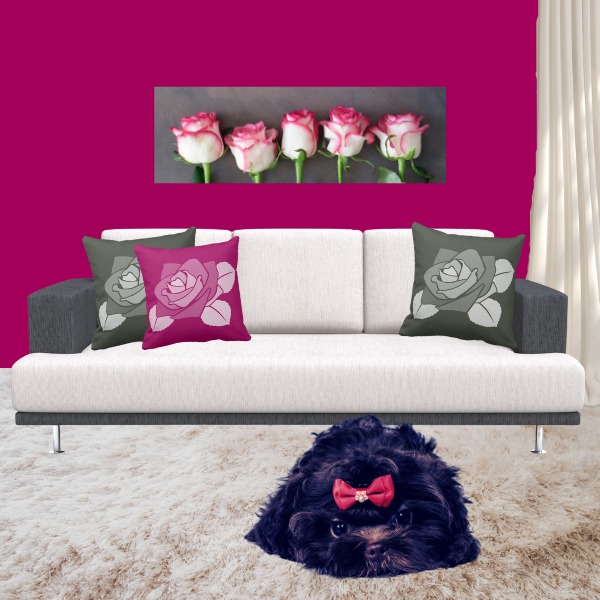 Secondly, two dark grey and one pink pillow with a single rose blossom accessorize the modern couch under a wall decor showing five white roses with pink tips lining up against grey concrete. Then again, this stylish yet feminine decor idea balances the vibrant pink feature wall and soft off-white plush carpeting with dark grey decorative floral pillow print.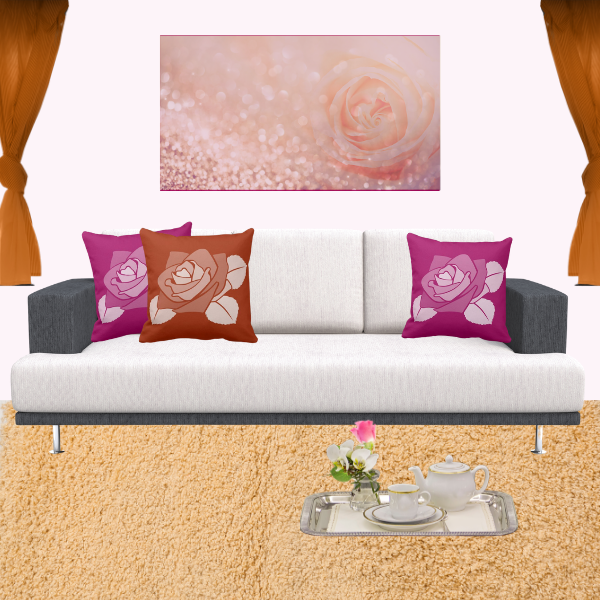 Third, an inspiring light-hearted decor turns out by accessorizing with an orange and pink pillow. Whereas, a peach-colored sparkly rose capture heads the modern couch against a soft white wall and a pale orange carpet.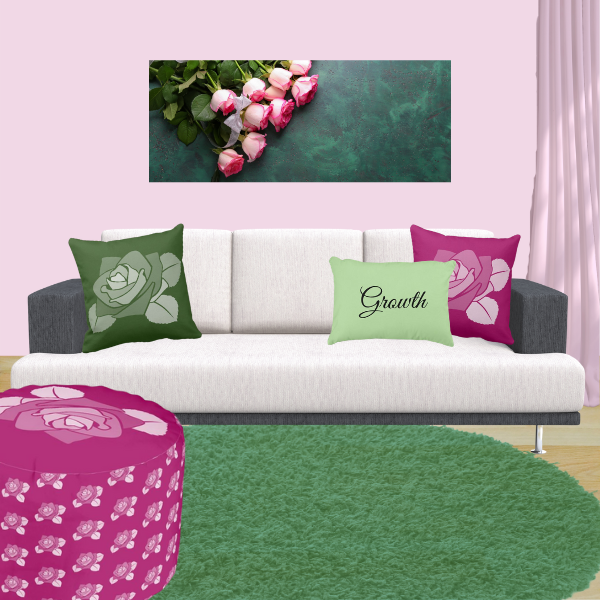 Fourth, when accessorizing with green and pink results in a fresh spring embracing flair. The modern couch form the living room center. Walls are pale pink colored with a dominant capture of white and pink roses lying on concrete. A wooden floor and an area rug in green complete the impression.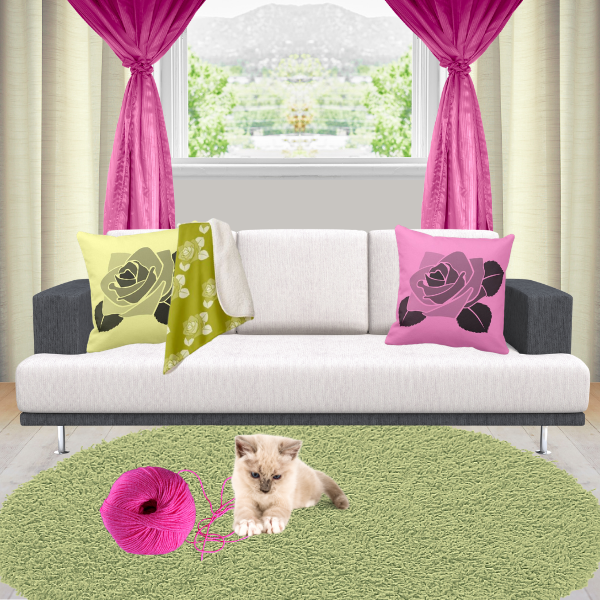 Five, invite a summer vibe into your living room when using yellow and pink decor. The modern couch forms the center in a living room with a strong tendency to connect indoors with the outdoors. That is effective when having a room with a view.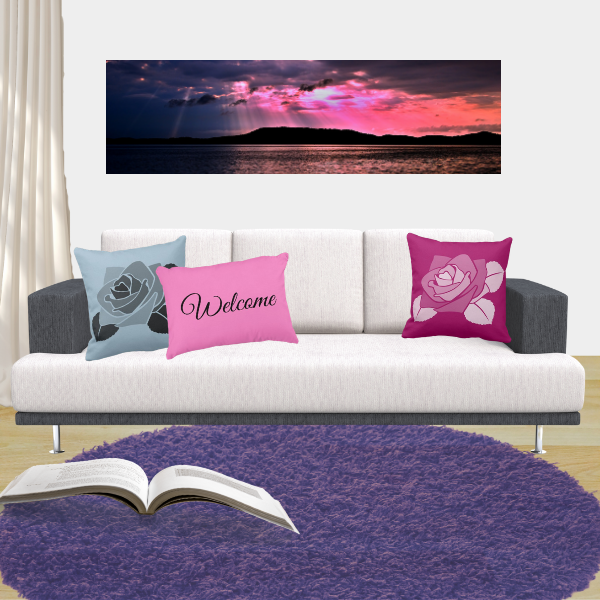 Sixth, selected throw pillows in blue and pink pick-up on the mood of the dreamy sunset that heads the modern couch. Meanwhile, the white-walled room has a wooden floor with a dark blue area rug.
How to customize the pillow color?
Moreover, all the display colors are illustrations and allow for customization by modifying the fill color. With this in mind, it becomes a breeze to accommodate an existing color scheme. Instructions for either a mobile device or a desktop device are given in word and image by following the link.
Regardless, to request help with the customization, connect with us on telegram https://t.me/KBMD3signs_chat. Above all, we are here to help with questions about design customization or extending the product range.
At KBM D3signs, we love feedback, so please feel free to post your color and decor idea.