Modern green home decor with a focus on art prints of the famous Edgar Degas.
Here coupled with the paintings a diverse selection of green pillows is shown. Hues include lime-green, summer-green, moss green, and darker teal green. See for yourself and moreover leave a comment about what you think of the result.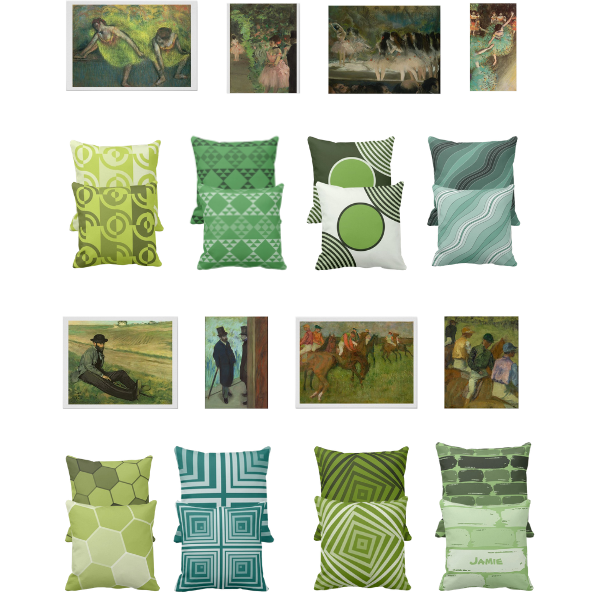 Eight Art Prints By Edgar Degas Lead The Green Living-room Decor Ideas
Two Dancers Relaxing
Ballet Backstage
Ballet at the Paris Opera
The Green Dancer
Eugene Manet
Friends at the Theatre
Jockeys
Four Jockeys
Who Is Edgar Degas?
Edgar Degas is a French artist. His varied and famous work encompasses drawing, painting, sculpture, and printmaking. Art professionals describe Degas as one of the founders of impressionism. Nonetheless, Degas describes himself as a realist.
He was born in Paris on 19 July 1934 and died there on 27 September 1917. While trained in classic art, Degas strived to become a historical painter yet changed direction to become a modern painter. Above all, he excelled in capturing the movement of ballet dancers and jockeys on the racecourse. Bathing nudes and portraits are additional themes that are popular among his admirers.
Due to his preferences, it is no surprise that the art prints in focus show various ballet and racecourse scenes. As an illustration, his work beautifully allows exploring green home decor accessories.
Why Choose Green Home Decor?
Indeed, the color green is associated with revitalization and relaxation. With a rising content of yellow pigments, the color green stimulates communication. For this reason, it makes it a suitable color for a living room.
More ideas on what colors to pair with a green throw pillow.
Light-wooden flooring with a yellow wall and a green armchair set a friendly country-style frame for the art print Eugene Manet. In that case, a throw pillow pair provide additional decoration in pastel green with a hexagon pattern.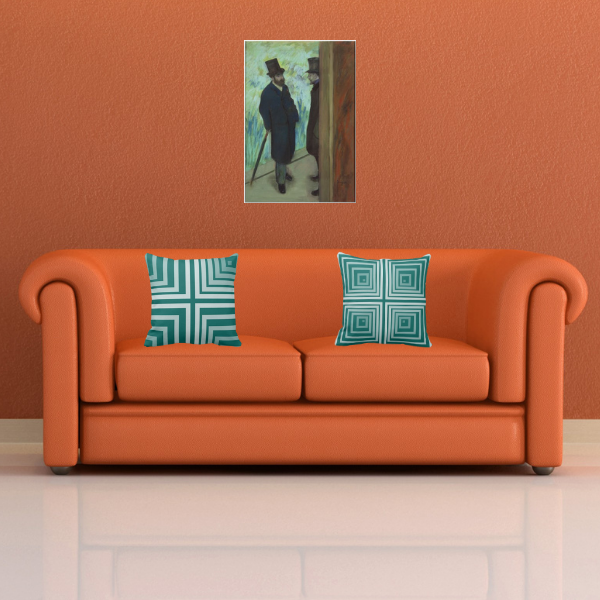 Altogether, white and orange hues form a modern and welcoming surrounding for the art piece Friend at the Theatre. The orange two-seater under the painting has pillows accents in green with the pattern cornered.
Ballet Dancers
A stylish modern living room assembles a red couch against a charcoal brown wall accented by the art print Two Dancers Relaxing. Further significant accessories are lime-green throw pillows with a fragmented circle pattern.
All in all, the charcoal brown two-seater set against a mauve wall with light grey flooring brings a mysterious flair. Beautifully, set the frame for the art print Dancers Backstage. As balancing accessories, medium-green pillows with triangle patterns decorate the couch.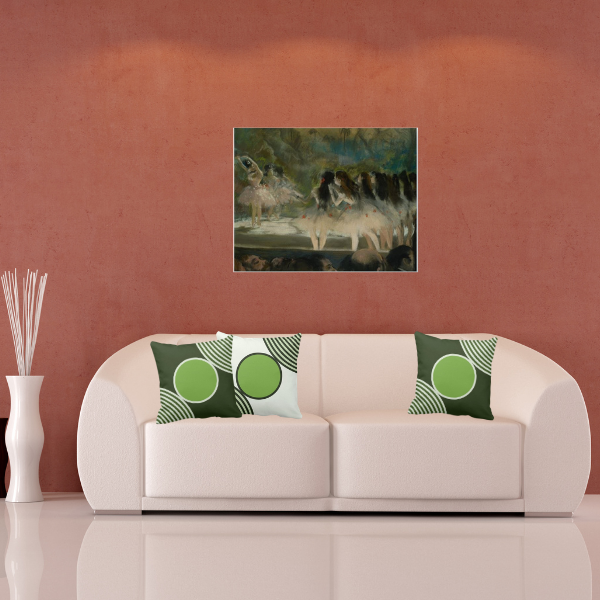 Terracotta and white hues surround the art print Ballet at the Paris Opera and provide an elegant minimalist appearance. Pillows in light-green to medium and dark green with a circle pattern accent the couch.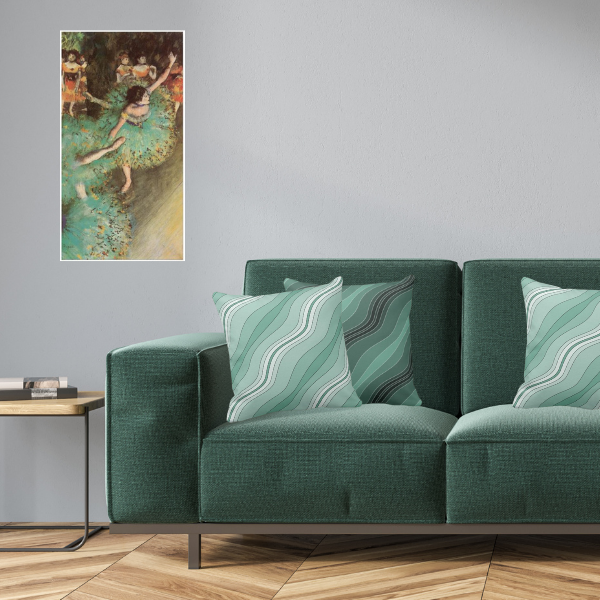 Brown, green, and grey are the leading colors to frame The Green Dancer is a playful ballet performance scene. Green pillows with layer patterns decorate the dark teal green sofa, rendering it a sophisticated living room.
On The Racecourse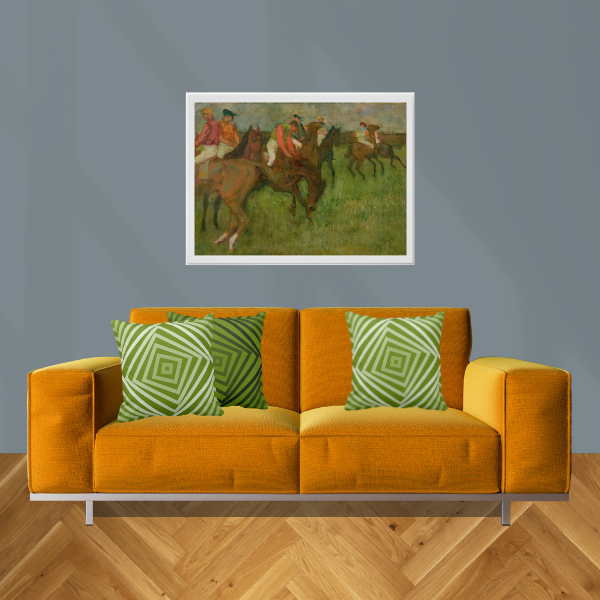 Honey-brown herringbone flooring, a grey wall, and a mustard yellow couch make the surrounding for the artwork Jockeys. It is a work that masterfully depicts racehorses at the racecourse. The captured movements are exceptional. Meanwhile, the mustard yellow couch shows green accent pillows with a spiral box pattern.
A rustic environment sets the stage for the Four Jockeys. It captures, beautifully, the riders, each in a different riding position on their horses' backs. The yellow armchair shows two rustic brick-wall patterned pillows.
What makes the green pillows by KBM D3signs stand out?
All green throw pillows are part of its pattern collection at the Zazzle store FallForIt showcasing the pattern and its variations in ten hues. Additional pattern variations include two or four pattern variations. There each variation returns the fill color subdued or lightened, and the colors black and white. In Addition, if none of the ten colors work for you, you can color it your way by altering the background color.
This feature, altogether, permits you to replicate an existing home decor color or add your color choice to a new color palette to support your green home decor ideas.
Furthermore, each collection features oblong and round pillows, poufs, cubes, and blankets. The ten different colorings include pink and grey, blue, green, orange, purple, brown, red, turquoise, and yellow. Lastly, for minimalists, there is also black and white.
For step-by-step instructions on modifying the fill color, please follow the links here: desktop devices or mobile devices. If you require hands-on help or you would like a custom design contact us directly on Telegram https://t.me/kbmd3signs_chat.
At KBM D3signs, we love feedback, so please feel free to post your color and decor idea.