Black and red wall art uses bold and captivating colors that can add a sense of drama, elegance, and sophistication to any space. When it comes to wall art, combining these two hues creates a visually striking and bold statement. In this article, we will explore the appeal of black and red wall art and provide you with inspiring ideas for incorporating it into your home decor.
Black and Red Wall Decor by KBM D3signs
Here is a selection of artworks by KBM d3signs that shine in a variety of settings.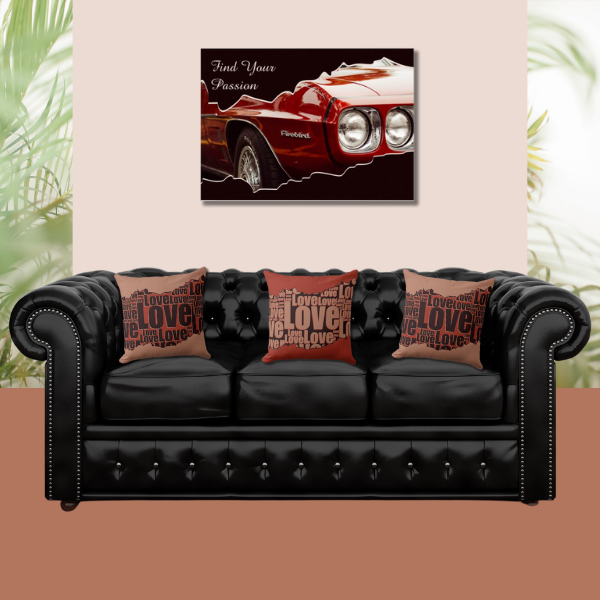 Find Your Passion! features a red Firebird detail that enhances the space on a pale wall above a black leather sofa with throw pillows that echo the color palette and emotion of Love in a typographic pattern.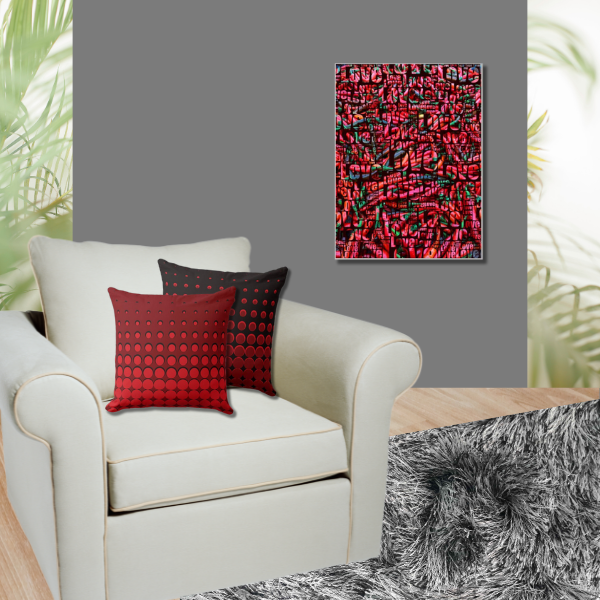 Love red hot chili poster meets a set of two pillows
Red Is All That I Have!, Poster and Pillows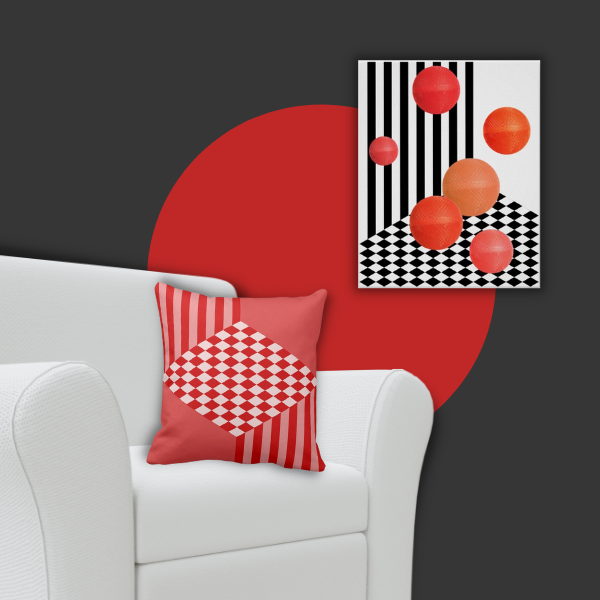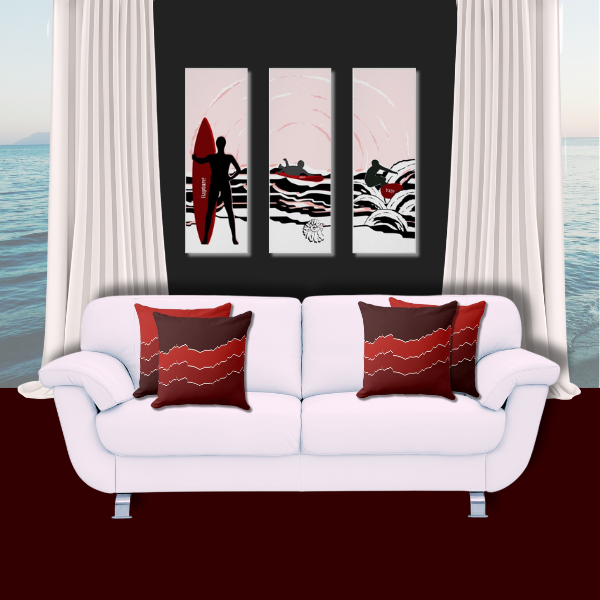 Surfer Wall Art Meets Pillows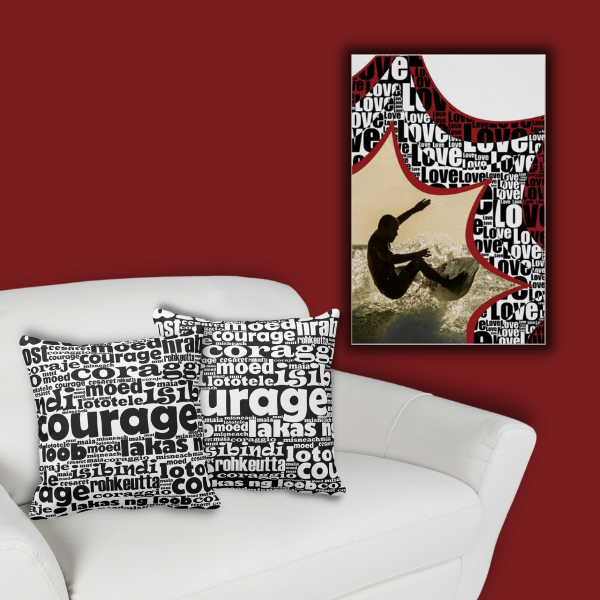 Black, White and Red Home Decor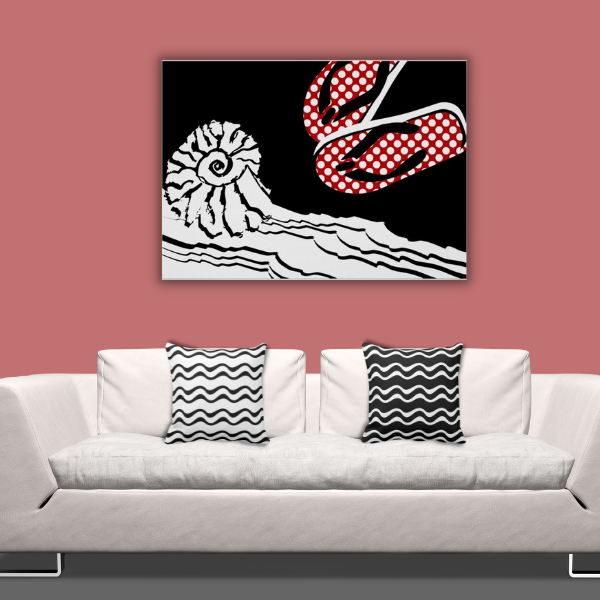 Red Flip-Flops At The Beach, Beach Art & 2 Pillows
Hot Red Chilli Love is a typographic print that masks chili peppers. Meanwhile, two halftone patterned throw pillows complement the decor of the neutral off-white chair and medium gray floor and wall.
Red Is All That I Have! is a custom photo collage of eleven photos in a honeycomb pattern. It forms the focal point of a white wall. A neutral gray chair makes room for a set of two throw pillows in black and red with a sandwiched hexagon pattern.
Black, white, and red is an abstract isometric room with red bouncing balls accenting a dark gray wall. A white chair hugs a red diamond-patterned throw pillow.
A surfer wall art triptych in black, white, and red decorates the space against a black wall. Accenting a white couch are throw pillows in a red ripped stripe pattern.
The Love Surfing poster is the focal point on a red wall. Meanwhile, black and white Courage patterned throw pillows highlight a white chair.
A stylized beach art print with red flip-flops adorns the red wall. It sits above a modern white couch with black and white ripple pillows.
Note that all of the art prints and throw pillows allow for personalization. This takes the form of text, photo, fill color, and element color.
Learn about the color tools we use to retrieve the #Hex we use to alter the background and element colors.
The Allure of Black and Red Wall Art
Black and red have long been associated with strength, passion, and intensity. When used in wall decor, these colors can create a focal point that draws attention and imbues a room with a sense of energy. Whether you prefer abstract designs, bold patterns, or iconic images, black and red wall art offers endless possibilities to showcase your style and personality.
Choosing the Right Wall Decor
When choosing black and red wall decor, consider the overall theme and ambiance of your room. Decide if you want to create a modern, minimalist look or if you prefer a more eclectic and vibrant atmosphere. Consider the size of the artwork in relation to the wall it will adorn, as well as the existing black and red color palette in the room. This will help you find a piece that blends in with the rest of your decor while still making a bold statement.
Create a focal point
To make the most impact with your chosen piece, choose a prominent wall in your room where it can serve as a focal point. The living room, dining room or hallway or even the kitchen or the bathroom are ideal places to display these eye-catching pieces. Hang the artwork at eye level to ensure it gets the attention it deserves. In addition, consider using accent lighting to enhance the artwork's presence and create a captivating ambiance.
Complementary Decorative Elements
To enhance the visual impact of your artwork, incorporate complementary decorative elements throughout the room. Introduce furniture or accessories in neutral grays, whites, or metallic tones to create a balanced contrast. Mirrors, glass, and chrome accents can add a touch of modernity and reflect the artwork, enhancing its impact.
Playing With Texture and Material
Black and red wall art can be enhanced by experimenting with different textures and materials. The inexpensive downloadable poster print lets you choose the size. If you order it as an add-on, the print comes on a matte paper in two qualities. You can also transfer the artwork to a glossy poster or opt for a canvas print to add texture. Or choose an acrylic print for a more saturated color feel. Either way can enhance the feel of contemporary art.
Overall, incorporating black and red wall decor into your home allows you to make a powerful statement while adding a touch of drama and sophistication. By carefully selecting the right artwork, creating a focal point, and complementing it with appropriate decor elements, you can transform your space into a visually captivating and engaging environment. So unleash your creativity and embrace the allure of black and red wall art to add style and personality to your home.
Remember, when it comes to making a bold statement, black and red wall art always delivers.
Wall Art For Your Home By KBM D3signs