Here, black and white pillows cover nine different pattern design categories.
Starting from typography, nature-inspired, wavy lines, waves and nested circles, geometric pattern designs, stripes and checkers, and nested box pattern designs, centered, cornered, and in a spiral.
Black and White Patterns
All black and white patterns have in common that the pillow color allows customization and your color choice pairs either with a black or a white pattern design.
That makes it very easy to create a throw pillow in one of the popular colors such as green, pink, turquoise, or blue and pair it with a black pattern design. Sought white pattern color combinations are pink, blue, brown, green, orange, purple, red, or yellow. Additionally, it is a fantastic way to achieve your favorite color or the one that matches existing decor items.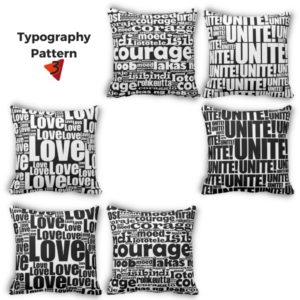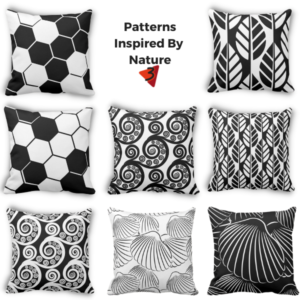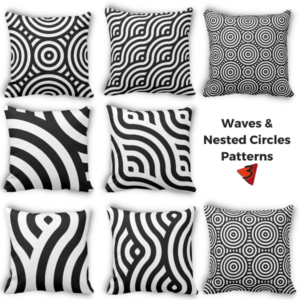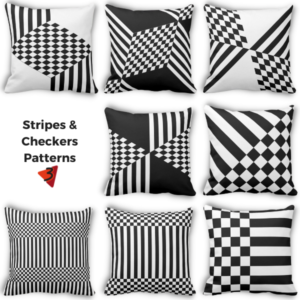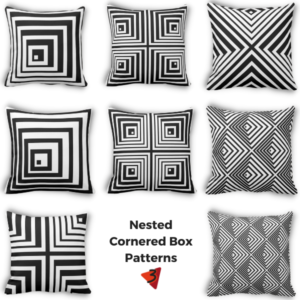 Nine Pattern Design Categories
First, the typography repeat pattern in black and white shows the word variations Unite!, Love, and Courage in multiple languages.
Second, these are pattern designs inspired by nature. And include stylized patterns of honeycomb, fern frond, seashells, and leaves. 
Third, fun patterns that show ripple and wavy lines.
Fourth, spontaneous waves and geometric nested circles distinguish this set.
Fifth, the geometric repeat pattern display triangles and circles.
Sixth, the playful arrangements of stripes and checkers from squares or diamonds create fascinating pattern designs.
Seventh, the nested box pattern offers a home decor theme for minimalists and classic and vintage flair.
Eighth, Cornered, sees the nested box pattern weighing one corner which opens up the play between light and shade.
Ninth, playful, sophisticated, or vintage is the attribute well describes the pattern set of the nested box spiral pattern.
Numerous styles hide within the nine sets and their repeating pattern designs. For analog colored variations, the pattern shows as a hue of the pillow color lightened or subdued. You find these in the Zazzle store Fall for It! within the pattern collection.
Where To Find More?
To shop for black and white throw pillows, visit our collection in the Zazzle store Fall for It! Each pattern has its collection with multiple color examples and home decoration items. Therefore be welcome to explore.
Where to go for assistance customizing the pillow or photo collage wall decor?
Should difficulties arise when personalizing the pillow color, we prepared a step-by-step guide on the following page.
Do you have additional questions? Then contact KBM D3signs via the form. We are also happy to transfer the design on request onto products available on Zazzle or to prepare a custom design altogether. Alternatively, visit KBMD3signs on Telegram at https://t.me/KBMD3signs_chat and leave a comment.
---
Livingroom Decor Ideas & Black Accents