Typography art and accessories display the word – Unite! – interwoven into a seamless repeat pattern.
In four home decorations ideas, KBM D3signs use the pattern to transform a photo into unique wall decor with various formats. Additionally, home accessories complement the wall hanging.
Modern orange and grey
Classic blue, black, and white
Stylish grey, turquoise, and orange
Sandy colored, red, and blue
UNITE! – Home Decor Ideas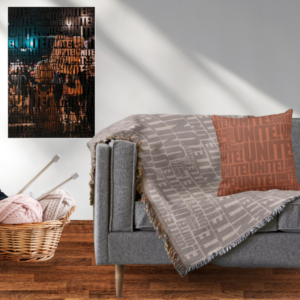 Unite! Typography Art & Pattern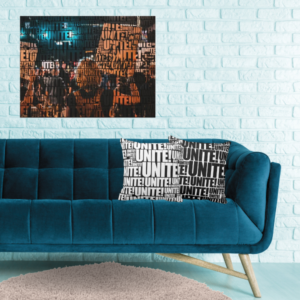 Black And White Unite Pattern And Wall Decor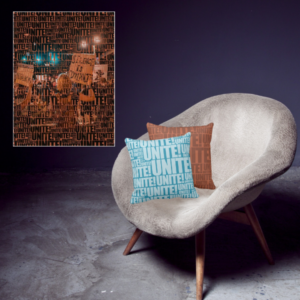 Turquoise & Orange - Unite! - Home Decor
Red & Blue - Unite! - Home Decor
First, the modern white-walled living room with wooden flooring shows accenting accessories in grey and orange. Accessories consist of a throw pillow and blanket. Both items show the typographic pattern – UNITE!. Meanwhile, wall decor in portrait format shows a photo masked by the message – UNITE!.
Secondly, the idea gallery makes the typographic pattern stand out in a classic blue, black, and white home. Here, a teal blue couch under the wall hanging sets the stage for a black and white throw pillow.
Thirdly, stylish young home decor in an industrial environment sets the frame for an orange and a turquoise pillow accenting a brown-grey molded armchair.
Fourth and last, a red and a blue pillow accent a sandy brown modern armchair topped by a square photo print.
Following the buttons allows finding the wall decor product page, while the typography decor unveils the complete typography pattern collection. Included are pillows, square-shaped, round and lumbar, blankets and comforters, and trinkets.
Can I Alter The Unite! Typography Art And Pattern?
Yes.
How To Customize Displayed Wall Decor?
The design comes as a template that allows you to load a personal photo and replace the existing one with the message – Silence is Compliance.
What about the color in home accessories? Are these customizable?
Indeed these are.
On the product page, follow the text link – Customize further. Once there, use either the color picker or enter a Hex code. The result will show the pattern either in black, or white and the color selected. Alternatively, the modified color shows the typographic pattern design lightened or subdued. Click through for step-by-step instructions.
How To Pick A Color Palette To Match Photo Art And Home Accessories?
Coolors has a fantastic app to do just this. https://coolors.co/image-picker. If you require hands-on help for product customization, expansion, or you would like a custom design, then contact us directly on Telegram https://t.me/kbmd3signs_chat.