A black and brown color palette can add a touch of sophistication and warmth to any home decor. The combination of these two rich and versatile colors creates a timeless and elegant ambiance that can transform your living space into a sanctuary of style. In this article, we will explore the various ways you can incorporate the black and brown color palette into your home, from furniture choices to wall accents, and delve into the captivating allure of this harmonious duo.
Jumpstart Your Home Decoration by Choosing a Black and Brown Color Palette
Five harmonious color palettes taken from everyday life have the potential to help. The palettes differ in the lightness of their hues and tones. In addition, each color shows its #Hex code.
The first collage shows an architectural masterpiece, a Moorish brick dome. With the play of light and shadow in the cupola ceiling, a light brown to almost black color returns.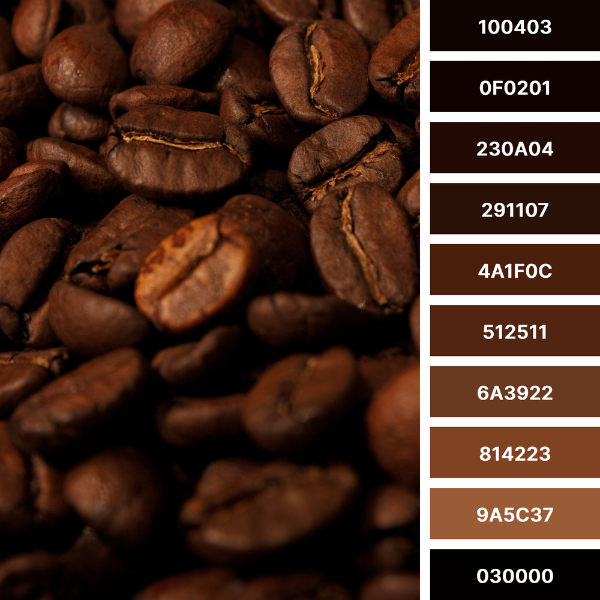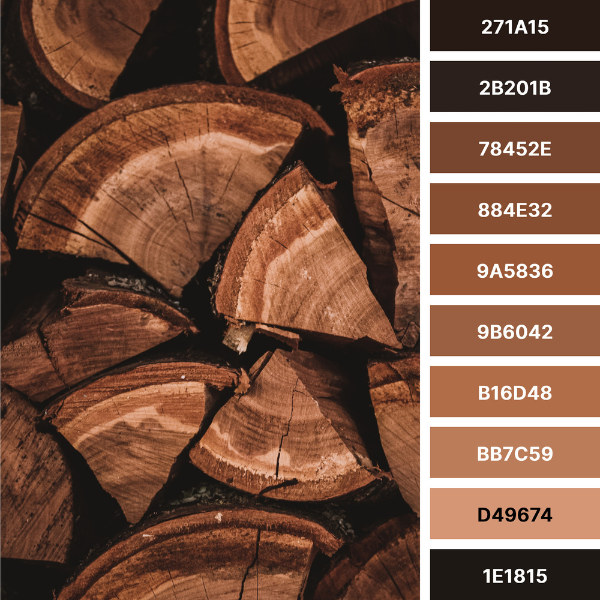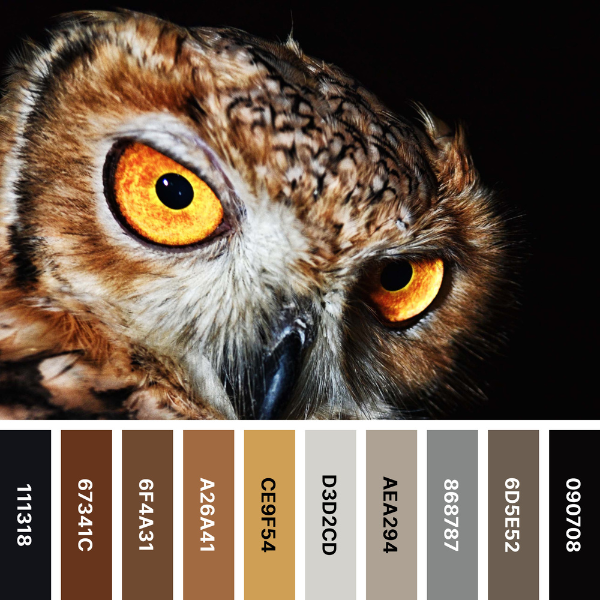 The second is a much darker palette of coffee beans. In the third collage, a stack of firewood gets its depth of color through the cut surfaces and the shadows in the cracks and between them. The fourth palette is a close-up of grain ready for harvest. Finally, an owl, dressed in its plumage, takes the colors from gold and gray to brown and black.
How to Use The Color Palettes and Their #Hex Codes
You may be wondering why #Hex codes are important. They can play a role in coloring your home when a designer on the print-on-demand platform Zazzle.com has created templates that allow for further customization. This includes the fill color and element colors. KBM D3signs creates such templates. Traditionally, templates allow for image and text personalization. KBM D3signs aims to allow overall color customization which you can do by using the Edit with Design Tools link. With a defined color palette that provides #Hex codes you can implement an overarching color scheme. Learn about the color tools we use to create your personal color collage or simply pick a color from an image that shows the colors you want to reproduce and incorporate into your home.
Black and Brown A Dynamic Duo
The black and brown color palette is a classic choice that exudes elegance and sophistication. Paired together, these colors create a harmonious contrast that draws the eye and adds depth to your decor. Whether you choose a modern or traditional style, the versatility of black and brown offers endless possibilities for creating a cohesive and inviting atmosphere.
Furniture and Upholstery
One of the most effective ways to incorporate the black and brown color palette into your home is through your choice of furniture and upholstery. A sleek black leather sofa paired with dark brown wooden coffee and end tables can instantly create a contemporary and sophisticated living room. For a more traditional aesthetic, consider rich chocolate brown upholstered chairs with black accents and details. These contrasting elements will enhance the visual appeal of your furniture pieces and elevate the overall ambiance of your space.
Walls and Flooring
To further enhance the impact of the black and brown color palette, consider incorporating these tones into your walls and flooring. Painting an accent wall a deep, charcoal black can serve as a striking backdrop for a gallery of framed artwork or a statement mirror. Complement this with brown hardwood or laminate flooring to add warmth and create a seamless flow throughout the room. Alternatively, if you prefer lighter walls, you can introduce the black and brown color scheme through decorative elements such as patterned wallpaper or textured wall panels.
Accents and Accessories
The devil is in the details, and when it comes to home decor, accents, and accessories play a crucial role in tying the black and brown color palette together. Add black and brown throw pillows or brown pillows to your sofas or beds to add depth and visual interest. Choose curtains or blinds in rich browns with black trim to elegantly frame your windows. In addition, select decorative pieces such as vases, sculptures, or picture frames in black or brown finishes to create a cohesive look that reflects your personal style.
Black and Brown Wall Art And Accessories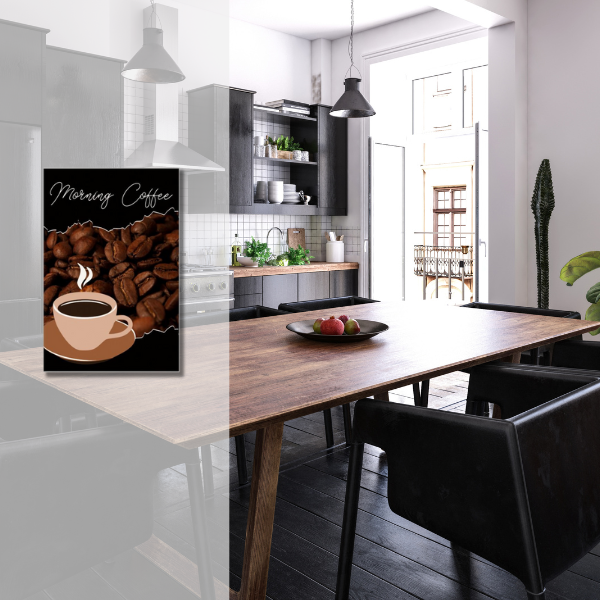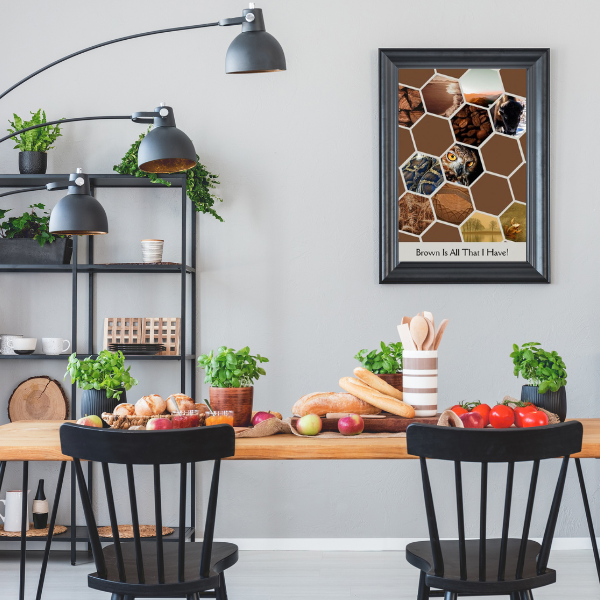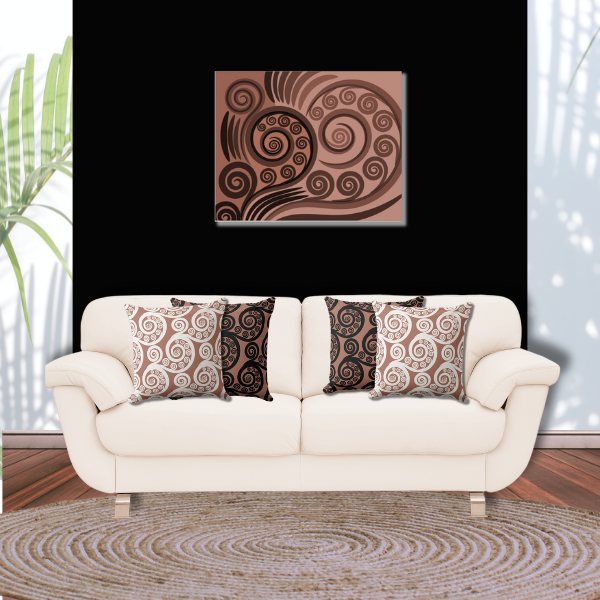 Lighting and textures
Incorporating the right lighting and textures can further enhance the impact of the black and brown color palette in your home. Install warm, ambient lighting fixtures with black or brown accents to create a cozy and inviting atmosphere. Consider layering different textures, such as plush rugs, velvet pillows, or woven baskets. This will add dimension and tactile interest to your space. The combination of different textures and thoughtful lighting will help create a visually stimulating and harmonious environment.
The Bottom Line
Incorporating the black and brown palette into your decor can take your space to new levels of elegance and style. The versatile nature of this color duo allows for endless possibilities in creating a cohesive and inviting ambiance. By carefully selecting furniture, incorporating the colors into your walls and flooring, and paying attention to accents and accessories, you can achieve a captivating and timeless look. So why not indulge in the allure of the black and brown palette? And create a home that exudes sophistication and warmth!