Here a set of throw pillows complements an Instagram collage in seven decor examples.
Seven pillow pairs, seven colors, and seven patterns make up unique mood board compositions. These overall, centering around New Zealand vacation photo collages using photos in a square format. Each collage photo functions as a placeholder allowing you to personalize it with some of your Instagram posts.
Seven Sets Of Two Throw Pillows
Purple Pillows
In the first example, purple throw pillows are in the center. And complement a black and white photo collage.
In brief, their stylish checker and striped pattern complements the checker-organized photo collage. In short, the twenty-three photo placeholders give ample opportunity to tell your vacation story in detail.
Rose-Hued Pillows – Grey-Hued Pillows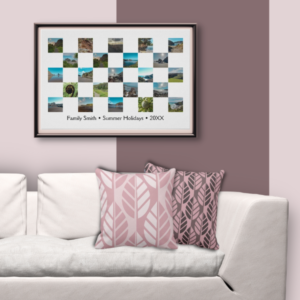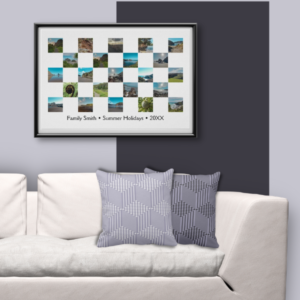 Grey Diamond Patterned Pillows
As shown above, the second and third examples highlight each a twenty-three image placeholder colored photo collage. In effect, the photos are arranged in a checker pattern. Now, we review the second example. A rose hue for the wall gives a feminine vibe. And a set of two throw pillows with a leaf pattern supporting it. Third, sophisticated grey hues transmit the overall atmosphere supported by a geometric diamond pillow surface pattern.
Brown-Hued Pillows – Yellow-Hued Pillows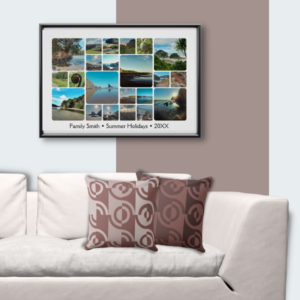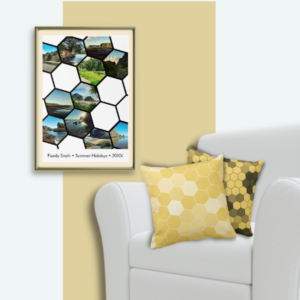 A brown pillow pair with a fragmented circles pattern complements an Instagram collage consisting, generally speaking, of two square image sizes and twenty-two images. In a word, the fourth collage has plenty of room to tell your family vacation story.
In the fifth example, all in all, the idea of a honeycomb pattern took root. In essence, yellow pillows adopt the honeycomb idea and have a hexagon outlined structure with equally shaped forms to fill some outlines in shades.
In short, the same idea carries through to the collage that consists of eleven photos to tell a story or an adventure.
Coral-Hued Pillows – Black& White Pillows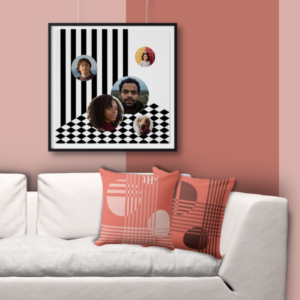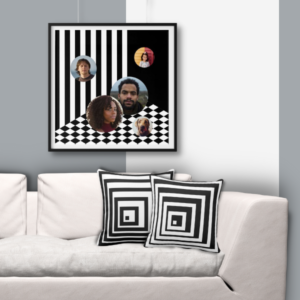 A family or a circle of friends is, in fact, at the center of the modern portrait collage. Round-shaped portraits fill here a symbolic isometric room. As can be seen, the collage then forms the wall decor for the sixth and seventh ideas. Coral pink reigns, in essence, the sixth example. The color provides, in fact, the hue for the wall and the set of two pillows with a geometric circle and striped pattern. Lastly, the seventh mood board shines in classic black and white accent pillows.
What if I would like to use photos in a 3:4 ratio?
Then, click through for more photo collage wall decor equally matched with a set of 2 throw pillows.
Can I Customize wall decoration or pillow colors?
That is a resounding yes. In conclusion, KBM D3signs prepared the Instagram photo collage as templates perfect for square photos. To customize the pillow color, on the other hand, follow the edit button and enter the color hex code of your color choice.
For assistance personalizing the home and wall decor, we prepared a step-by-step guide on the following page.
All in all, to get additional questions answered? Then use the message tool on Zazzle, or contact KBM D3signs via the form. Alternatively, visit KBMD3signs on Telegram at https://t.me/KBMD3signs_chat and leave a comment or connect with us @KBMD3sings on Telegram as well as on Pinterest.
We are also happy to transfer the design on request onto products available on Zazzle or to prepare a custom design altogether.