Purple throw pillows with a feeding Monarch butterfly design are in the center of the decoration idea exploration with a light grey armchair.
The color purple stands for spiritual change and deepens to change on the physical level the darker the purple becomes.
Stylized Monarch butterflies decorate the square pillows. Two differing surface patterns show in one version a single butterfly that feeds on swan plant blossoms. Meanwhile, the second version shows a butterfly pair.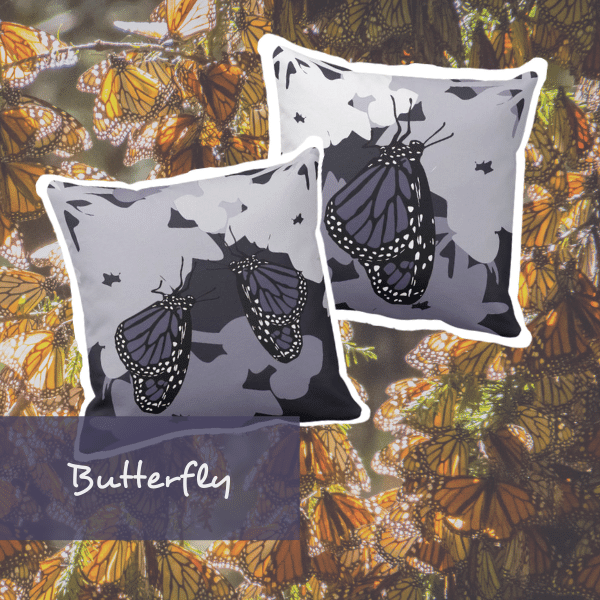 Altogether, the butterfly pattern decorated products comprise square pillows, oblong and round pillows, round poufs, and cubes. Three varying blankets are part of the collection to complete the comforting accessories. Each product comes in ten colorations that encompass purple, red, turquoise, green, yellow, blue, orange, grey, pink, and brown.
Most importantly, if the pattern finds your appreciation, and the tint fails to match your existing home decoration, then it is a breeze to personalize it. Similar opportunities apply to your new makeover project. Any color alteration keeps the original surface design intact. Choose the pattern design and color it your way.
Nine moody decoration ideas with an armchair and purple throw pillows
Inspiration is everywhere. In the following examples: landscapes, gardens, and dramatic momentary sky formations were initiators to the series of nine decor examples.
Among you find:
Purple Pillows: The light of change at a body of water with overlapping rows of hills right before sundown
Red and purple pillows: Wild and sloping meadows with rolling hills in the distance
Turquoise and purple pillows: A rugged coastline fringing turquoise-colored sea
Green and purple pillows: A sun-drenched mesmerizing green garden snapshot
Yellow and purple: purple blooming shrubs in the sunlight
Blue and purple pillows: White spring blooms set against a saturated blue sky
Orange and purple pillows: Far-reaching plains with heavy clouds chasing in the sunlight
Grey and purple pillows: A moody scenario with a purplish-blue clouded sky hanging over a summer-dried grey-green land
Pink and purple pillows: A pinkish-blue and clouded evening sky glimpses through a row of pine trees
Three inspiring landscapes inducing decoration ideas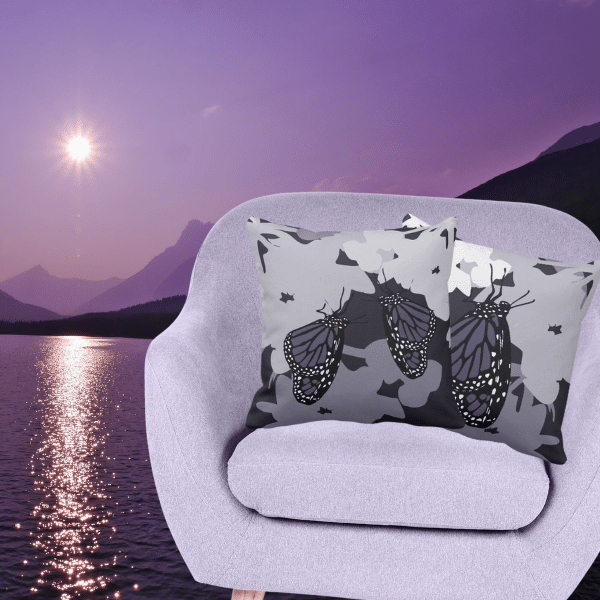 Purple throw pillows respond beautifully to the light of change. The scene shows a water scene with overlapping rows of hills following a possible waterway. Meanwhile, the sun hangs deep and creates highlights in the sky and on the water.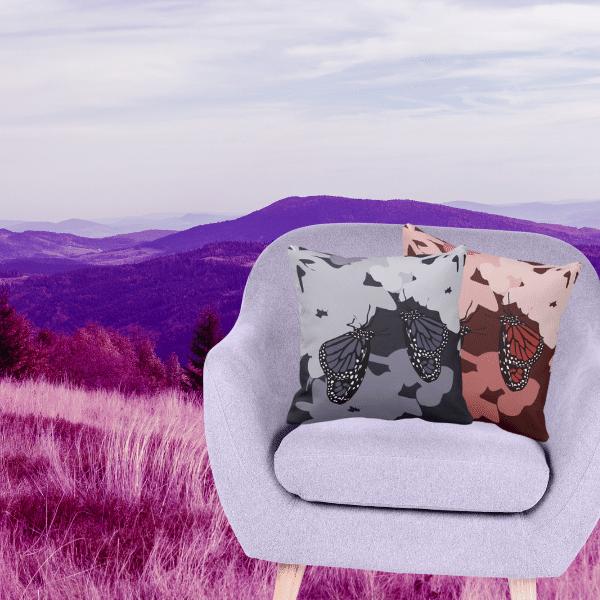 The mood forged by wild meadows sloping in red and brown with distant purplish rolling hills resounds in the chosen butterfly pillows in red and purple.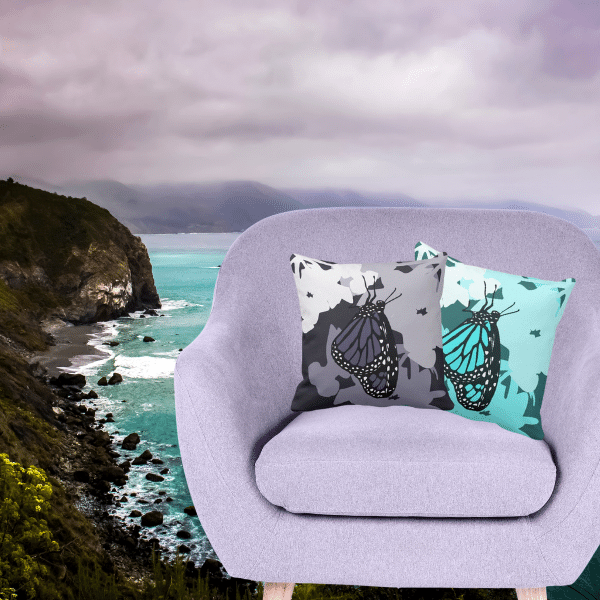 The image of the rugged coastline swept by turquoise-colored waters corresponds beautifully with the motif of a single Monarch butterfly that decorates the turquoise and purple pillows.
Beautiful garden close-ups motivate the three next pillow decoration ideas:
Sunlight reflecting peacefully in an environment of green grass and shrubs motivated the green and purple pillow decor for the armchair.
Lilac flowering shrubs in the summer afternoon sun inspired the combo for a yellow and purple Monarch butterfly pillow decor.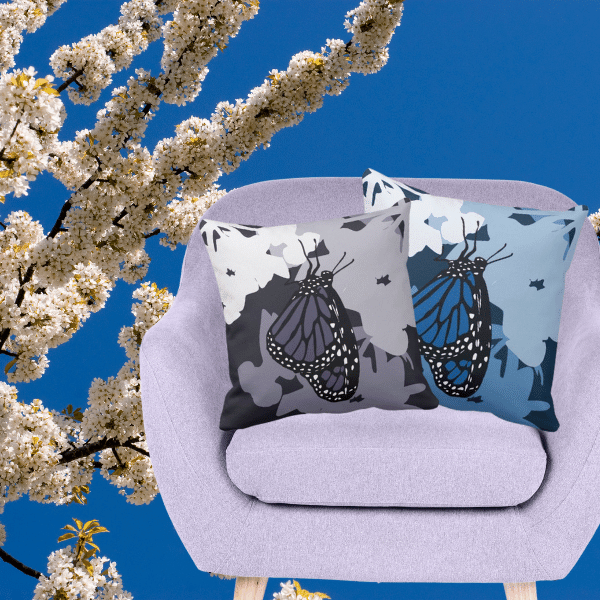 White clustering tree blossoms set against a saturated blue sky led to the blue and purple pillow combination with the single butterfly.
Dramatic cloud colorations brought about the last three decors: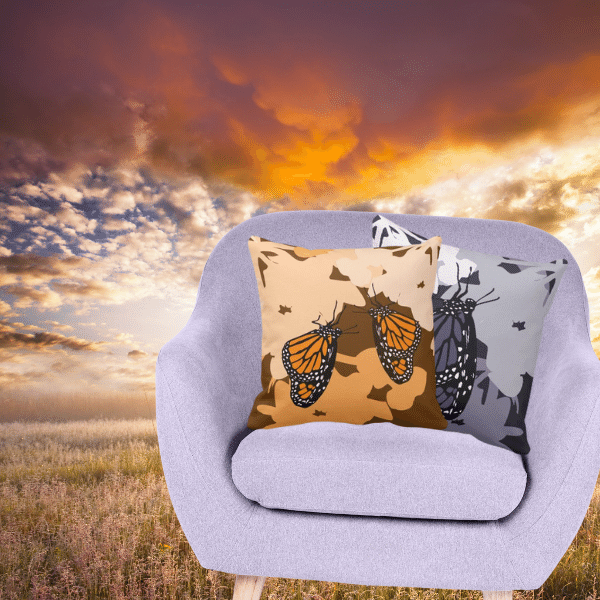 The orange and purple butterfly pillows resonate fabulously with clouds chasing in the evening sun above vast grain fields.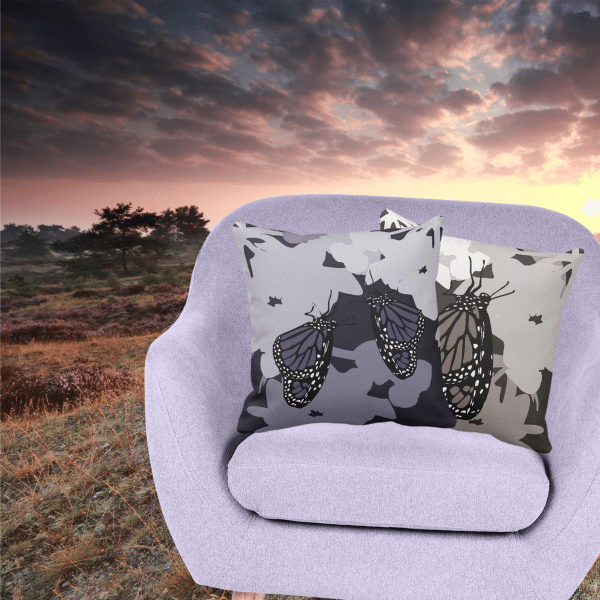 On the first impulse, grey and purple are an unlikely combination. Despite this, the combination shines in this example of a moody nature scene with pale brown-green dried grass under a purplish-blue cloudy sky.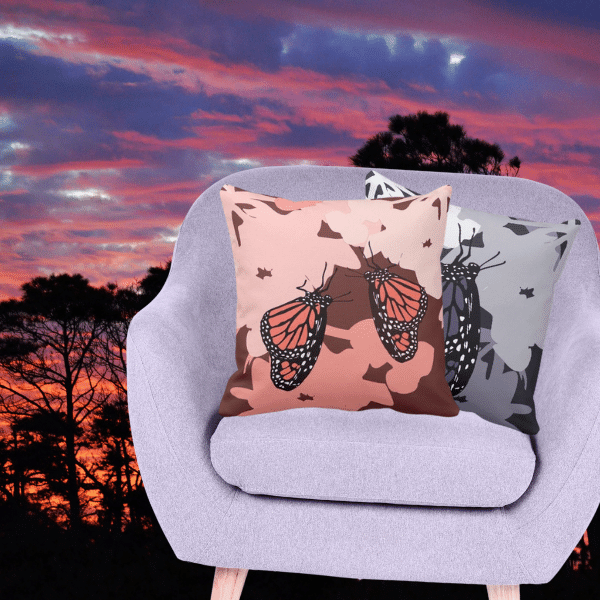 The last example of the purple throw pillows decoration ideas features two pillows, one in pink and the second in purple. Together these echo nicely the pinkish-blue evening sky that sets a group of trees visually on fire.
With this, nine persuasive color compositions conclude. If you would like to share your Monarch butterfly pillow decorating idea, please put your idea into the chat group at telegram @kbmd3sings_chat or Pinterest @kbmd3signs.
How to customize the pillow color?
Furthermore, all the display colors are representations and allow you to alter the fill color, and with this, the pillow coloration. With this in mind, it becomes a breeze to preserve an existing color scheme. Follow either link, mobile device or a desktop device for detailed instructions in word and image.
Regardless, to request help with the customization, connect with us on telegram https://t.me/KBMD3signs_chat. Above all, we are here to help with any questions about design customization, extending the product range, and becoming a Zazzle affiliate to sell KBM D3signs products.
At KBM D3signs, we love feedback, so please feel free to post your color and decor idea.