The blue and white lamp shade was handpicked and afforded the label – Editor's Pick – by the Zazzle team. It is a fantastic recognition and speaks for the design. The design consists of a white wicker pattern-inspired tile pattern design. Placed at a 45-degree angle, it has a minimalist appearance that carries the design that decorates either a shade for a hanging pendant light, a tripod lamp, a table lamp, or simply a lampshade only.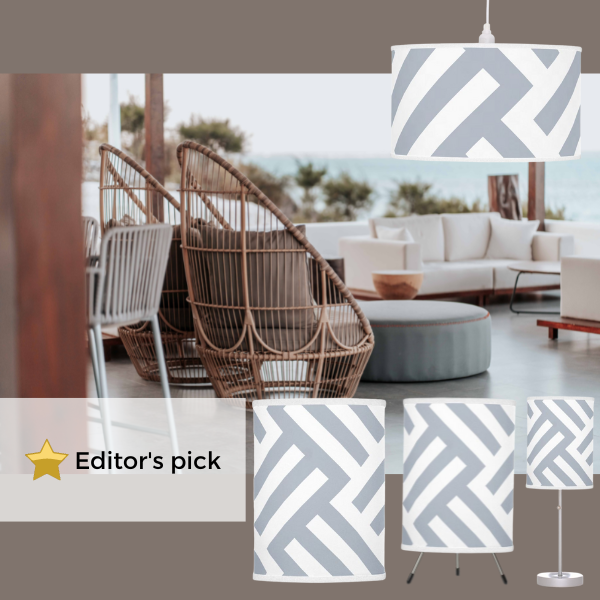 Additionally, the blue and white lamp shade complements other home decor items. These include throw pillows and poufs. All make up the collection. Within the product collection, the tiles pattern design decorates the items in various sizes, directions, and hues. Altogether selected hues are blue, brown, pink, red, and green. All are modern and color neutral.
Pendant Light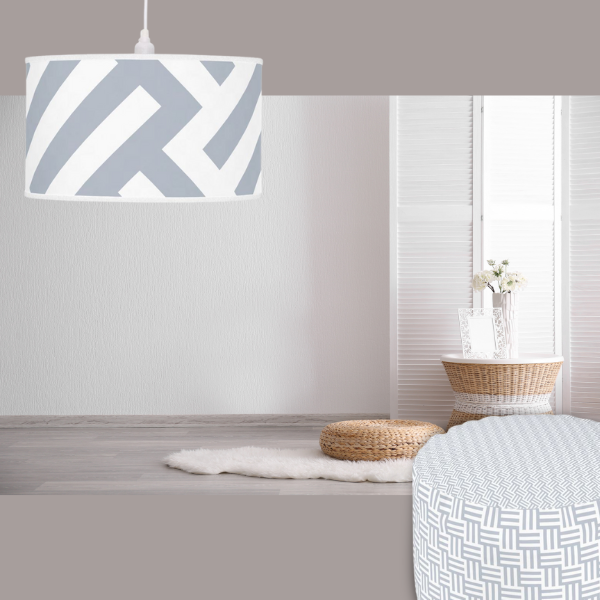 The pendant lamp in this example hangs in a modern light-flooded bedroom with a pouf complementing the home decor. Its pattern resembles this original wicker pattern. That is due to its smaller size.
Tripod Lamp In Blue And White
A living room in blue becomes the scene for the tripod lamp and a complementing throw pillow. By zooming in on the pattern, the overall pillow appearance is a minimalist style.
Blue And White Table Light
The table lamp placed on a side table has a high stand. Meanwhile, two round poufs echo the pattern design, yet with pattern direction and hue variations. One has a neutral pink hue, while the second is red on the mood board.
Specifics About The Blue And White Lamp Shade And Its Tiles Pattern
Altogether, there are three lampshade variations available pendant lamp, tripod lamp, and table lamp. The lampshades come in fact in film polyester, rice paper, or linen shade. Overall the surface experience will vary. All in all, the film polyester material has the lowest price in comparison. Its surface is smooth, while the linen adds a typical linen structure.
For all products with the geometric pattern of the tiles, applies that the pattern design is generally white with any color. That means you select a color that works for your purpose, and the color will pair with a white pattern design. Follow the – Using DesignTool – link to modify the fill color. For customization help, to expand the product range within available products on Zazzle, or to discuss a custom design, contact KBM D3signs.
---
Blue Cleaning Service Business Card & Marketing Items

Blue And White Lamp Shade

Orange Wall Decor, What Digital Seascape Print to Choose?