Pink and black pillows accessorize a pink wall decor. The following examples show three sets of three wall art examples with pillow pairs in pink and black and pink and white. In essence, the pattern displays either black or white because pillows and wall decor allow color customization.
Altogether the hue is then up to you. And you decide whether it becomes hot pink, burned coral, or smoky blush. So it is easy to adjust the hue for any personality type too. That makes it fantastic to personalize a gift for a friend or yourself.
Nine Pink And Black Pillows And Wall Decor Ideas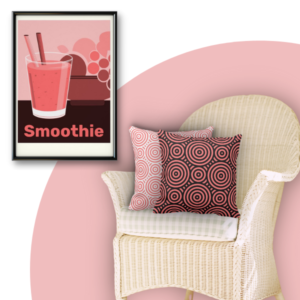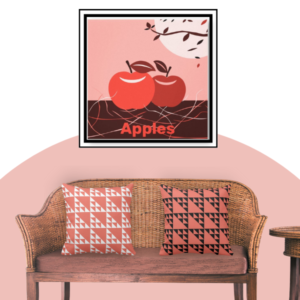 Pink and White & Pink and Black Pillows
The first three posters show a fruity theme. These are great for a dining table wall or a modern conservatory.
There is an ethnic-style pillow pattern with a nested circle pattern throw pillows and a fruit smoothie glass.
Second, a geometric triangle pattern accessorizes a square apple poster. Last cherry triplets with caption complement minimalist circle patterned pillows.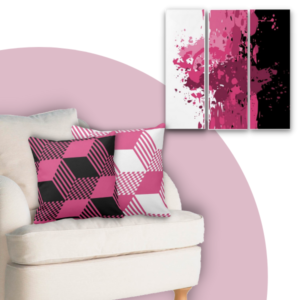 The second three examples show wall decor panels of two and three pink splatter artworks also suitable for a living room. Each goes in companionship with a different patterned pillow pair.
An abstract splatter triptych complements hot pink and black pillows with a diamond pattern. Then a set of three prints pair up with a wavy stripes pattern. The third example of this set of three has two splatter panels complemented with leaf pattern pillows.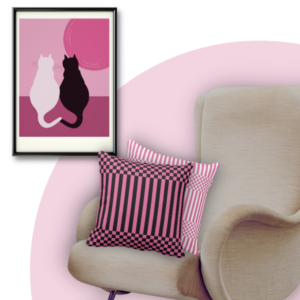 Black , White & Pink Pillows & Wall Decor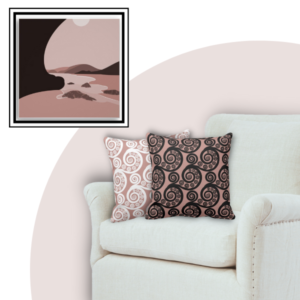 Playful Dolphins, Pink Wall Decor
Third, this set shows scenes that find expression through the sun. And again, each wall art features another pink and black and pink and white throw pillow set.
First, a cat pair at sunrise shows their love by shaping with their tails a heart. The wall decor complements a stripe and checker patterned pillow set. Then a seascape in smoky blush accessorizes curl-patterned pillows. In the last example, playful dolphins jump the waves at sunset and pair with a coastal-themed pillow set of two with a seashell pattern.
Where To Find More?
To find all of KBM D3signs pink and black or pink and white throw pillows, visit our collection in the Zazzle store Fall for It!
Where to go for assistance customizing the pillow or photo collage wall decor?
Should difficulties arise when customizing the home decor, we prepared a step-by-step guide.
Do you have additional questions? Then contact KBM D3signs via the form. We are also happy to transfer the design on request onto products available on Zazzle or to prepare a custom design altogether. Alternatively, visit KBMD3signs on Telegram at https://t.me/KBMD3signs_chat and leave a comment.