The pink winter Birthday party invitation for kids and complementing party supplies for decor, table, and favor bags show a playful snow crystal theme.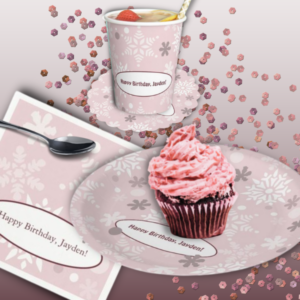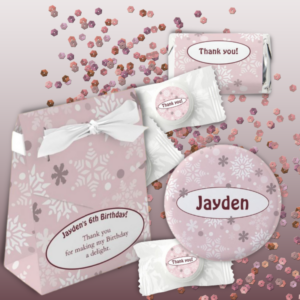 Winter Season Snowflake Party Theme
In pastel pink, the snowflake design makes a girly party theme for little girls. The invitation design aims to mimic falling snowflakes which frame the invitation. These also form the base design in the expanded series. Altogether it consists of an invite, a Happy Birthday banner, and a party hat. Meanwhile, the prepared table decor holds paper plates, cups, and napkins. Finally, thank your party guests for the shared fun with favor bags and boxes fillable with theme-matching mints, chocolates, and buttons.
Click through to find an alternate Christmas Birthday invitation in turquoise blue.
Can I Modify The Kid's Birthday Party Invitation?
Yes, customization is possible in two steps. In fact, all items within the collection of winter birthday party accessories allow modification.
First, designed as a template, the final outcome is in your hands. You fill in the text that will ultimately show in the custom birthday party invitation.
Second, follow for further customization the link – Edit using Design Tool.
Personalize The Template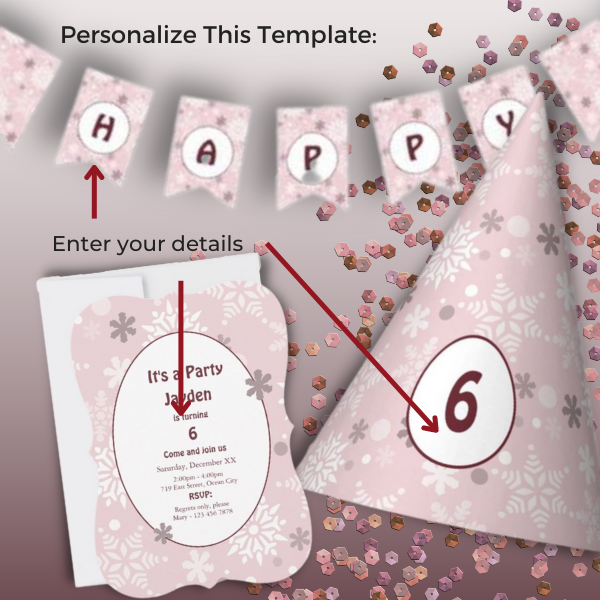 Each template allows readily to replace the given text with your word choices.
Edit Using Design Tool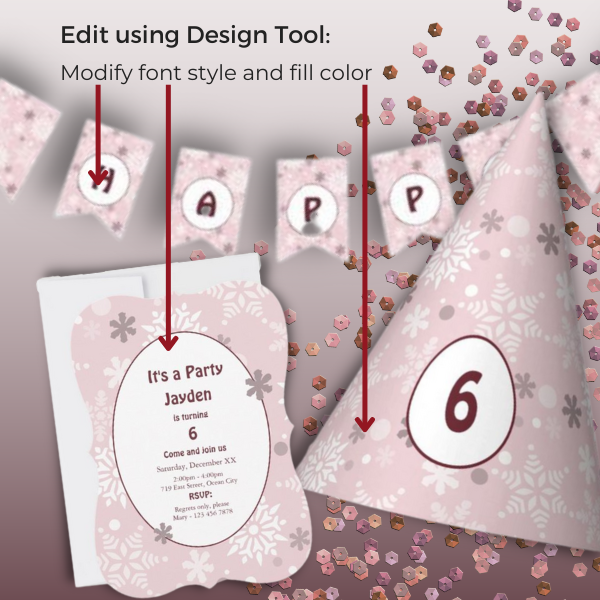 Within the design tool, you can adjust the coloration for each product. In fact, your color replaces the present pink hue. Additionally, adapt the font color. Here it is also possible to alter the font style and size. Font size usually depends in particular on the font style.
For assistance in personalizing the pink kids' winter Birthday party supplies, we prepared a step-by-step guide on the following page.
All in all, the products in the mood board compositions are part of an expanded collection. If you require additional items, and these are available among the Zazzle products, then message KBMD3signs. We are happy to remedy that or to discuss an alternate custom design.
Find more kids' birthday party invitations from the Zazzle store Color Cocktail or explore kids' Zazzle birthday invitations store-wide.