The hip-hop dance Birthday party invitation to celebrate a 12th Birthday has a styling feature of multicolored light dots and a dancer silhouette.
Overall, the birthday party invitation works well for a dance party theme. Complementing accessories like party table supplies, party favors, and party memorabilia are also part of the Dance Party collection.
Dance Party Invitation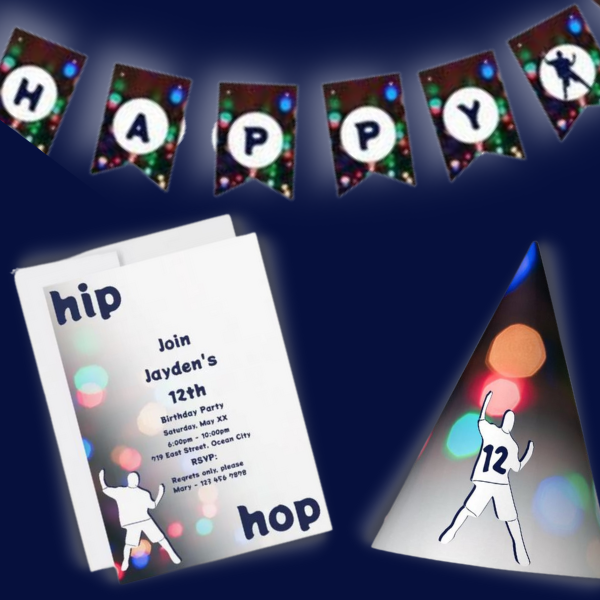 A dance party invitation shows a dancer's silhouette against red, orange, green, and blue light spots. From left to right the lights transform into a white background that serves as a canvas for the text in blue. Resulting overall in a white and blue birthday invitation.
Paper plates, cups, napkins, coasters, and placemats offer dance-theme matching table decor.
Use favor bags filled with theme-matching treats to express your thanks and gratitude to all guests for making the dance party memorable.
Lastly, keep a visual memory of the birthday celebration with tokens. These include a photo collage with the eight best shots of the day. A fun T-Shirt for the birthday kid and a guest book for everyone to leave well wishes.
Shop Zazzle Birthday Invitations
Hip-Hop Dance Birthday Party Supplies
Find more kids' birthday party invitations from the Zazzle store Color Cocktail or explore kids' Zazzle birthday invitations store-wide.
Can I Customize The Dance Birthday Party Invite?
Yes, modification is possible in two steps. As a matter of fact, all items in the dance party collection allow customization.
First, designed as a template, fill in the text and image placeholders that show in the kid's party invitation.
Second, follow for further customization the link – Edit design or Edit using Design Tool.
Personalize The Template
Indeed, each template allows replacing the given text and images with yours.
Edit Using Design Tool
Within the design tool, you can adjust the background photo and even replace it with a fill color of your choice. Additionally, adapt the font color and dancer silhouette coloration.
For assistance in customizing the dance Birthday party supplies, we prepared a step-by-step guide on the following page. 
All in all, the products in the mood board compositions are part of an extensive collection. If you require additional items, and these are available among the Zazzle products, then message KBMD3signs. We are happy to add products or to discuss an alternate custom design.