Colorful wall decor shines in three kitchen settings. The three scenes include a traditional kitchen in black, a modern kitchen in dark turquoise, and third a white country style kitchen. Each features a set of three fruit art prints.
Presented colors are exemplary. If your kitchen requires a different color palette, that is easily solved. Find out how to customize the background option. It works on your desktop as well as on your mobile device. Instructions are in word and image for either approach. One more important thing, each of the fruit wall art has a caption. Remove it, change the language, adjust font, font-size, and font-color to reflect your kitchen style and color theme.
1. Bright colored fruit wall decor for a black kitchen
The traditional kitchen style in black with a wooden kitchen bench can handle well bright colors for wall decor. In this case, KBM D3signs chose a red cherry, a green smoothie, and a yellow banana print. All three templates have something in common. That is, each of their color palettes exhibits monochrome shades of its background color, starting with hues subdued by black and ending in a tone lightened by white.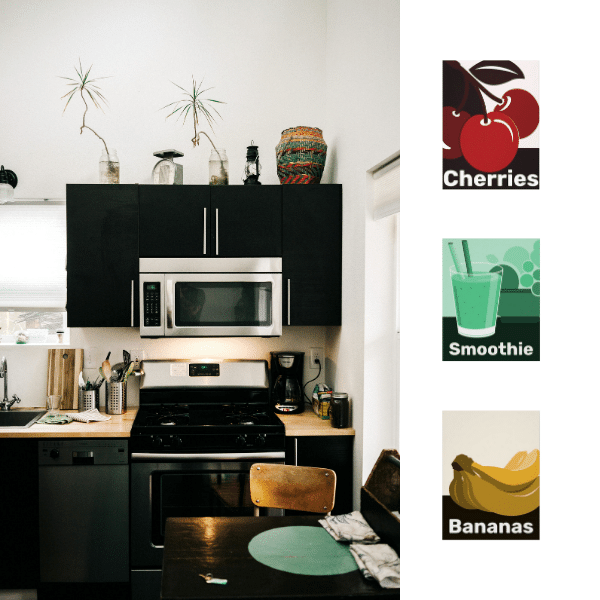 Continue reading

"3 Scenes Of Colorful Wall Decor For The Kitchen With Fruit Art"