Photography business cards are often the first impression potential clients and collaborators have of your work, so it's important to make sure these effectively communicate the right message. A well-designed business card can be the key to establishing your brand and gaining recognition in the competitive world of photography.
In this article, we'll walk you through the process of creating photography business cards that leave a lasting impression and discuss the important information that needs to be included. Also included is why color is important and how to use it on a business card. Then follows the personalization options of the featured design by KBM D3signs. And finally, additional marketing elements and where best to use them.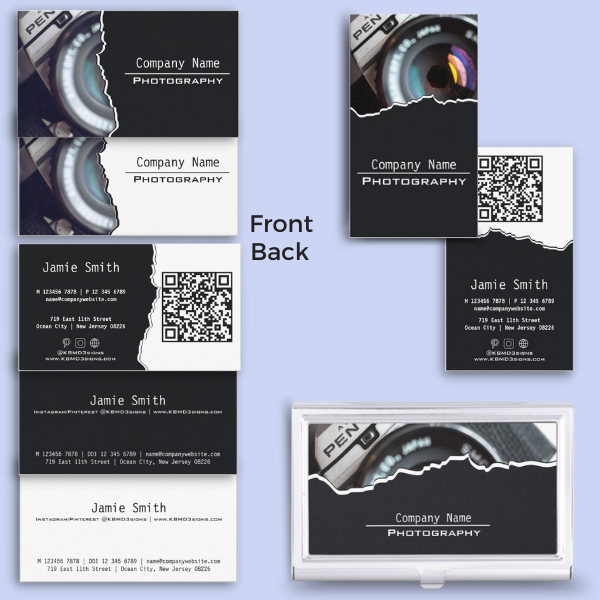 Photographer's First Impression, Points of Exploration:
---
Design Matters for Photography Business Cards:
The design of your photography business card is your initial opportunity to make a visual statement about your style and creativity. Consider these design elements:
Visual Harmony: The design should resonate with your photography style. If you specialize in wildlife photography, a card with vibrant, nature-themed graphics might be appropriate. For wedding photographers, elegant and romantic designs can be a better fit.
High-Quality Imagery: Use your own photos on the card to showcase your work. Select an image that is a true representation of your style and skill.
Font and Typography: Choose a font that is both legible and in harmony with your branding. The size and style of the text should be easily readable.
Color Palette: Pick colors that match your branding and photography style. Consistency in colors across your branding materials creates a cohesive look.
Whitespace: Ensure there is enough whitespace for clarity and focus. Crowded design can overwhelm the recipient.
Essential Business Card Information:
Your photography business card should communicate the following crucial information:
Name and Title: Your name should be prominent. If you have a specific title or specialization, such as "Wedding Photographer" or "Portrait Photographer," include it.
Contact Details: Provide essential contact information, including your phone number, email address, and website. Make sure this information is current and accurate.
Logo or Branding: If you have a logo or a unique branding element, include it. A logo adds a professional touch and helps with brand recognition.
Social Media Handles: Including your social media profiles, such as Instagram and Facebook, can help potential clients explore your portfolio and get a sense of your personality.
Tagline or Slogan: A brief and memorable tagline can leave a strong impression. Consider adding a phrase that encapsulates your photography style or philosophy.
QR Code: In the digital age, a QR code that leads to your portfolio or website can make it easy for potential clients to learn more about your work.
How Information Affects the Business Card:
The information you choose to include on your photography business card is pivotal in shaping the impression you convey:
Professionalism: Accurate and up-to-date contact information demonstrates professionalism and reliability. A well-designed card enhances your credibility as a photographer.
Brand Identity: The choice of font, colors, imagery, and branding elements should be consistent with your overall brand identity. This consistency reinforces your brand image in the recipient's mind.
Specialization: Including your specialization helps potential clients understand your niche. This can be crucial in attracting clients looking for specific photography services.
Online Presence: Providing social media handles and a website link allows clients to explore your work and get to know you better. This connection is essential for building trust.
Memorability: An excellent business card leaves a memorable impression. A unique tagline, a well-chosen image, or a creative design can make your card stand out in a stack of others.
In a Nutshell
Creating an effective photography business card is about striking a balance between design and essential information. Your business card should not only look appealing but also effectively convey who you are as a photographer and how to contact you. By investing time and effort into crafting a photography business card that speaks to your unique style and brand, you'll be one step closer to making a lasting impression on potential clients and collaborators in the world of photography.
---
Importance of Color in a Photography Business Card
Black is often associated with sophistication, elegance, and professionalism. It's a popular choice among high-end fashion photographers, wedding photographers, and those who want to convey a sense of timelessness and class. However, excessive use of black can make the card feel heavy or somber.
White represents purity, simplicity, and cleanliness. It's a fantastic choice for minimalistic and modern photographers who want to emphasize a sense of space and clarity. White can also convey a sense of neutrality and professionalism.
Blue is a versatile color often associated with trust, reliability, and calmness. Many corporate and portrait photographers use shades of blue to instill a sense of dependability and professionalism in their branding. Light blues can feel more tranquil, while darker blues convey more stability.
Red is a powerful and attention-grabbing color that can evoke feelings of passion, excitement, and energy. It's often used by photographers who want to convey a sense of creativity, warmth, or boldness. However, red can be overwhelming if used excessively.
Green is linked to nature, growth, and renewal. It's an excellent choice for environmental and landscape photographers, as it conveys a sense of harmony and well-being. Green is also associated with sustainability and eco-friendliness.
Yellow is bright, cheerful, and energetic. It's suitable for photographers who want to express a sense of optimism and enthusiasm. Portrait and lifestyle photographers may choose yellow to convey a vibrant and friendly personality.
Purple often symbolizes luxury, creativity, and elegance. It can be a great choice for photographers who want to emphasize their artistic or high-end offerings. Lighter shades of purple can feel more romantic, while darker shades exude sophistication.
Orange is a color of enthusiasm, creativity, and energy. It's a bold choice for photographers who want to make a memorable impact. It's often used by event or lifestyle photographers to convey a sense of excitement and passion.
Gray is neutral and timeless. It's often used in combination with other colors to create a balanced and sophisticated look. Gray can convey professionalism and stability without feeling overly bland.
Brown is associated with nature, comfort, and simplicity. It's a great choice for outdoor and rustic photographers. It can also represent reliability and dependability.
When selecting colors for your photography business card, consider the following tips:
Consistency: Ensure that the colors on your business card align with your overall brand identity, including your website, portfolio, and marketing materials.
Contrast: Use contrasting colors for text and background to enhance readability. High contrast can make your information stand out.
Limited Color Palette: Avoid using too many colors, as it can make the card look cluttered. Stick to a harmonious color palette that complements your style.
Test It: Before finalizing your design, print a sample to see how the colors appear in print. Sometimes, they may look different on paper compared to what you see on a screen.
In conclusion, color plays a vital role in your photography business card's visual appeal and the emotions it conveys. The choice of colors should align with your brand identity and the message you want to communicate, whether it's professionalism, creativity, or a specific mood associated with your photographic style.
Can I Customize My Photography Business Card?
Absolutely! You have the freedom to personalize your black and white photo business card to leave a lasting impression and support the growth of your photo studio.
On the front approximately one-third of the business card's real estate is dedicated to a photograph, which serves as a versatile template. This image you choose reinforces your profession, style, or specialization. An eye-catching, irregular ripped line separates a black, uni colored space where you can insert your text for Company Name and Photography – it's all about making it yours.
On the back of the card, a clean white background provides the perfect backdrop for the black template text. This is where you can fill in your details, including your name, social media handles, website, phone number, email, and address. Collectively, your business card is just one piece of a broader collection of marketing materials.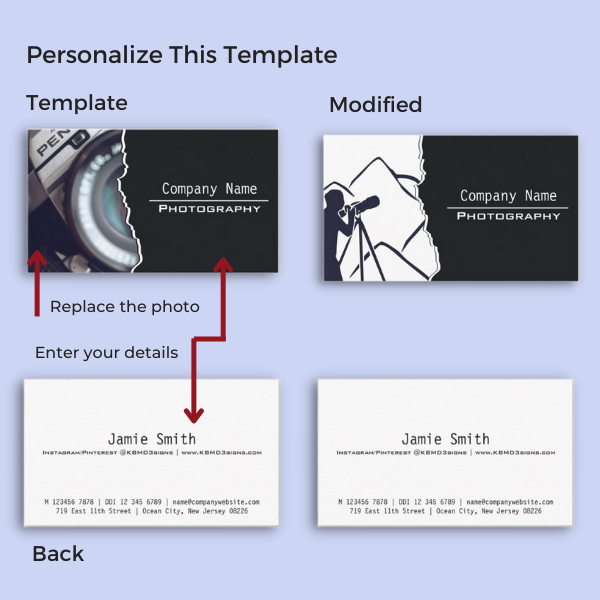 Take Personalization to the Next Level
Using the design tool, you can go a step further and adjust elements like font color to harmonize with your chosen photograph. Additionally, you have the flexibility to personalize the fill color and the background color of the QR code to match your photo's color palette. It's all about creating business cards that are uniquely yours.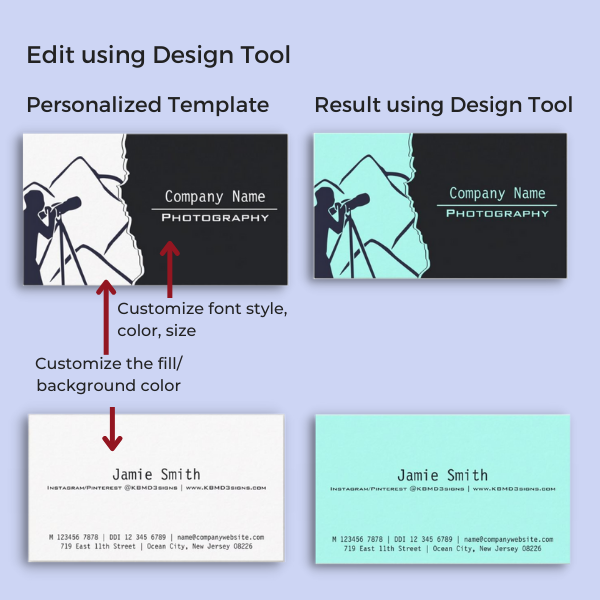 Need Help with Personalization?
If you require assistance with personalizing your photography business cards and other marketing materials, we've put together a comprehensive step-by-step guide, which you can find on the following page.
Should you have any additional questions or need further guidance, don't hesitate to reach out. You can use the message tool on Zazzle or get in touch with KBM D3signs via the provided form. We're more than happy to help transfer the design to other products available on Zazzle or even create a custom design specifically tailored to your needs.
We are also happy to transfer the design on request onto products available on Zazzle or to prepare a custom design altogether.
We thrive on feedback, feel free to show your design or even review the design and product.
What additional photographer marketing items for offline marketing are beneficial?
In addition to photography business cards, several other marketing items for offline marketing can be highly beneficial for photographers. These items help you build your brand, promote your services, and connect with potential clients. Here are some essential offline marketing materials and tips on how and where to use them: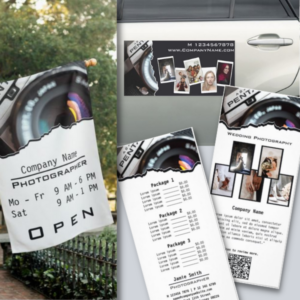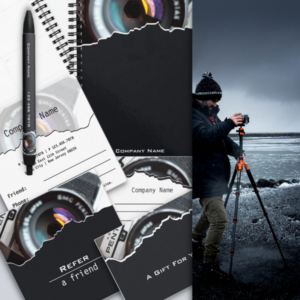 Promote Your Photography Studio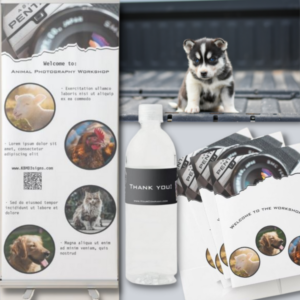 Workshop Accessories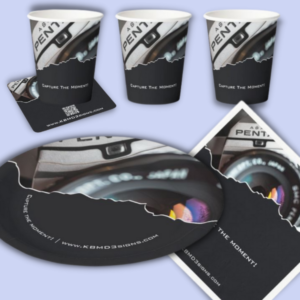 Support Community Celebrations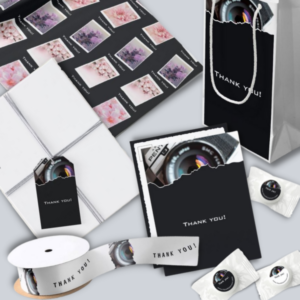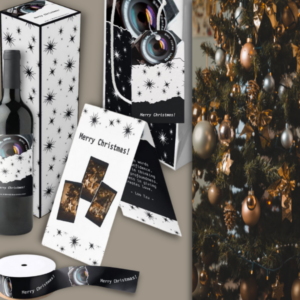 Christmas Gifts and Messages
Brochures:
Brochures are versatile marketing tools that allow you to provide detailed information about your photography services, pricing, and portfolio. Distribute them at local businesses, events, or leave them at your studio for walk-in clients.
Flyers:
Create eye-catching flyers to promote special offers, upcoming events, or photography workshops. Distribute these at local community centers, cafes, and bulletin boards in your area.
Postcards:
Postcards with stunning photos from your portfolio can serve as promotional tools or thank-you cards for clients. You can mail them to previous clients, prospects, or use them for direct mail campaigns.
Printed Portfolios:
If you primarily work with physical prints, a professional printed portfolio is essential for in-person meetings with potential clients. It allows you to showcase your work in a tangible way.
Photo Albums:
Photo albums with your work are excellent for in-person meetings and consultations. They give clients a chance to flip through your photos and get a feel for your style.
Business Banners:
Large banners with your portfolio or promotional content can be displayed at trade shows, photography exhibitions, or during outdoor events.
Promotional Merchandise:
Items like branded pens, notepads, or mugs with your logo and contact information can serve as promotional giveaways or gifts to clients.
Event Photography Backdrops:
If you frequently cover events, having a custom backdrop with your branding at the event venue can help promote your services and create a professional impression.
Gift Certificates:
Offering gift certificates is an effective way to attract new clients and generate revenue. They make for great gifts, so promote them during holidays and special occasions.
Printed Calendars:
Custom calendars featuring your photography can be sold or given away as promotional items. They keep your brand in front of your audience throughout the year.
Event Photography Cards:
If you specialize in event photography, having cards on hand to share with event attendees makes it easy for them to access and order photos online.
Referral Cards:
Encourage your current clients to refer friends and family by providing referral cards. Offer incentives, such as discounts or free prints, to motivate referrals.
Best Places to Use Offline Marketing Material
When it comes to the best places and methods for using these offline marketing materials, consider the following strategies:
Local Businesses: Build relationships with local businesses, such as wedding boutiques, restaurants, or event venues, and leave brochures or flyers in their establishments.
Networking Events: Attend local networking events, trade shows, and community gatherings. Bring your printed materials to exchange with potential clients and collaborators.
Community Boards: Post your flyers and brochures on community bulletin boards in libraries, cafes, and grocery stores.
Direct Mail: Use postcards and direct mail campaigns to target specific geographic areas or demographics.
Public Presentations and Workshops: If you host photography workshops or presentations, have your marketing materials on hand to distribute to attendees.
Events and Exhibitions: At photography exhibitions, trade shows, or bridal expos, banners and promotional materials can help your booth stand out.
Studio or Office: Have a stack of brochures and business cards at your studio or office for walk-in clients.
Mail and Package Inserts: Include promotional materials with packages you send to clients or use them as thank-you cards.
In-Person Meetings: Carry a few of your materials with you at all times for spontaneous networking opportunities.
By using these offline marketing materials strategically and in the right places, you can expand your client base and build brand recognition in your local community and beyond.
Photography Business Cards: Your Essential Branding Tool
Why do I need a photography business card?
A photography business card is a compact, professional representation of your brand. It helps potential clients remember you, contact you easily, and understand your photography style at a glance.
What information should I include on my photography business card?
Essential information includes your name, contact details (phone, email, website), and a brief tagline or specialty. You may also include your logo and social media profiles.
How can I make my photography business card stand out?
To create a memorable card, use a high-quality image that reflects your style, choose a harmonious color scheme, and ensure clear and readable text. Consistency with your overall brand identity is key.
For more ideas on black-and-white business card designs click through. The post shows professional biz card designs for a web designer, realtor, cleaner, lawn care service, mechanic, hotel, lawyer, and a personal trainer.
Zazzle business card designs at Cocoon It and photographer business cards store-wide.