The elegant photography business cards are templates that come in landscape or portrait format. There, photo placeholders allow for replacing the sample one with a custom photo related to your services. Treat the text placeholders similarly, add photo studio details such as phone number, and physical address, and insert your web address to the scannable QR code.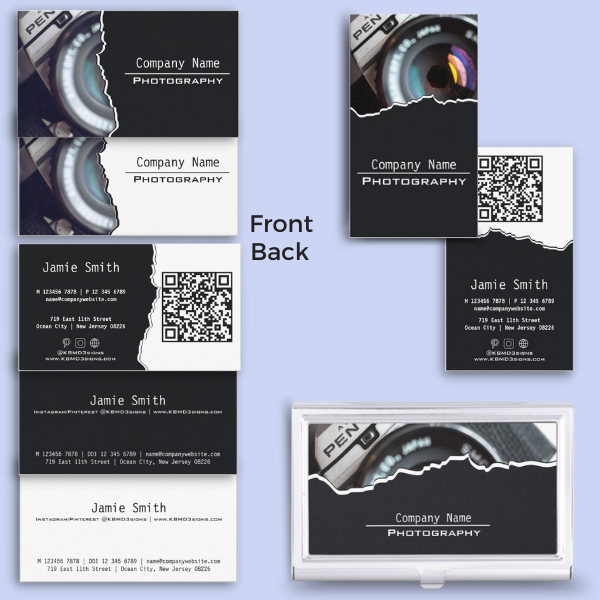 Included Marketing Material Ideas
Promote your photography studio
Schedule and refer
Spread the word about your service strengths
Leave a footprint in your community
Thank your clients
Season greetings and stay memorable
Sneak Peak For Marketing Items For Business That Support Your Studio Growth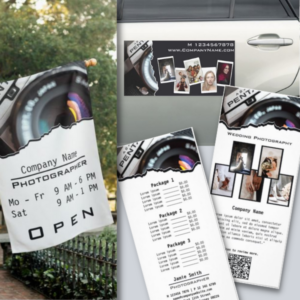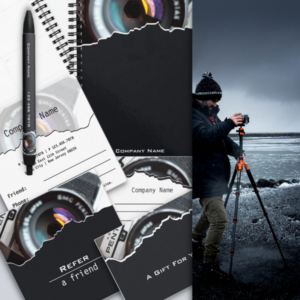 Promote Your Photography Studio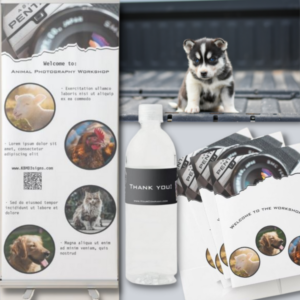 Workshop Accessories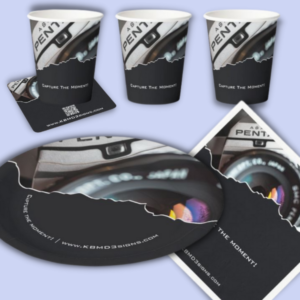 Support Community Celebrations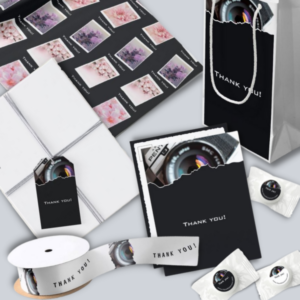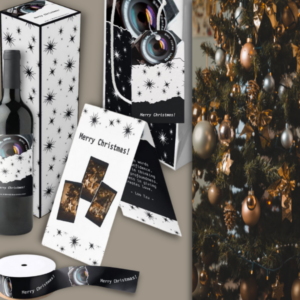 Christmas Gifts and Messages
First, here are some ideas to promote your photography studio offline. For a business that has a storefront, use a flag that informs about opening hours. Then there is a car magnet with sample images to communicate business strengths and photo and web details. Additionally, a rack card distributed in places of interest gives more about contact and portfolio details and packages on offer.
Second, professionally schedule and encourage customers to recommend your service by word of mouth. That includes a refer-a-friend card and a gift card.
Third, accessories to guide and provide an overview for students to the workshop event with a retractable banner. Ideas about what a workshop package could include are a brand-labeled bottle of water and a workshop folder for the topics covered throughout the event.
Fourth, here is an idea to leave a supportive footprint in your community while raising awareness of your services. Donating paper cups, coasters, plates, or napkins to a community or school event allows you to utilize the occasion to introduce your services.
Fifth, also there are plenty of occasions to Thank your clients for their business throughout the year. Overall, it is an excellent opportunity to communicate it with your brand recognizable. For this reason, cards, ribbons, and gift wrapping are prepared as templates to let your business shine.
Sixth and last, the Christmas season is most likely your busiest time for Christmas purchases. Or for you to stay in touch and send your season greetings.
For more ideas on black-and-white business card designs click through. The post shows professional biz card designs for a web designer, realtor, cleaner, lawn care service, mechanic, hotel, lawyer, and a personal trainer.
Zazzle business card designs at Cocoon It and photographer business cards store-wide.
Can I Customize The Photographer Business Card?
Customize the photo business card in view of making a lasting impression and supporting you in building your photo studio. Altogether displayed products are part of a more extensive marketing items collection.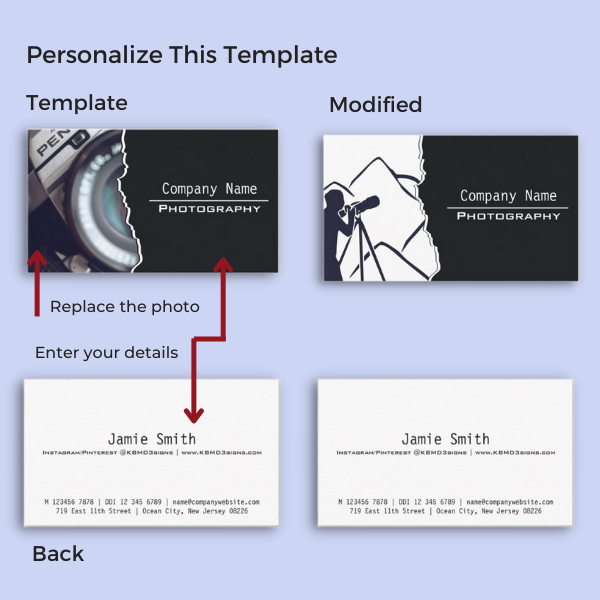 Further Personalization Is Possible
Within the design tool, you can adjust items such as the font color to match your photo. Similarly, personalize the fill color and QR-code background color to complement your photo colors. In fact, like this, you create your custom business cards.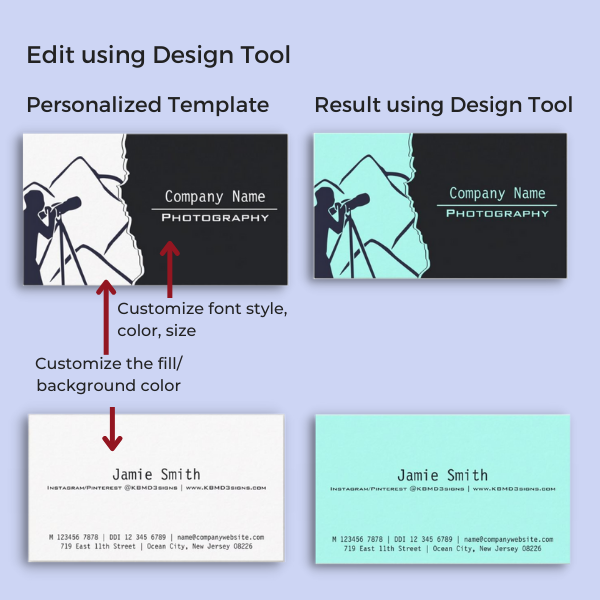 For assistance personalizing the photography business cards and marketing materials, we prepared a step-by-step guide on the following page.
Do you have additional questions? Then use the message tool on Zazzle, or contact KBM D3signs via the form. Alternatively, visit KBMD3signs on Telegram at https://t.me/KBMD3signs_chat and leave a comment or connect with us @KBMD3sings on Telegram as well as on Pinterest.
We are also happy to transfer the design on request onto products available on Zazzle or to prepare a custom design altogether.