In this guide to wedding invitation templates, we'll answer some of the most frequently asked questions about wedding invitations. We also want to give you tips on how to create invitations that reflect your unique style and personality. Wondering how to make your wedding invitations really shine? Look no further!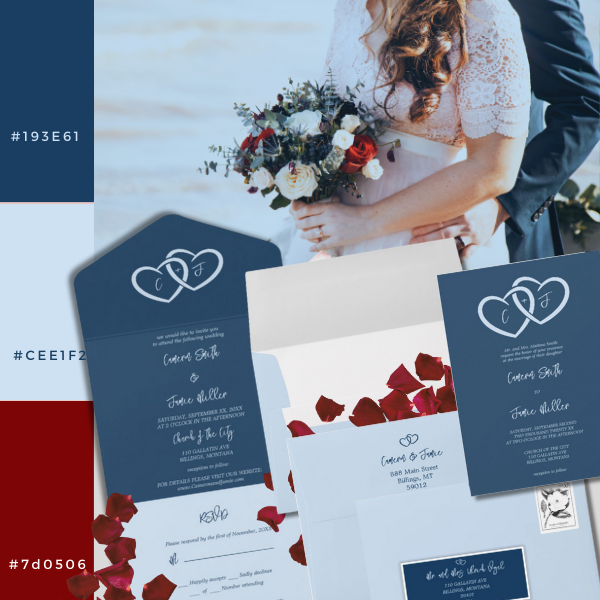 Frequently Asked Questions (FAQ)?
1. How do I Create My Own Professional-Looking, One-Of-a-Kind Wedding Invitation?

You can create your own unique wedding invitation using online design tools. Start from scratch by exploring shape and font galleries, uploading your images, or choosing a background color.

Or choose from templates created by KBM, D3signs, or other Zazzle designers. These templates provide a great base for your creative input. Customize your details, add your images, and where possible choose your colors to make it uniquely yours and match your wedding colors.
2. Do Zazzle Wedding Invitations Come With Envelopes?

Zazzle invitations do come with envelopes, but there may be an additional charge. The standard envelope provided is plain white.

Wedding invitation templates also offer add-ons such as envelope liners, matching inside and outside envelopes, which can be selected as separate items in your order.
3. Do I Have to Write Addresses on Zazzle Wedding Invitations?

Matching envelopes allow the bride and groom to include a return address. The return address also has a place on the RSVP card or envelope. You can choose to create matching address labels. Or, if you have a stylish hand, add a personal touch with your handwriting.

If you choose the standard white envelope, consider using personalized address labels to add a personal touch.
4. When Should I Order My Wedding Invitations?

It's a good idea to order your wedding invitations at least 6 to 8 weeks before the mailing date. The timing may vary depending on your location and where you order your stationery.

To determine the necessary printing and shipping time, add the invitations to your cart and check the estimated arrival time.
5. How Many Additional Wedding Invitations Should I Order?

Check the available Zazzle packaging units as they may vary by product. When finalizing your order, allow for last-minute invitation decisions, typos, and unforeseen circumstances.

Ordering a quarter more than you need is a prudent strategy.
6. How Much Do Wedding Invitations Cost?
Typically, volume discounts increase with the size of your order, and these discounts vary for each stationery product.

The cost of an invitation depends on factors such as product quality, features, size, shape, envelope choice.

Zazzle also offers business discounts, which you can inquire about using the form provided.
7. Can I Combine Physical and Digital Wedding Invitations?


Yes, you can. Select a downloadable wedding invitation template, customize it, and then order as many physical wedding invitations as you know your guests will want to keep. Then download the file and send digital messages. This is becoming increasingly popular. It often goes hand in hand with the popularity of creating a wedding website for the event.
---
5 Reasons Why Sending Physical Wedding Invitations is Important:
Express the Importance of Your Special Day:
A formal wedding invitation serves as a tangible reminder of your new beginning while expressing the importance of your special day.
Set the Mood With Wedding Invitation Templates:
Use wedding invitation templates to set the mood and express your personality. Customize images, colors and wording to create an invitation that reflects your unique style.
Create a Thoughtful and Personalized Experience:
The most important thing is to add value to your wedding day with thoughtful and personalized event invitations.
A Keepsake for Loved Ones:
Family and friends can cherish your custom wedding invitation as a memento and eventually add it to their treasured keepsake boxes.
Connect the Journey to The Day:
Wedding planning is just as valuable as the wedding day itself. A wedding invitation card serves as both a message and a keepsake, beautifully connecting the two.
After all, your wedding invitations are an important part of your special day. By using wedding invitation templates creatively and keeping these FAQs in mind, you can make your invitations shine and leave an overall lasting impression on your guests.