A country-style, art-inspired living area decor showcases an art print – Tool Shed by Barry Ross Smith complementing throw pillows. Altogether, the living room decor picks up the tones and structures present in the art print.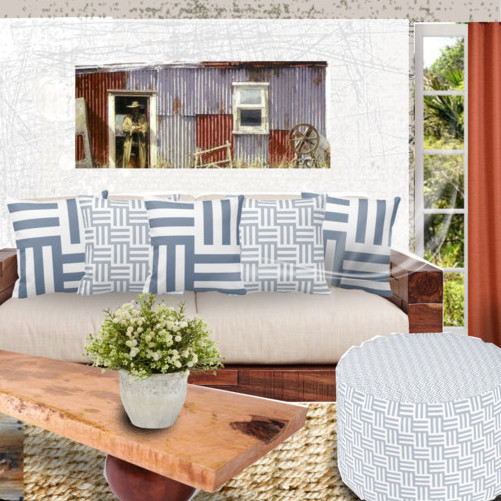 Art Portraying Country-Style Living In Rural New Zealand
The focus point of this country-style mood board is the – Tool Shed. It is an art print by the contemporary New Zealand painter Barry Ross Smith. Here, Barry Ross Smith tells a story of rural New Zealand. As seen above, a farmer leaning cross-armed on the doorpost of the tool shed to sweep his view. The – Tool Shed – is a timeless object that withstands changes by patching it up. As an illustration of time progressing the metal patches cladding the shed show patches in varying states of erosion. For this reason their coloration has patches in steel grey and rust colors. Altogether, blueish-grey and reddish-brown tones set the mood. 
Tiles Patterned Throw Pillows
All in all, the chosen pillow colors emphasize blueish-grey and greenish-grey. Their pattern specifically mimics the texture of the – Tool Shed – with striped square tiles in various sizes. Otherwise, the moldboard uses rust, orange -brown colored rustic wooden elements in seating, flooring, and table. while the rug is of a natural sisal material.
Use the link to find more product samples by KBM D3signs of this versatile tiles pattern. To emphasize, influencing the fill color allows you to match any existing color scheme.
About Barry Ross Smith
The artist Barry Ross Smith is a fascinating New Zealand artist who excels in observing his surroundings. In essence, every piece of his work carries a piece of untouched country.
In his own words, Barry describes his artwork this way – "I like to create a rapport with the viewer by playing with our reminiscences. Creating icons from our shared Kiwi past, the beach, the bach, the farm but mostly the people. We can identify with these characters as family, friends, or someone we know."
For more visit Barry's profile at prints.co.nz.