The blue and green color palette is a harmonious blend. A captivating combination that infuses tranquility, freshness, and a touch of sophistication.
In the realm of interior design, color plays a pivotal role in shaping the ambiance and character of a living space. The right color palette can evoke various emotions and set the mood for every room.
By incorporating this captivating duo into your home decor, you can create an enchanting sanctuary that exudes elegance and serenity. Let's explore six scenes from nature to get ideas for combining blue and green. Then follow some exciting ideas for using a blue-green palette to decorate your living space. Finally, learn about the meaning and possibilities of the six-digit coders on the color palette collages.
Six Blue and Green Color Palettes Found in Nature
The enchanting northern lights
One of nature's most awe-inspiring phenomena, the Northern Lights, or aurora borealis, paints the sky with vibrant blues and greens. The dancing lights against a dark backdrop create a magical atmosphere.
The serenity of sunlit grass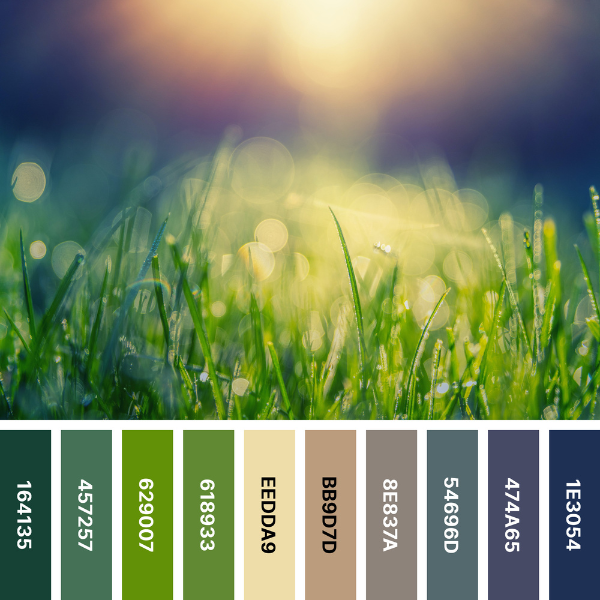 A close-up of sunlit grass, where the soft rays of the low sun highlight the intricate details and create a stunning interplay of blues and greens.
Grassy hills under overcast skies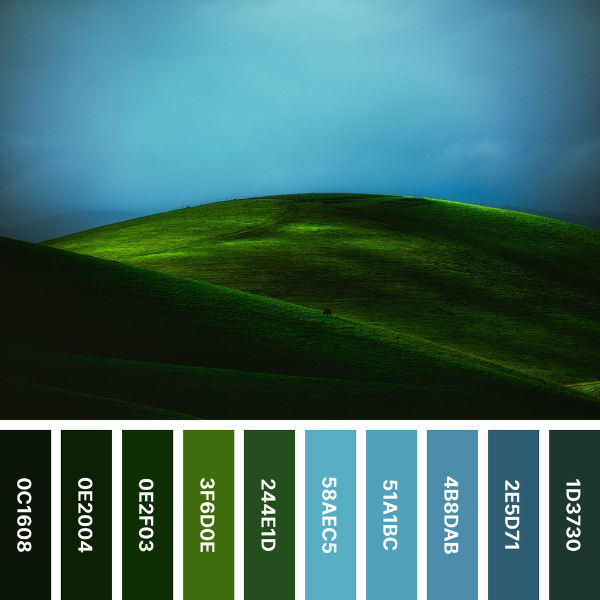 A landscape of gently rolling grassy hills under an overcast blue sky evokes a peaceful and soothing atmosphere.
Majesty of a green valley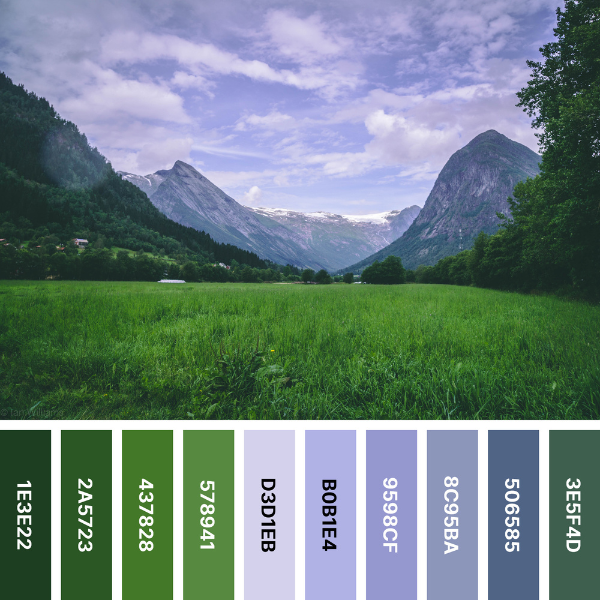 The view of a green valley stretching towards majestic mountains is a sight to behold. Resulting contrast between fertile green and watery blue sky.
Subtle elegance of leaf close-ups
A single leaf standing out against a blurred blue-green background provides a visually striking image with an amazing variety of hues.
The charm of a mountain plateau
A green plateau embedded in the mountains with an opening to the western sunset, a stunning color palette collage in blue and green.
Incorporate Select Blues and Greens Into Home Decor
Bring the beauty of a color palette that inspires you into your home. For this occasion KBM D3signs creates color-customizable print-on-demand templates for wall art and throw pillows. Simply select the #Hex codes of your desired colors, and modify the design that speaks to you.
Of course, this works just as well with your color schemes you already have and want to add to or with your own inspiring photos.Learn about the tools we use to create the color collages. And to make sure the end result is cohesive, create a mood board. It can help you to stay on track, and even if you create one online, you can share ideas with family and friends. For help with customization or to discuss a custom design, Let's Talk!
Ideas for Infusing Your Space With Calming Blues and Refreshing Greens
By infusing your space with the calming blues and refreshing greens found in nature, you can create a harmonious and visually appealing atmosphere that will leave you feeling connected to the wonders of the natural world.
Blue and Green Accents and Wall Decor
The easiest way to make a change is to update wall art and accent decor. This works to great effect in a home with generally neutral colors.
Add pops of vibrant blues and greens to your decor with accent pieces and accessories. Place decorative vases, ceramics or sculptures in shades of teal, cobalt blue or emerald green on shelves, mantels or end tables. Hang artwork with abstract designs or nature-inspired scenes in these colors to create a captivating focal point on the walls. Also, bring the outdoors in by incorporating plants with lush green foliage, such as ferns or succulents, for a refreshing touch.
Five Actions to Take For A Lasting Result
Paint walls
Overall painting walls is great and leads to a more lasting result. It allows you to lay the foundation for your blue and green color scheme. Start by painting the walls in muted shades of these colors. Consider painting an accent wall in a rich navy blue or a deep emerald green to create a focal point that anchors the room. For a lighter and airier feel, choose pastel shades of sky blue or mint green on the remaining walls. This backdrop will provide a harmonious canvas for the rest of your decor.
Upholstery and soft furnishings
Infuse your furniture and soft furnishings with the serene charm of blue and green tones. Select upholstery fabrics in shades of aqua, turquoise, or sea foam green for sofas, armchairs, and ottomans. Pair these with patterned throw pillows in a mix of blues and greens to add depth and visual interest. Consider incorporating botanical prints or geometric patterns to enhance the overall look.
Flooring and area rugs
Enhance the visual impact of your blue and green color palette by incorporating flooring elements that blend seamlessly with the theme. Choose hardwood flooring in a rich, dark stain or opt for a lighter option, such as bamboo or light oak. Alternatively, choose area rugs in blue and green patterns to tie the room together. Persian rugs with intricate designs in shades of blue and green can create a captivating focal point.
Window Treatments
Enhance your interior space by dressing up your windows with curtains or blinds in the blue and green color scheme. Choose lightweight fabrics in soft blues or pale greens for an airy and soothing effect. Sheer curtains in these colors allow natural light to filter through while adding a touch of ethereal beauty. Alternatively, opt for bamboo blinds or natural woven shades in warm blues or greens for a rustic yet modern touch to the room.
All in all
Decorating your home with a blue and green color palette offers a myriad of ways to create a serene and visually captivating space. From the soothing backdrop of the walls to the harmoniously coordinated furnishings and accents, the mix of blue and green brings a sense of calm and sophistication. By embracing these ideas, you can transform your living space into a haven that rejuvenates the senses and uplifts the spirit. So, go ahead and let the enchanting allure of blue and green infuse your home with its timeless beauty.