The orange and black color palette, drawn from the mesmerizing beauty of nature, never fails to inspire. It is a captivating palette that evokes both warmth and elegance in its timeless color combination. Let us explore how this striking duo can be used to transform your home into a haven of style and sophistication.
Five Color Collages with #Hex Codes to Jumpstart Your Home Decorating
Get inspired by stunning landscapes rendered in vibrant hues as the sun goes down, to intriguing colored flowers and birds. Even cutting oranges in the kitchen can provide a wealth of design inspiration.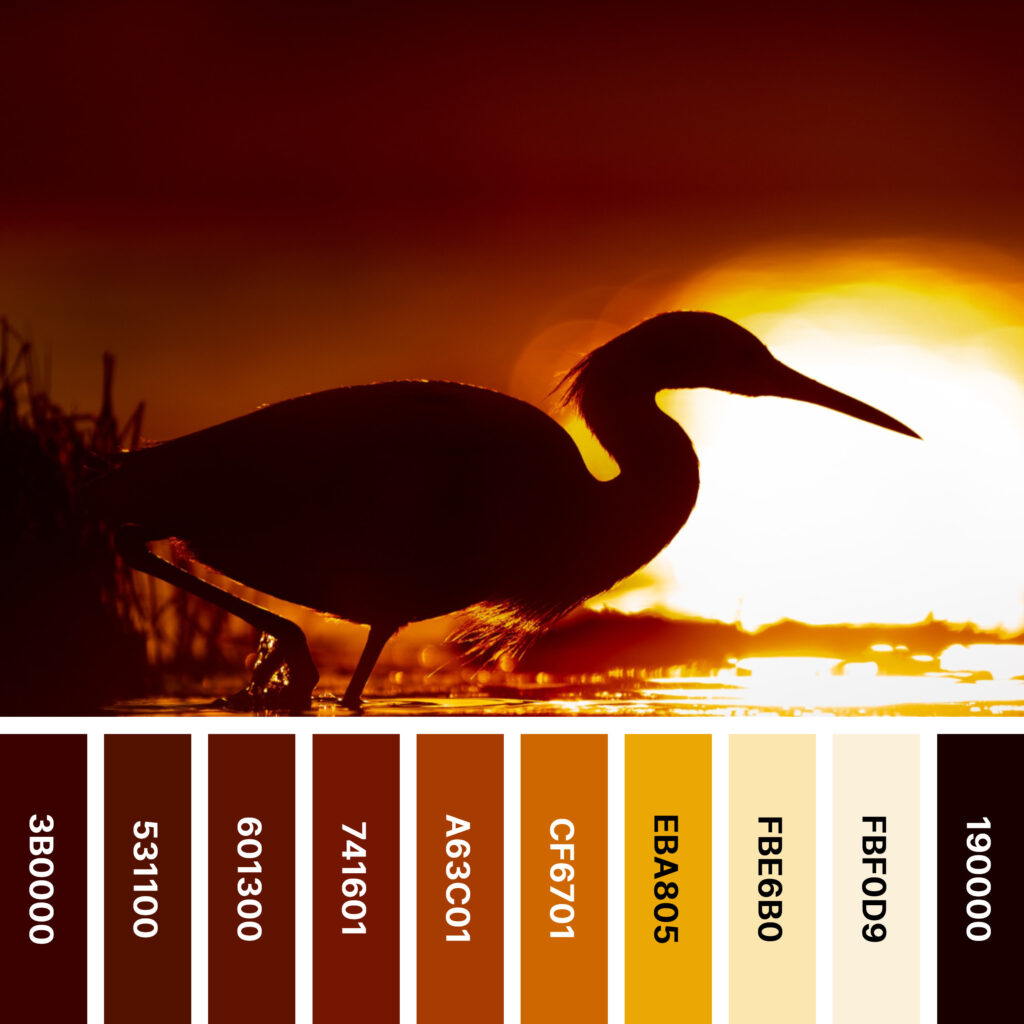 Sunset Inspired Collage
The first source of inspiration for our orange and black palette is the magnificent spectacle of a sunset on the beach. As the sun sinks below the horizon, it paints the sky with rich hues of burnt orange, amber, and deep black. Imagine capturing these breathtaking colors in your home. Walls painted in warm oranges, complemented by black accents from furniture or decorative elements, create a stunning focal point in any room. Balance the intensity of these colors by incorporating neutral tones like white or beige for a harmonious ambiance.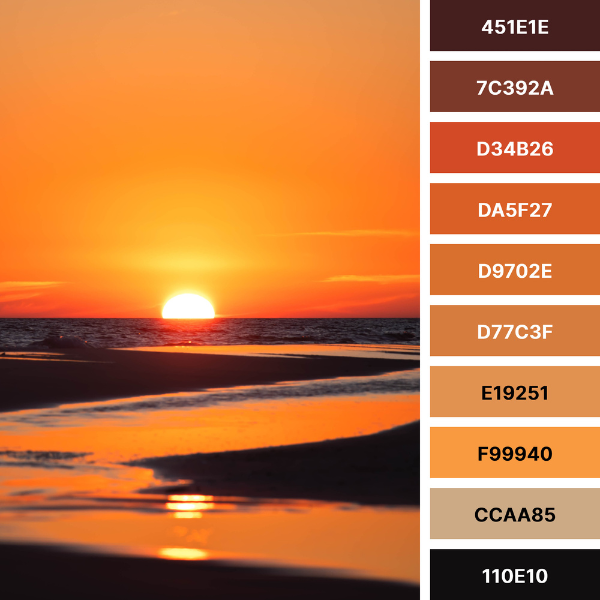 Sliced Orange Collage
Moving from the sky to the realm of fruit, we encounter the zesty vibrancy of orange citrus. Think of the bold brightness of an orange peel and the contrasting deep shadows that form along its crevices. These dynamic hues can inspire a vibrant and refreshing interior design. Imagine citrus-inspired accent walls in a vibrant shade of orange paired with black furniture and accessories. Add pops of green with houseplants or foliage patterns to evoke the feeling of a lush orange grove.
Rose
Another natural wonder that captivates with its orange and black color palette is the seductive orange rose. The velvety petals of this stunning flower display a range of orange hues, accompanied by the black of the background. Let this delicate blossom inspire you to add elegance and romance to your living spaces. Choose soft oranges for the walls, paired with black furnishings for a touch of sophistication. Enhance the ambiance with floral patterns that incorporate shades of orange, black and touches of green or cream.
Incorporating the orange and black color scheme into your home decor allows you to bring the beauty of nature indoors. Whether inspired by the mesmerizing sunsets or the delicate flora and fauna, this palette offers a myriad of possibilities. Let your imagination run wild and embrace the splendor of nature as you transform your home into a haven of style and elegance.
Ways to incorporate an Orange and Black palette idea into your home
Orange Wall Art Meets Throw Pillows
The Evening Bliss poster features a silhouette of a heron in a glowing sunset and a set of two pillows in a halftone pattern.
The Three Jumping Dolphins in the Evening Sun poster complements pillows in a torn striped pattern.
Orange is All That I Have is a fun collage of eleven images paired with a hexagon throw pillow.
Bronze and red-orange Koru curls for the poster look stunning on a black statement wall, while the cushion pair looks great on a white couch.
A stylized seascape in the sunset is paired with an orange cushion featuring an orange love typography pattern. They decorate an eye-catching black sofa.
Flexible ways to change up your decor include orange wall art and home decor accessories like throw pillows. KBM D3signs uses the print-on-demand platform Zazzle.com to create templates for a variety of home decor items. Obvious templates allow you to personalize text and images. Less obvious changes can be made by editing within the design tool. There you can change the fill and element colors for many designs. And here is your chance to use the color #Hex codes of the palettes.
If you want to use one of your images to retrieve the color codes, see the Color Tools section. There you will find out where and how to create your personal color scheme.
Strike a Balance
When exploring the color combination of orange and black, it is important to strike a balance between these bold hues. Incorporating neutral colors such as white, beige, or cream can soften the intensity of orange and black, creating a harmonious and inviting space. Also, remember to play with lighting, as it can significantly affect the perception of color in a room. Experiment with warm, diffused lighting to enhance the cozy and inviting atmosphere.
In summary, the orange and black palette found in nature offers an abundance of inspiration to create stunning home decor. From the captivating colors of a sunset beach to the invigorating zest of orange citrus and the delicate allure of an orange rose, nature provides a rich tapestry to draw from. By thoughtfully incorporating these vibrant hues into your interior design, you can add warmth, energy, and elegance to your living spaces. Embrace the beauty of nature's palette and let your home reflect the vibrant spirit of orange and black.