Spring wall art photo prints of budding trees in varying stages are the focus of three living room mood boards. Each botanical spring photograph is a testimony to the artistic view through the lens of the photographer Rachel Shields.
KBM D3signs selected three photography art prints of the artist to complement each with a printed throw pillow design by KBM D3signs.
Spring Elm
In the – Spring Elm – photo shot, greenish-yellowish buds in the beginning stages of opening cover the twigs.
In response, the complementing yellow accent pillow has a subdued linear wave pattern. Overall the pillow pattern emulates the still visible twigs.
Pussy Willow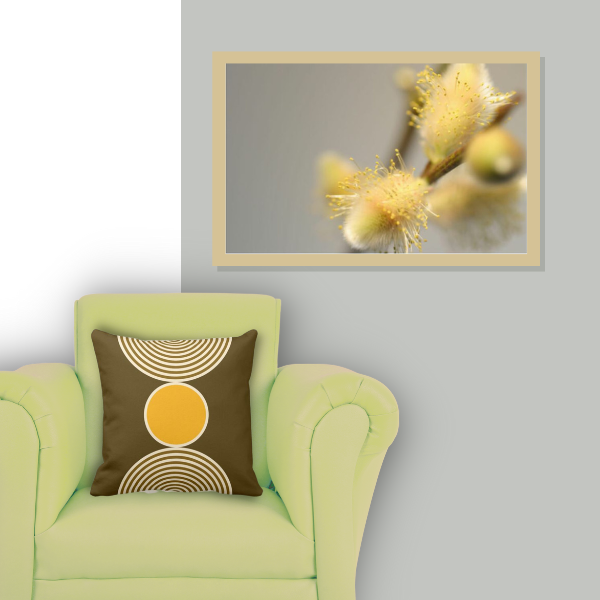 A first spring sign is pussy willow. Here the photographer uses a macro close-up to draw the eye. A blurring in the distance sets the pussy willow in context, and space balances the portrayed object.

KBM D3signs adopted a yellow, minimalist circle patterned pillow accent for the armchair.
Moody Majestic
Moody Majestic is an exquisite art photograph. From a bare branch, a single bud forms the focus as a spring message filled with the hope of a new beginning. The spring photo shows a well-balanced use of focus, blur, and space.
The decor mood board shows this one of the three examples as the most sophisticated one. A sandy brown diagonal wavy line patterned pillow becomes the accenting object for a dark brown leather armchair.
About Rachel Shields

Rachel is a young talented photographer from West Auckland, New Zealand. Her extensive professional experience includes working internationally in professional studios and locations. Additionally, multiple magazines published her work as a photographer and artist. A previous post featured pink art prints of blossoms.
In the artists own words about her fine art photography prints:
Visit www.RachelShields.co.nz for more about her work and photo art prints. Alternatively, send an email inquiry.