A throw pillow with an irregular triangle repeat pattern has the spotlight complementing a quad that quarters an abstract landscape at sunset in the domineering colors of grey and blush.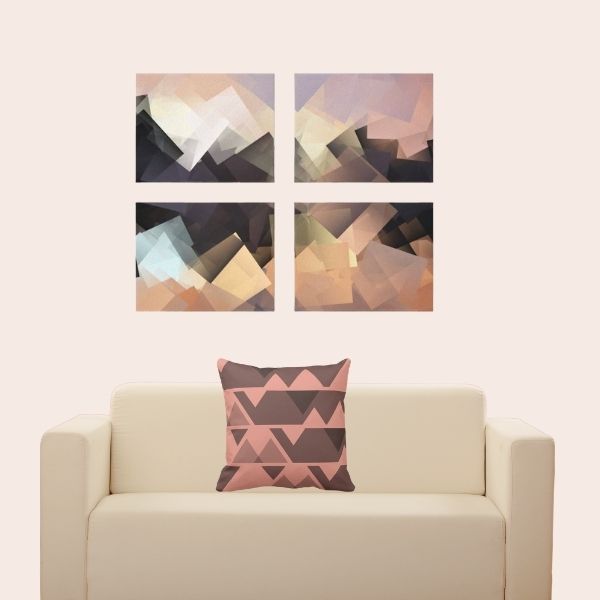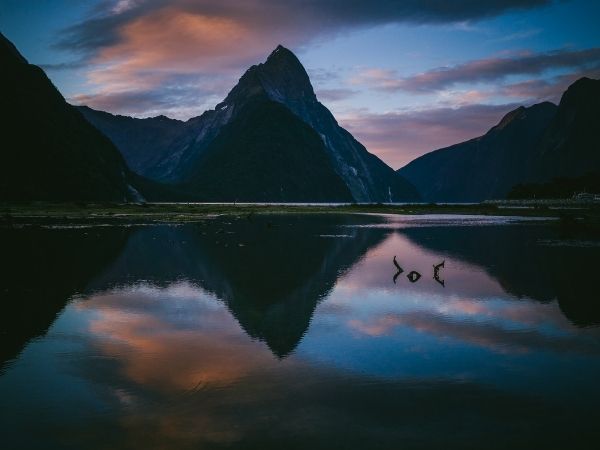 Twilight at Milford Sound, New Zealand
Catalyst Of The Monochrome Triangle Pattern, And Your Hidden Advantage
Here are some thoughts to the origin of the triangle repeat pattern. In essence, the underlying shapes are based on the geometric triangle shape. These shapes include whole and partial triangles. The multi-layered triangles mimic the ruggedness of the coastline.
Ultimately, transparency returns the monochromatic effect. Meaning the selected fill-color shines in varying intensities through the repeat pattern. Depending on the chosen template, the color appearance is either lighter or darker.
Similarly to some of the surface patterns found at KBM D3signs, the design allows you to color it your way. Consequently, you can customize the background color to match your decor colors.
If you find a matching color and product in one of the collections, then that is wonderful. Otherwise, KBM D3signs prepared a step by step instruction guide in word and image on how to change the background color on a mobile device or a desktop.
To request help with the customization, please follow the link to inquire. We are here to help with both extending the product range and customizing the product to the accent color of your choice.
Styling With Wall Decor In Mind To Create A Harmonious Interior Decor
In the following two examples, the selected pillow surface pattern complements the wall decor.
One shows a digitally reworked sunset photography of a rugged coastline in Milford Sound New Zealand with domineering colors in grey and blush.
While the second styling suggestion centers around a beautiful, energetic, and colorful artwork called Motumahanga. Michael Smithers is the artist who painted this strong interpretation of Motumahanga Island in the far north of North Island.