Turquoise throw pillows with a waved ripple pattern mimic, a peaceful and steady ripple of the sea rolling towards the shore. And are in the center of the decoration idea exploration with a modern white couch.
The color turquoise is associated with creativity and communication. Light turquoise reminds me of summer and the coolness of a dip into the sea.
Square pillows display the rippled pattern design in four variations. First, there is the differentiation between lightened and subdued shades of the repeat pattern. Second, the reduction to two colors of turquoise and black or white. Fourth, the pattern size returns different expressions too. Fifth and last, direction varies between horizontal, vertical, and diagonal.
Each direction shows ten color examples, including apart of turquoise the colors: yellow, grey, red, pink, purple, orange, brown, blue, and green. These form one collection that then shows the black, white, lightened, and subdued pattern in each pattern direction.
A feature that all examples have in common is the invitation to modify the fill color if it does not match your home decoration project requirement.
Ten decorations with a modern white couch, summer-fresh turquoise throw pillows, and …
Inspiration is everywhere. In the following examples: seascapes were initiators to the series of ten pillow pair decors.
Among The turquoise Pillow Colour Combinations You Find: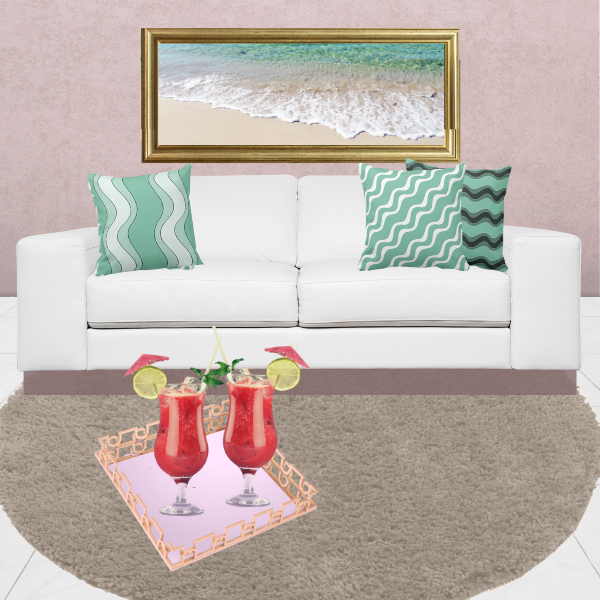 Turquoise: Fresh, light summer mood with a variation of lightened and subdued turquoise pillows in the ripple pattern. More turquoise pattern styles →
Turquoise and white: Serenity with turquoise and white pillows and their regular repeating ripple pattern.
Yellow and turquoise: Summer at noon, an impression promoted by turquoise and yellow pillows.
Grey and turquoise: Idyll achieved with turquoise and grey decor pillows.
Red and turquoise: Frank describes the connection between turquoise and red pillows.
Pink and turquoise: Soft are the hues of turquoise and pink to decorate a feminine space.
Purple and turquoise: Dreamy is the impression by decorating with turquoise and purple.
Orange and turquoise: Warming mood by placing turquoise and orange pillows together. More turquoise and orange pattern styles →
Brown and turquoise: Earthy feel by matching brown pillows with turquoise ones.
Blue and turquoise: Cooling flair is ideal for summer and achieved by placing blue pillows with turquoise ones.
Ripple wave pattern collection
The ripple wave pattern collection includes the ten varying hues of square pillows and other decor items. These include round poufs, cubes, round and oblong cushions as well as blankets to accessorize your living room. If you would like to share your ripple pillow decorating idea, please forward it here on this page, in the chat group at telegram @kbmd3sings_chat or Pinterest @kbmd3signs.
How to customize the pillow color?
Furthermore, all the display colors are representations and allow you to alter the fill color, and with this, the pillow coloration. With this in mind, it becomes a breeze to preserve an existing color scheme. Follow either link, mobile device or a desktop device for detailed instructions in word and image.
Regardless, to request help with the customization, connect with us on telegram https://t.me/KBMD3signs_chat. Above all, we are here to help with any questions about design customization, extending the product range, and becoming a Zazzle affiliate to sell KBM D3signs products.
At KBM D3signs, we love feedback, so please feel free to post your color and decor idea.