A ripple pattern decorates the pillows. The pattern design appears horizontal, vertical, or diagonal in black, white, subdued, or lightened.
7 Pillow Color Combinations Meet-up With Wall Decor
Pillow pair in black and white
Pink and green pillow set
Green square accent pillows
Blue and green pillows
Green, orange and purple pillow triplet
Mystic purple throw pillows
Red throw pillows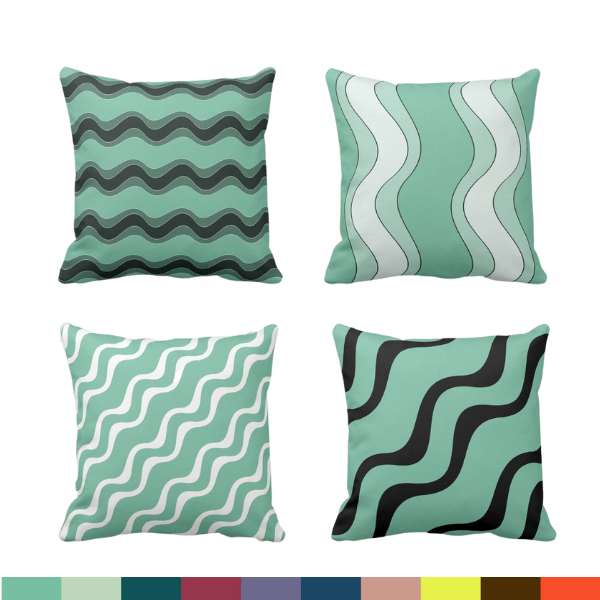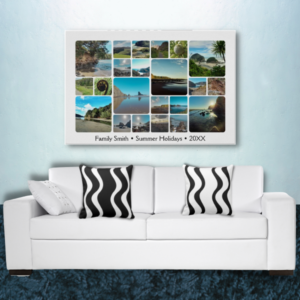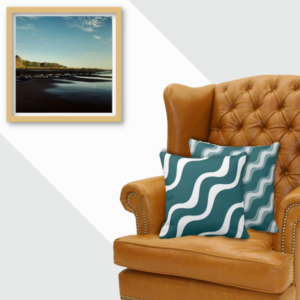 Hummingbird And Ripple Patterned Pillows In Green And Blue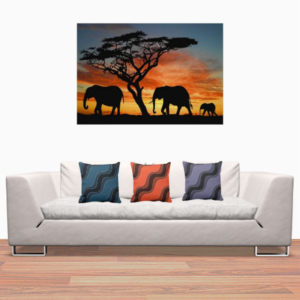 Elephant Photo Print And Blue, Orange, And Purple Pillows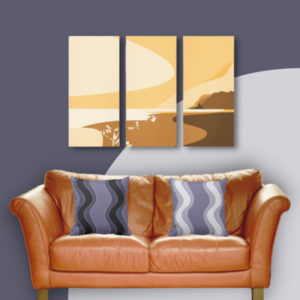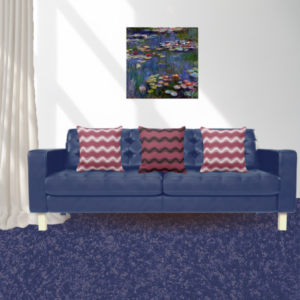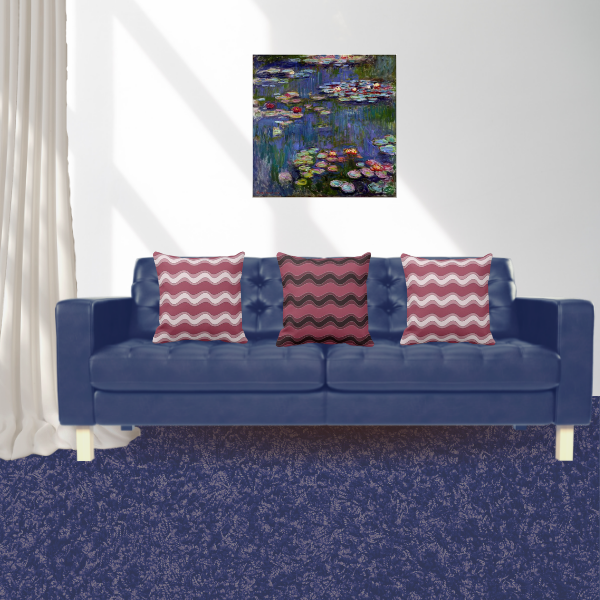 Water Lily Pond By Claude Monet And Red Ripple Patterned Pillows
First, The pillow pair in black and white shows a vertical rippled line pattern and complements a New Zealand beach photo collage.
Second, a pink and green pillow set with a horizontal line pattern accessorizes the space with a New Zealand art print Wave Haven Raglan by Tony Ogle.
Third, green and white square accent pillows with the diagonal pattern sit on a honey-colored armchair next to a West Auckland beach photo print.
Fourth, green and blue pillows with a diagonal subdued or lightened pattern sit under a feeding hummingbird capture.
Fifth, a pillow triplet in green, orange, and purple shows a subdued diagonal pattern. It complements the photography of a serene African sunset.
Sixth, a vertical directed pattern decorates the purple throw pillows decorating an orange-brown two-seater under a beach triptych by KBM D3signs.
Seventh, pillows in red with a horizontal even ripple pattern accessorize the seat under the famous art print Water Lily Pond by Claude Monet.
Ripple wave pattern collection
The ripple wave pattern collection includes ten hues. These include turquoise, blue, green, red, yellow, orange, pink, purple, brown, and black and white. Home decor items range from various shapes of pillows such as round, square and oblong. And also include seating pillows or poufs as cubes or round. Additionally, blankets complete the collection.
We are always curious about your home decoration ideas. Share your decor here with KBM D3signs. Forward it here on this page, in the chat group at Telegram @kbmd3sings_chat or Pinterest @kbmd3signs.
How to customize the pillow color?
Furthermore, all the display colors are representations and allow you to alter the fill color and the pillow coloration. With this in mind, it becomes a breeze to adjust the design to an existing color scheme. Follow either link, mobile device, or desktop device for detailed instructions in word and image.
Regardless, to request help with the customization, connect with us on telegram https://t.me/KBMD3signs_chat. Above all, we are here to help with any questions about design customization. But also for extending the product range, and becoming a Zazzle affiliate to sell KBM D3signs products.