Blue and orange pillows star in the following living room decoration ideas. In the subsequent twelve patterns, each decorates an orange and a blue pillow to form and complements a famous artwork by Edvard Munch or popular Maroccan photo prints.
Blue and Orange Pillows In 6 Pattern Complement Stunning Maroccan Photo Prints
A pattern of fragmented circles
Rugged, jagged repeat pattern
Checkers and stripes pattern
Rippled line pattern
Triangles form a geometric or ethnic pattern
Stringed beads of circular shapes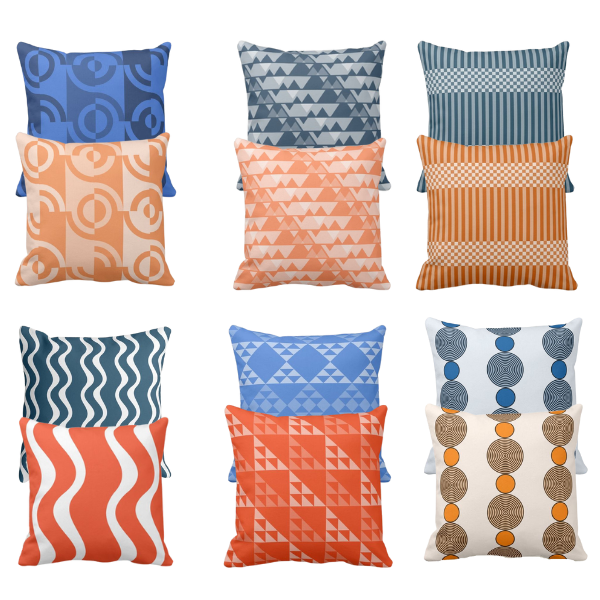 More Details About The Orange and Blue Home Decor Accessories
A set of pillows showing a pattern of fragmented circles complements the Moroccan wall decor. It displays a window detail in Marrakech. Its title is Jacques Majorelle Botanical Gardens.
The jagged patterned pillow set complements the photography named Hotel, Riad Yacout.
Checkers and striped patterned pillows to pair with a photography print titled Moroccan Shoes On Window Ledge.
A pair of rippled line pattern pillows complement a photograph from Marrakech Thread And Tassel Works Section.
The ethnic triangle patterned pillows combine here with a photo print from Rabat Cats Roaming.
Stringed circle patterned pillows blend here with a painting from a contemporary artist Lincoln Seligman, named Man, Tangier Street.
Moroccan Photo Prints Match up with Blue and Orange Pillows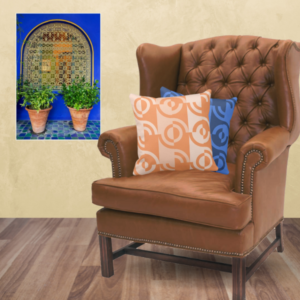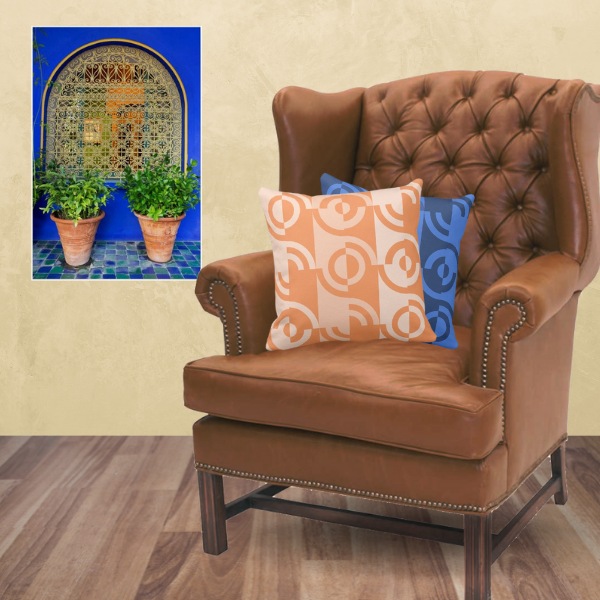 Marrakech, Jacques Majorelle Botanical Gardens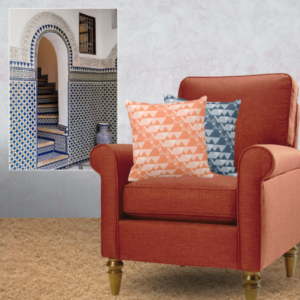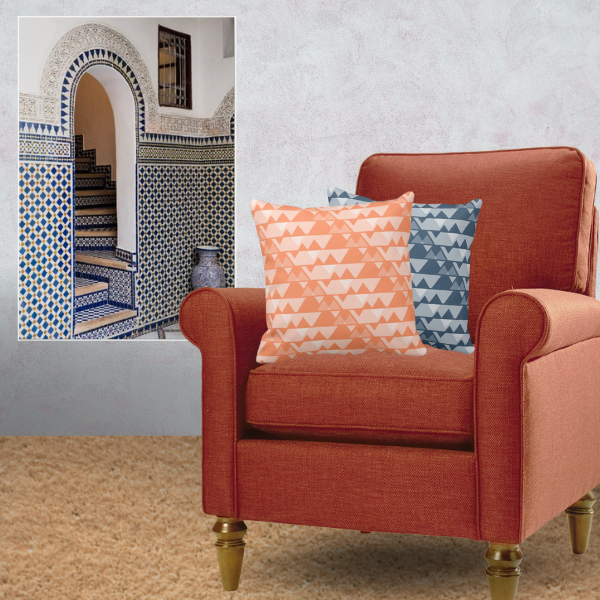 Hotel, Riad Yacout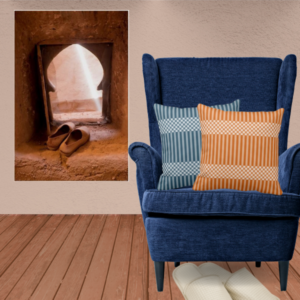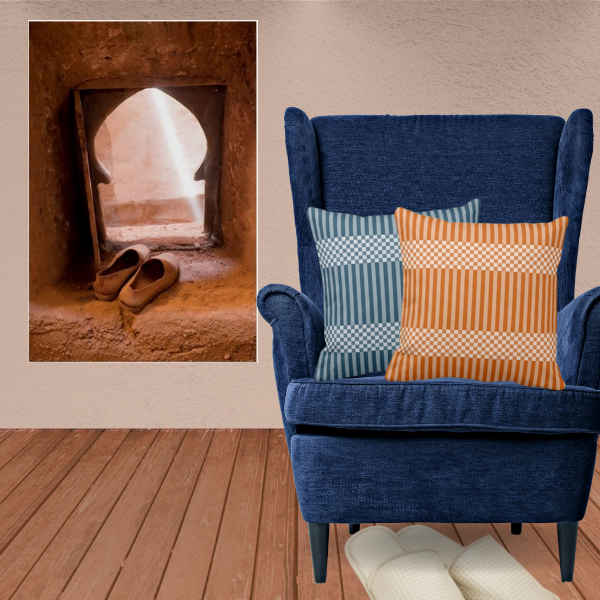 Moroccan Shoes On Window Ledge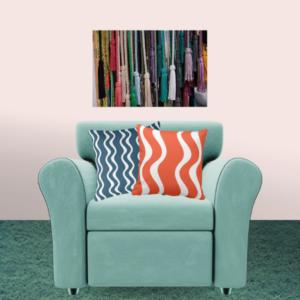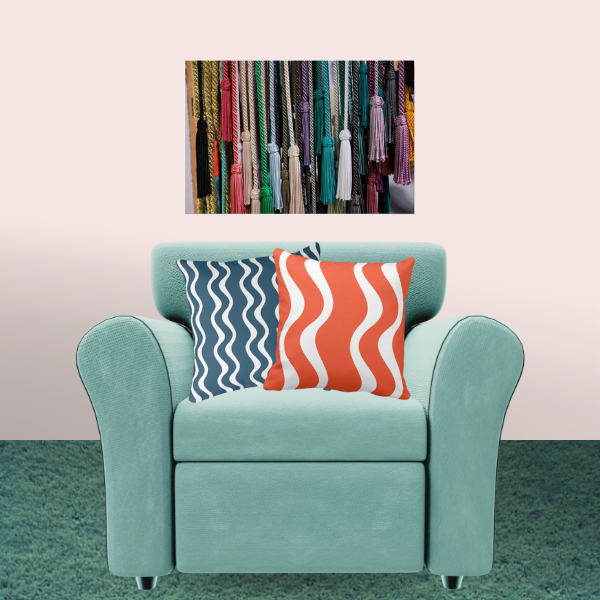 Marrakech, Thread And Tassel Works Section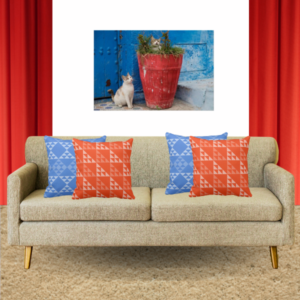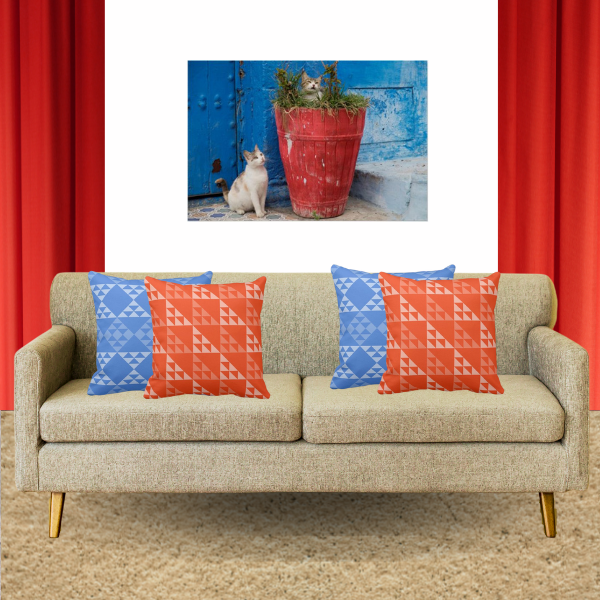 Red-Orange and Blue Pillows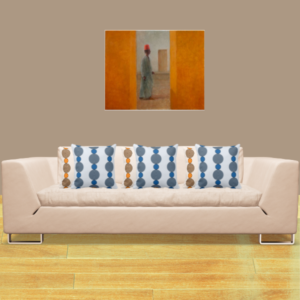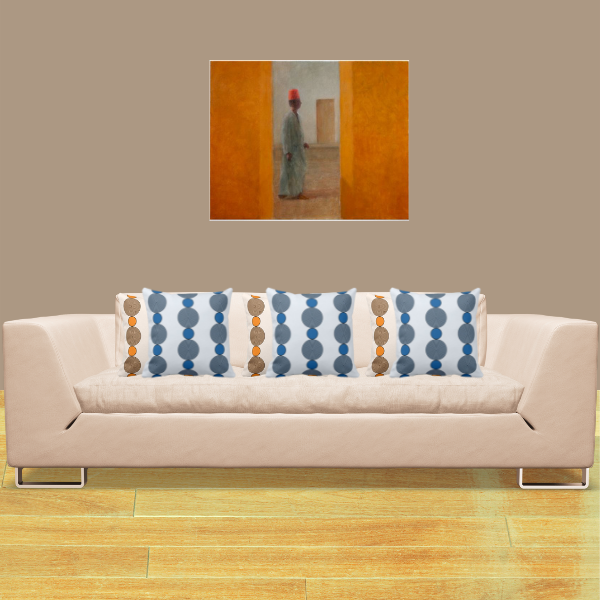 Man Tangier Street by Lincoln Seligman
Box spiral pattern and detail
Wave pattern
Cornered, angular pattern
Layered lines pattern
Pixel pattern in squares
Nested box pattern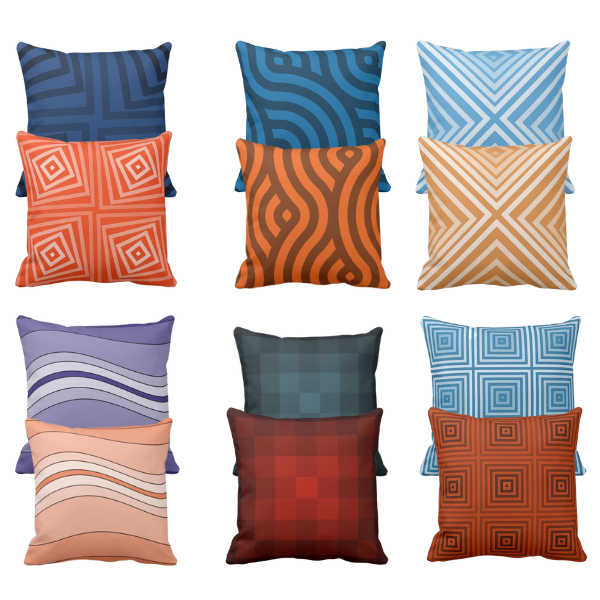 Prints by the Artist Edvard Munch Combine With 6 Different Throw Pillow Patterns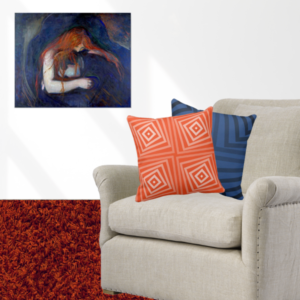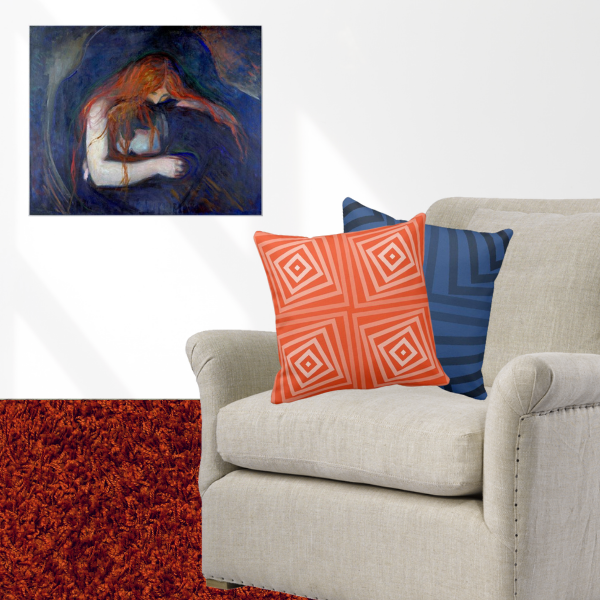 Vampire by Edvard Munch with Orange And Blue Pillows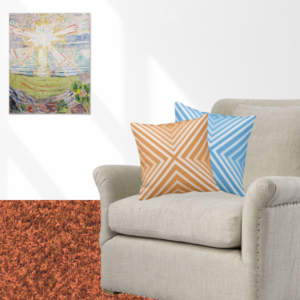 The Sun by Edvard Munch art print meets pillows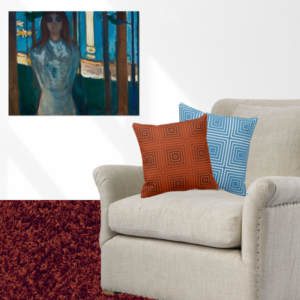 The Voice, Summer Night by Edvard Munch art print meets pillows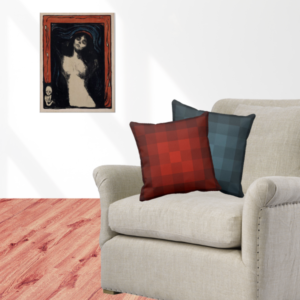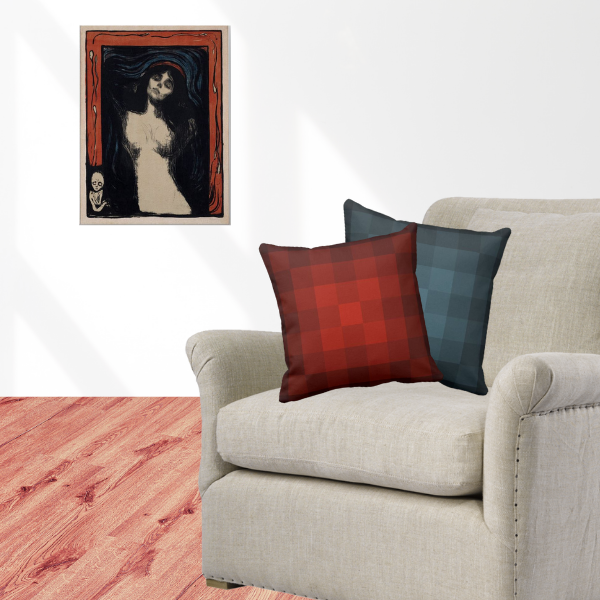 Madonna 2 By Edvard Munch Artwork Meets Pillows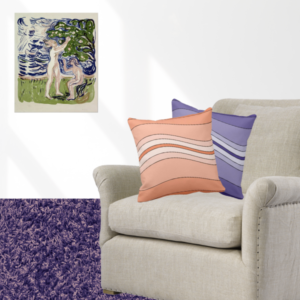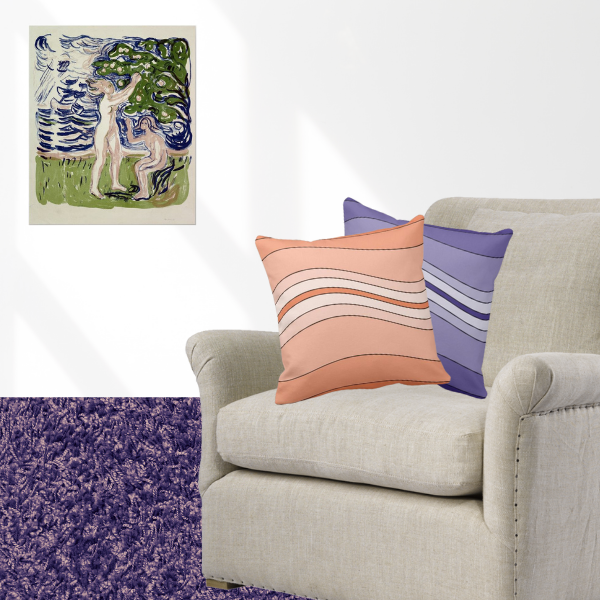 Girls Picking Apples By Edvard Munch Art Print Meets Pillows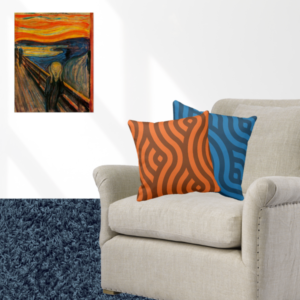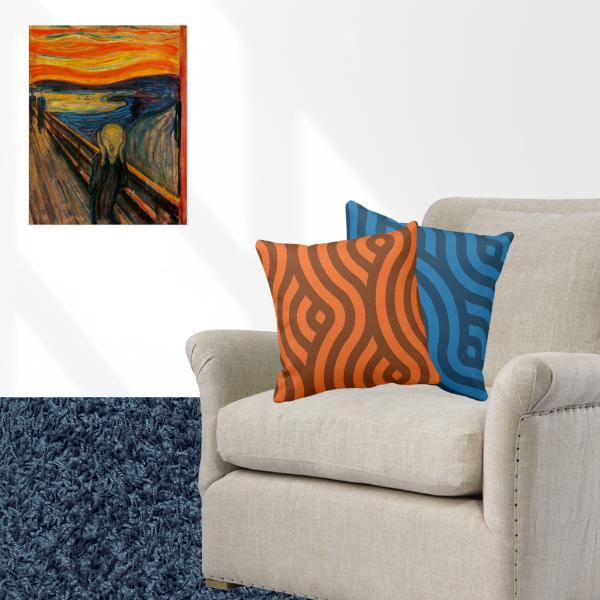 The Scream by Edvard Munch art print meets pillows
Vampire from 1895 – combines with the spiral box patterned pillow pair.
The print of the painting – The Sun from 1910 – pairs with a fresh colored angular patterned pillow set.
Edvard Munch's art print – The Voice, Summer Night 1896 – matches up with a geometric nested box patterned throw pillow pair.
Madonna 2, 1895-1902 – a mysterious artwork complements a steel grey-blue and an orange pixel patterned pillow set.
Girls Picking Apples, 1915 – is a light-hearted art print that pairs with layered lines patterned square pillows.
The Scream, 1895, 2nd 1910 – is an energetic art print that complements a pillow pair with a wave pattern.
Where To Find More?
For more ideas for decorating with a set of two throw pillows, follow the link. To find all KBM D3signs patterned blue and orange throw pillows, visit our collection in the Zazzle store Fall for It!
Where to go for assistance customizing the pillow color or pattern size?
All portrayed patterns have color customization in mind. Follow the – Edit using Design Tool – button on the respective pillow and modify its coloration. Like this, it takes any existing living room color schemes or complementing art prints into account. For more detailed help, visit the step-by-step guide. Do you have additional questions? Then contact KBM D3signs via the form. We are also happy to transfer the design on request onto products available on Zazzle or to prepare a custom design altogether. Alternatively, visit KBMD3signs on Telegram at https://t.me/KBMD3signs_chat and leave a comment or connect with us @KBMD3sings.